Man attempts to abduct girl at Solana Beach school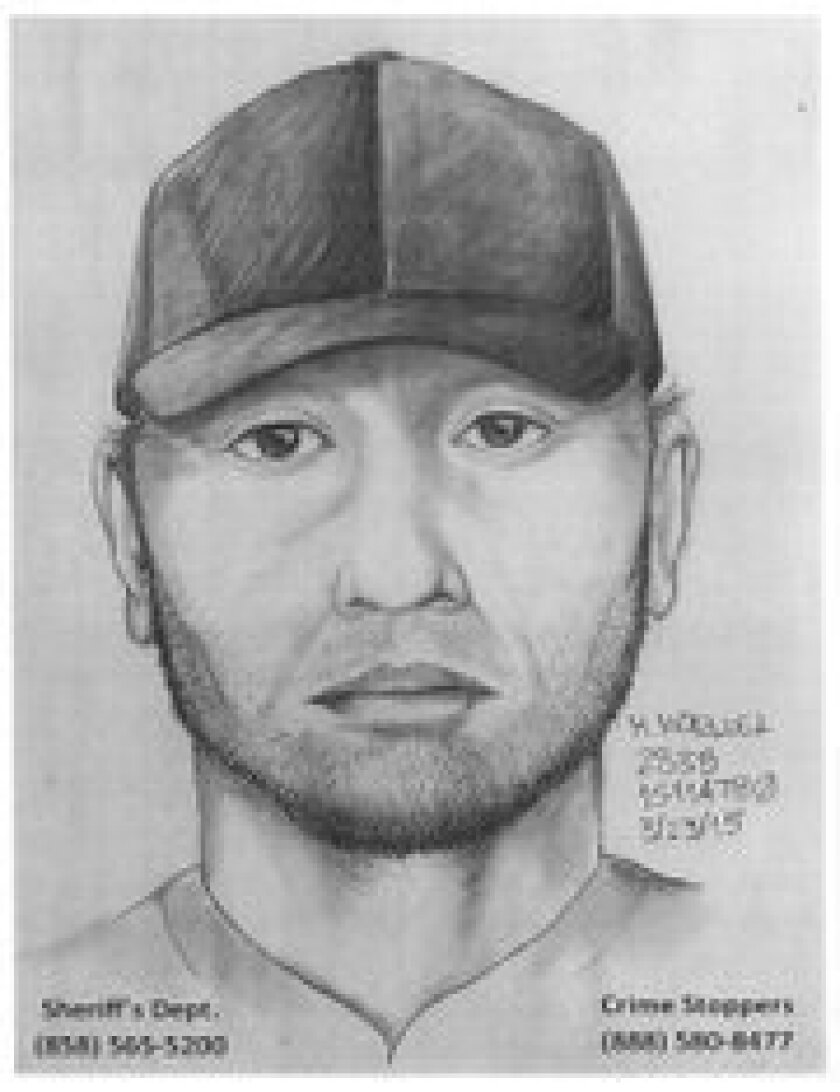 The San Diego County Sheriff's Department late March 24 released additional details and a composite sketch of the suspect involved in the attempted abduction of a 7-year-old girl March 23 at a Solana Beach elementary school.
Witnesses reported seeing a man about 3:30 p.m. on the campus of Skyline Elementary School on Lomas Santa Fe Drive.
Although authorities initially said they did not believe the man physically assaulted the girl, they learned after talking with the victim that she fought the suspect as he threatened her.
The man approached the girl as she was heading to an after-school program. He told her that if she wanted to see her mother again she would cooperate. He put his hand over her mouth and tried to wrap packing tape around her head, said sheriff's Capt. Theresa Adams-Hydar.
The girl fought him and screamed, attracting the attention of teachers and parents. The suspect ran. The girl was not physically injured.
The victim's father detailed the attempted abduction in a mass email March 24 to help catch the suspect and prevent similar incidents. The email was shared on local blogs and social media site Reddit.
"This was not an incident where a man hung out on the fringe of the Skyline campus and attempted to lure the first child he saw," he wrote. "This man parked in the top Skyline parking lot, walked through the heart of the school, past the front office, and up to the main part of school only 15 minutes after the dismissal bell rang.
"He tried to wrap packing tape around her head multiple times around. He was also attempting to pick her up and carry her off of campus. We share these details with you so you understand how reckless and crazy this person is."
In the email, he encouraged parents to talk with their children about "stranger danger."
"Yell, scream, draw as much attention as you can," he wrote. "This is what saved our daughter.
"Never in our wildest dreams would we think this could happen to us. Please forward to as many people you can to help prevent it from happening to others."
The Solana Beach School District announced March 24 it is reviewing and refining its safety protocols to ensure student safety before and after school. In addition, the district is implementing new protocols to make sure students safely transition to after-school programs.
Furthermore, each school in the district will hold a "Play it Safe" assembly to teach students, through role-play, the importance of awareness and appropriate boundaries.
To ensure student safety, district officials also reminded parents that students should not arrive at school before supervision is available and that students must be picked up promptly after school.
"I have been in communication with school sites to ensure that students, staff and parents feel safe and secure at school," Superintendent Nancy Lynch said in an email. "Student safety is our primary focus as we continue to work with law enforcement to improve protocols and procedures."
The suspect is described as a white man in his 40s with light brown hair and tan skin. He is about 6 feet tall with a medium build.
Witnesses saw the man leaving the school parking lot in a newer model, black and silver mid-size SUV similar to a Ford Flex. At the time of the incident, he was wearing a red, white and blue baseball jersey, a green baseball cap, off-white baseball pants and athletic shoes. He was also holding a duffle bag.
Anyone with information is asked to contact the Sheriff's Department at 858-565-5200 or Detective Frank Feliccia at 760-966-3517. Anonymous tips are also accepted by San Diego County Crime Stoppers at 888-580-8477.
---