Manchester BU11 Academy wins Albion Cup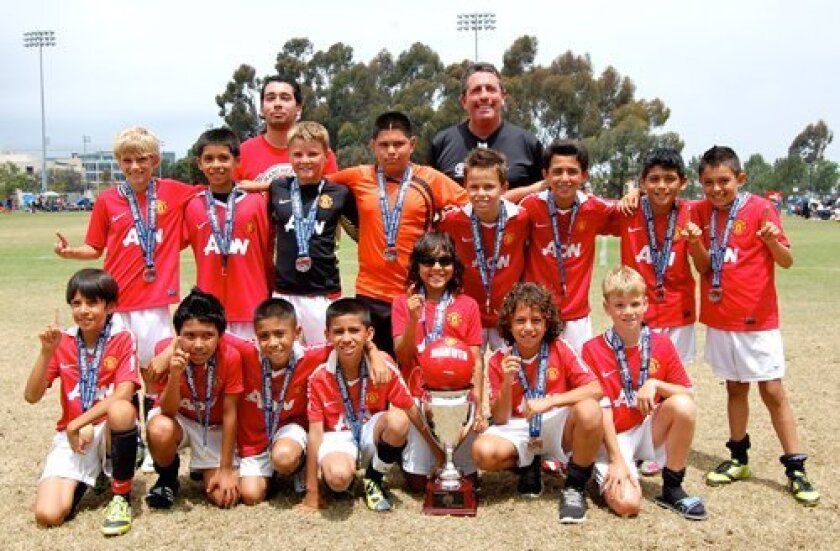 Manchester BU11 Academy Elite are champions of the Top Showcase Flight in the Albion Cup National Soccer Showcase held July 21-23 in San Diego, defeating Albion SC White 3-2 (PKs). After Albion took a 1-0 lead in the second half, Manchester answered with a goal by Bryan Delgado on a direct kick. With three minutes remaining Albion scored again, but another Albion foul gave Manchester the chance it needed: When Bryan Delgado's strike bounced off the crossbar, Marcos Calderon and Jose Rios both got a head on the ball for the equalizer. With no goals in extra time, the game went to penalty kicks. After three successful kicks, Manchester went ahead on a save by goalkeeper Mallel Rios, only to see its advantage erased when the Albion keeper saved Manchester's fourth kick. Then Albion's fourth kick missed the mark. Manchester's fifth and final kicker, Andrew Espinoza, coolly stepped to the line and put the ball in the net, giving Manchester the victory.
In group play, Manchester defeated Pumas Premier FC 6-0, Hotspurs USA Premier 1-0 on a goal by Daniel Delgado, and Albion 2-1 on two penalty kicks converted by Marcos Calderon after fouls in the box. In the semifinal games, Manchester bested San Diego United FC Black 6-2, while Albion edged Orange County's United FC Black 3-2, leading to the Albion-Manchester rematch.
---