'Manufacturing Stoke' headlines 2012 outdoor movie nights at Del Mar Shores Park
By Rob LeDonne
Pierce Kavanagh loves surfing and filmmaking, so it only makes sense he'd combine his two passions. Kavanaugh is just one of the filmmakers showcased during the upcoming Del Mar Shores Cinema Series taking place Sept. 7-8, two free nights of entertainment taking place at Del Mar Shores Park (located on Ninth and Stratford Court). All of the films shown are centered on nature, and include the Drew Barrymore feature film "Big Miracle" about whale rescue, as well as "Salmon Theory," which chronicles winter surfing in New Hampshire.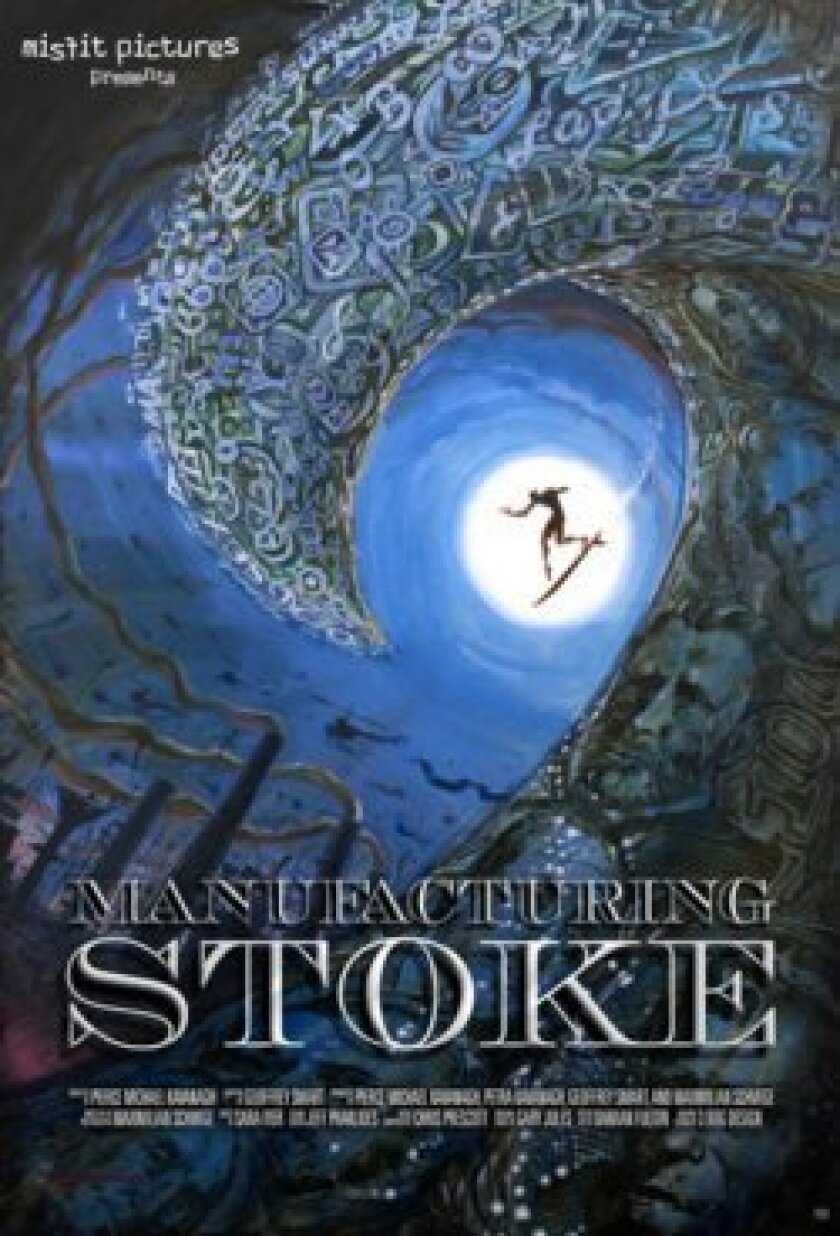 Kavanagh's film, titled "Manufacturing Stoke," is a look at the sustainability of the surf industry, a subject Kavanaugh knows well. Growing up in La Jolla, Kavanagh has an abiding love for Southern California. "It's just beautiful here. I grew up on the beach, and when I was a little kid I used to run around with boogie boards which grew into a love for the ocean and surfing." That love manifested into Kavanagh spending all of his free time in his formative years in the late '80s and early '90s surfing and skating, leaving time for little else. "I really wasn't thinking of my future, and was just working at restaurants and odd jobs. I realized later I couldn't do that for the rest of my life."
In 2000, Kavanaugh started attended classes at UCSD and UCSB, studying filmmaking, and got to know a handful of like-minded peers, all of whom currently make up his production company Misfit Pictures, (which is behind "Manufacturing Stoke").
" I recruited my really good friends I went to film school with," he says looking back. "We all graduated and were up in LA doing professional work. One day I had an idea and booked lunch with them." That idea stemmed from attending a surf expo in Cardiff By The Sea which focused on green living.
"My wife and I were looking at all of these booths selling products made with various green materials, and it was really a shift in the industry I hadn't heard of before. I then did more research and there were a lot of interesting people doing things on a small scale, but none of the big companies had turned that corner yet."
What started out as a short film exploded into a two-hour plus movie (which has since been cut down to 80 minutes) highlighting a variety of people talking about surf sustainability. "The project snowballed because there's a wealth of conversation on this topic," Kavanagh explained. "We wanted to investigate what's really going on. If [a large company] is making millions of t-shirts every year for surfers, why not make them [environmentally friendly?]. It's members of the surf industry taking a look inward. It's a way more toxic environment then you would believe."
The crew, who worked pro bono, shot up and down the California coast, including right here at the Torrey Pines and Del Mar beaches. "The first day we actually shot was at Torrey Pines," says Kavanagh, who also filmed a time-lapse sequence at dawn above Scripps which is included in the movie.
Audience feedback from the film thus far has been overwhelmingly positive: "It's been incredible; I've had people come up to me after screenings and hug me crying. No one was brave enough to tell the truth, though this isn't an expose and we didn't want to go out and grill anyone." However, one faction that didn't like the film was that of the large surf companies which the film takes a critical look at: "We've had a couple of negative responses from them, but that's to be expected."
It's only fitting that "Manufacturing Stoke" is a part of the Cinema Series, donations from which go toward the Friends of Del Mar Parks' mission statement to "acquire, preserve, enhance, and support recreational, educational and open space in the Del Mar area for the benefit of the greater Del Mar community." For more information,
If you go
The third annual Del Mar Shores Cinema Series returns the first weekend after Labor Day (Friday and Saturday, Sept. 7-8) for two free movie nights at Del Mar Shores Park (9th St. and Stratford Ct.). The Cinema Series kicks off Sept. 7 at sunset (around 7:30 p.m.).
All information on the Cinema Series — including the full schedule, film trailers, VIP reservations and participating food trucks — can be found at
and on Facebook
(www.facebook.com/DelMarCinema
). Come early, bring a blanket, beach chair and picnic.
---