Mayoral candidate Kevin Faulconer outlines campaign themes during media meeting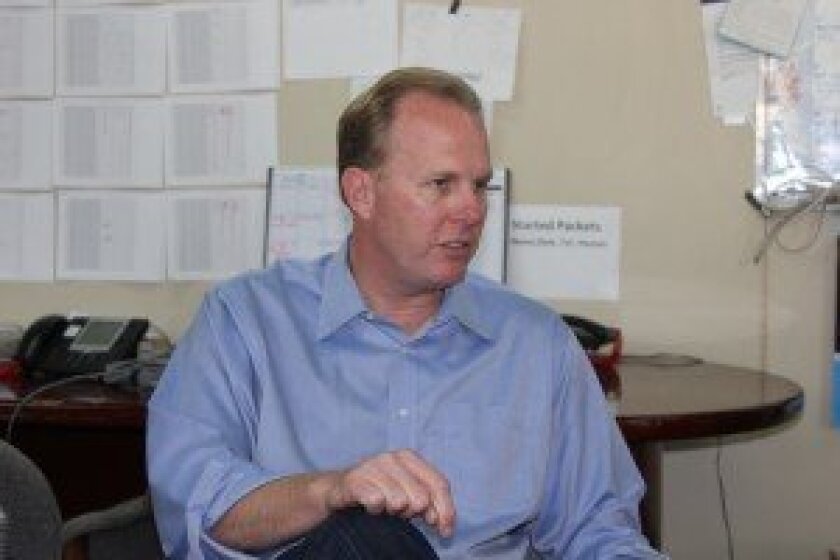 By Joe Tash
San Diego City Councilman and mayoral candidate Kevin Faulconer hit on his campaign themes of investing in neighborhoods, fiscal responsibility and public safety in a meeting with community journalists on Saturday, Jan. 4.
The campaign for the Feb. 11 mayoral runoff election heated back up this week after a temporary lull during the holidays. Faulconer faces fellow Councilman David Alvarez in the runoff election to determine who will serve the rest of former Mayor Bob Filner's term, following Filner's August resignation in the midst of a sexual harassment scandal. Faulconer and Alvarez were the top two finishers in a November mayoral primary.
"I'm someone who gets things done and works with my colleagues on the City Council across the aisle. It's about results," said Faulconer, 46, a two-term councilman who worked for a public relations firm before his election to the council in 2006.
Faulconer met with journalists in an informal session at one of his two San Diego campaign offices. By request of the campaign, journalists were permitted to take notes, but not use electronic devices to record the conversation.
Faulconer is a Republican and Alvarez is a Democrat, although the mayor's office is officially non-partisan. Faulconer said he can appeal to a broad range of San Diegans due to his ability to work with members of both parties to achieve the city's goals. But he faces a demographic challenge, as Democrats enjoy a substantial registration advantage over Republicans in San Diego.
According to the county Registrar of Voters office, 39 percent of the city's 652,429 registered voters are Democrats, 26 percent are Republicans, and 28 percent indicate no party preference.
"It's not about being a Republican or Democrat, but what's best for San Diego. That's how you win elections," Faulconer said.
Faulconer does enjoy an advantage in one statistical measure — campaign funds. Recently filed campaign statements showed Faulconer raised $1.4 million in 2013, compared to $524,000 for Alvarez.
During his tenure on the council, Faulconer said he has worked to make the city more financially stable, including efforts to reform employee pensions and require city employees to compete for contracts against private firms, a process called "managed competition."
Pension reforms have included a 2012 ballot measure, in which city voters approved the elimination of guaranteed pensions for new city workers other than police officers, replacing them with a 401k-style retirement savings plan.
Still, the city's pension costs continue to climb. This year's city pension contribution is $275 million, from a $2.8 billion total budget. When he took office, said Faulconer, the annual pension contribution was $165 million.
The city has also moved to implement managed competition and, according to Faulconer's staff, will save $10 million per year thanks to the five competitions held so far, all won by city employees, including such services as fleet maintenance and printing. Additional competitions are planned for such services as trash pickup.
Another priority if elected, said Faulconer, is streamlining the development review process so that plans for new construction and remodeling projects, whether for businesses or residents, are reviewed within a set period of time. Too often, he said, projects have been unnecessarily delayed due to ponderous processing by city departments.
Amid an electrifying playoff run by the San Diego Chargers, Faulconer said that as mayor he would support a proposal for a new Chargers stadium if it makes financial sense, and if it is approved by voters, possibly at either the city or countywide level. He would not commit to being either for or against the use of public funds to help pay for a new stadium.
"I'm not convinced we need to use public funds," he said. "My priority is using public funds for our neighborhoods, and not for a new stadium."
Another priority, Faulconer said, is increased staffing and retention for the San Diego Police Department, which he said is short by 130 officers.
On the contentious issue of medical marijuana dispensaries, Faulconer said he supports access to the drug for people who need it, along with protections for San Diego neighborhoods. He said a revised medical marijuana ordinance is expected to come before the City Council soon.
Faulconer did not offer a position on One Paseo, a controversial proposed mixed-use development in Carmel Valley, but said the city should weigh community concerns with clearly delineated development rules in an open and transparent process.
And he also would seek to resolve the issue of noxious odors caused by animal waste in and around La Jolla Cove, which led to a lawsuit filed against the city last month by frustrated business owners. Any solution must make sense for both the environment and neighbors, he said. "I'm not sure what that is but we need to be creative and figure that out," he said.
Faulconer criticized a steep hike to the city's "linkage fee," imposed on developers to pay for affordable housing, which was approved by a divided City Council in November. Alvarez supported the measure and Faulconer opposed it.
"We should be making it easier for businesses to expand," Faulconer said. "The damage it will do while we are trying to create jobs is a huge reason I was opposed to it."
Note: A feature on candidate David Alvarez will run in next week's issue of this newspaper (Jan. 16).
---