Miracle League of San Diego honors graduating seniors from Carmel Valley, Del Mar, Solana Beach and Rancho Santa Fe for volunteer work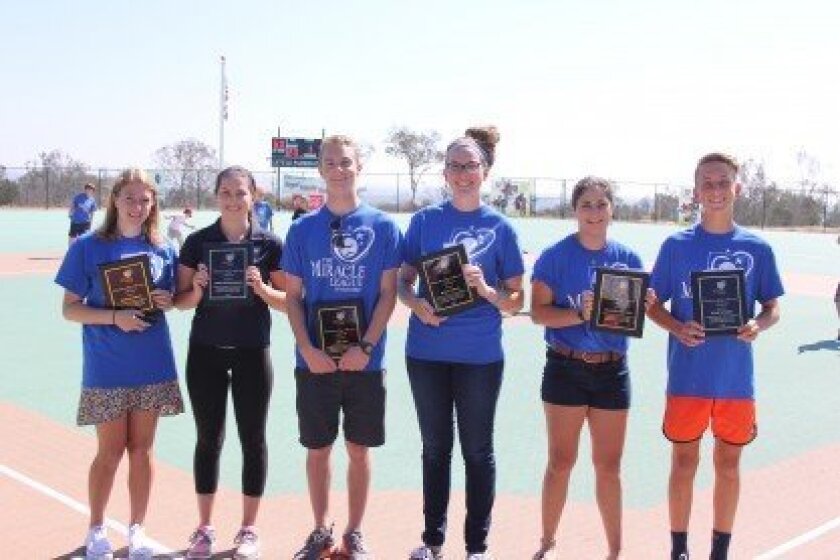 The Miracle League of San Diego recently awarded scholarships to seven local students recognizing their exceptional service to special- needs athletes.
All seven graduating seniors were awarded the Outstanding Service Award for their leadership skills on and off the field, and their commitment to Miracle League.
The Miracle League of San Diego provides the opportunity for special-needs children to experience the fun of playing organized baseball at two locations in San Diego County: Engel Family Field, a Little Padres Park, at San Dieguito Park in Solana Beach, and Coronado Green Field at Coronado High School in Coronado. Students and adults serve as coaches and buddies, assisting the athletes in the dugout, around the field and at bat.
Recipients for the Outstanding Service Award are Olivia Angelino, Jordan Engel, Ari Lew, Jamie MacDonald, Ethan Rappaport, John Schade and Molly Stead. In addition to the award plaque, each of the Miracle League scholarship recipients received a $250 check.
Olivia Angelino is a senior at Coronado High School. She has been a buddy for Steven Dixon and Camden Hauer at Green Field since spring 2013.
Jordan Engel, a senior at Canyon Crest Academy, has been a buddy for each of the Miracle League's 16 seasons, all but two with Jenny Wolford, with the exception of one year when Jenny moved to Texas and Jordan buddied for another player. She volunteers after school at Solana Highlands as an aid in the Learning Center, in a kindergarten room and with the reading coach.
Ari Lew has been a buddy for five years and on the Rays team for 8 seasons. Not only has Ari committed himself to countless Saturdays with MLSD, he has also started and runs an Organization called Orphanages in Tijuana.
Jamie MacDonald has been involved with the Miracle League since it started eight years ago, and has been a buddy every season since. Jamie is active outside of school and the Miracle League. For over a year, she has worked as a volunteer on the Orthopedic Floor at Scripps Hospital.
Ethan Rappaport has been a buddy for the Miracle League since inception. He is a senior at Canyon Crest Academy, where he has been the Creative Director of Pulse Magazine for the past two years. Ethan has also been part of the student run coffee house, The Nest, since his freshman year, and served as COO last year. He volunteers with the San Dieguito Alliance for a Drug Free Youth, and received the Rotary Youth Leadership Award for outstanding school and community leadership.
John Schade has been a Baseball Buddy with the Marlins every season since the Opening Day of Miracle League of San Diego in May 2007. He was a player in the Solana Beach Little League when he started volunteering as a baseball buddy for Miracle League. John is a senior at Canyon Crest Academy were he is a multisport athlete in water polo and soccer and a 2014 Union Tribune CIF All-Academic Team member for soccer.
Molly Stead is a senior at Santa Fe Christian school. She has been a buddy on the storm team for six years. Molly is also a dedicated member of the Del Norte Chapter of National Charity League where she has donated over 400 hours of service.
---