Mistral owner adds to 18 years of success with new Del Mar Highlands Town Center store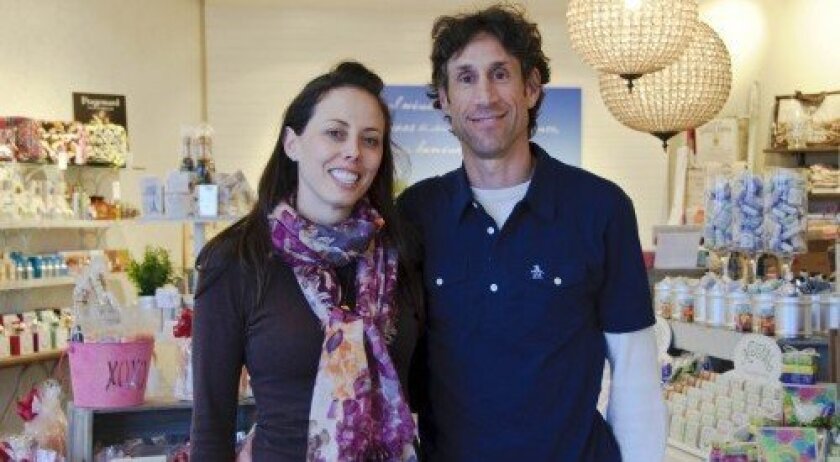 By Claire Harlin
Mistral has been selling luxury French bath and body products for more than 18 years on Cedros Avenue in Solana Beach and it just opened a retail shop at the Del Mar Highlands Town Center in November, but owner Matthew Tilker said many of his customers still remember the early days of the business, when he was in his early 20s and selling soap out of his mom's living room in Del Mar.
"People used to run by the house and say, 'Wow, that smells good,'" said Tilker, whose business has since grown to supply wholesale to nearly 1,000 stores worldwide, in addition to its thriving global online presence.
The brand's popularity is no surprise to Tilker, who launched the business with a $1,500 loan from his grandparents after studying alternative cancer therapies on a fellowship in Southern France, a region that he found to have something the United States was lacking — good, natural soaps. Not only was Tilker intrigued by the quality of the soaps, but also the array of natural fragrances he had never before smelled, and after stumbling upon the factory of a master soap-maker in Provence and learning about the process, he knew it was something he had to bring home.
"It was such craftsmanship and quality," he said. "You could just feel the history and tradition of the soap there … South France is to natural fragrances and soaps as the Vatican is to Catholicism. That's really the place that gave birth to what we think of as modern toiletries."
Just as he thought, Americans loved using soaps made from natural oils and containing fragrances that were extracted from raw materials such as fresh lavender. He spread the word around Del Mar with flyers, and demand was so high that he returned to France after six months to start designing his own soaps and having them made, using his background in alternative medicine to incorporate healing herb extract or oils.
"I started making demands of the soap maker," said Tilker. "I was asking him to add more olive oil and to start playing around with the fragrances. I also started working directly with the perfumers."
Getting to know the demands and the products better, Tilker starting noticing that people in the United States had slightly different tastes than those in France, so he started developing products that have since become hits at his company, such as verbena soap. Each pilgrimage to France was for the development of new products, however, he also picked up other things along the way he found to be wonderful, such as the high-end French jams and teas that have for years been favorites at Mistral.
And on one trip, while walking along the beach in Provence and taking in the scents of lavender and roses carried by the wind, Tilker picked up likely one of the most important features of the company yet — the name. "Mistral" is a word for "wind" in French, a particularly strong wind like the Santa Anas of the United States. Tilker explained that the word carries deep-rooted cultural value in addition to being emblematic of the outside scents you can always smell in France.
"It's almost like a person, a character," he said. "It's legendary and you can find it in stories of mythical connotations … A good mistral will rattle your whole home."
With Mistral's warehouse located in Sorrento Valley and longtime retail presence on Cedros, Tilker said the Highlands was the perfect place to add an additional store, and he has since amassed many new local customers.
But that hardly compares to the many customers who have been returning to Mistral for their favorite soaps or lotions year after year. Tilker said that, to his surprise, men emerged several years ago as one of the most receptive demographic groups, so he even launched a men's toiletry line about eight years ago to accommodate that demand.
"We'd have all kinds of men, even the manliest of men, come in for six bars of verbena soap," said Kendra, Tilker's wife and business partner.
Matthew added, "It's not like we sat around and thought, 'Hey, how can we make more money with a men's line? We would have never done it had there not been the demand. It was simply a matter of fact that men love soap."
For more information, visit
.
---