Mother-daughter duo open boutique for mothers and their children in Del Mar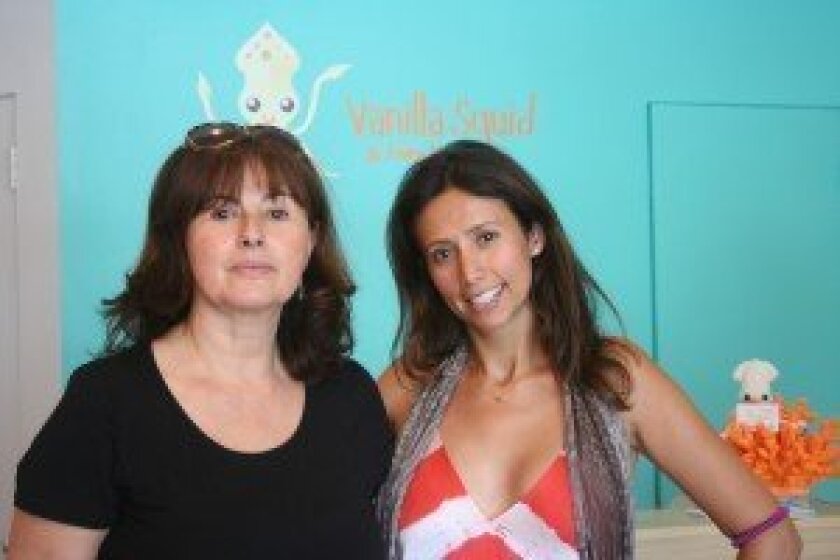 By Kristina Houck
Inspired by their children, a local mother-daughter duo have recently opened a new store for moms and their kids in downtown Del Mar. From maternity clothes to children's toys, Vanilla Squid & Friends, Ink. carries a variety of products for moms and moms-to-be.
"I just felt there was a gap for moms," said Carmel Valley resident Diana Carolina Becerra, who co-owns the store with her mother, Isabel Nielsen. "We needed a place where moms, babies and their siblings could come and find unique items."
Located at 1150 Camino del Mar, Vanilla Squid & Friends opened its doors July 16. Although it's their first store, Becerra and Nielsen both have years of experience in the industry.
Born in Colombia, Becerra and her family relocated to the United States 12 years ago. For 10 years, the 31-year-old has worked in retail and fashion while attending school and raising her son and daughter, now 8 and 7 years old. Her mother worked as a fashion designer in Colombia.
The pair developed the concept for Vanilla Squid & Friends after having difficulty finding one-of-a-kind clothing and toys for their children and grandchildren in the local community. They named the store Vanilla Squid because Becerra's daughter likes vanilla and her son is fascinated by squids.
"It's been very nice to work with my mom at a place for mothers and their children," said Becerra, who is also the founder of NielCuBe, which provides sales support and consultation services for retail stores. "Her experience as a mother, grandmother, businesswoman and a designer really goes well with my background in retail and fashion. It's very rewarding to have a family business for families."
From Babiators sunglasses to UMA baby clothing, Vanilla Squid & Friends offers a variety of sustainable and socially responsible clothing and product lines. Because conscious fashion is her passion, Becerra and her mother handpicked the store's items from local and international trade shows.
"I wanted to stay away from the mass-produced and the poorly made. It just creates more waste," she said. "We look for well-made stuff, things that you can pass on to your family members and friends to reduce waste."
In addition to the store's products, Becerra and her mother plan to use the space to host consultations and workshops for expectant mothers. Details will be posted on the shop's Facebook page.
"It's such a special time in your life when you become a mom," Becerra said. "Buying online is distant and cold. We offer support with our customer service, but also our resources. I've been through it. It's such a beautiful yet challenging time of your life — you need support."
The community is invited to celebrate the grand opening of Vanilla Squid & Friends at 11 a.m. Aug. 15. The event will feature food from Del Mar's Café Secret and Nothing Bundt Cakes.
Visit
.
---