Musician Steven Ybarra balances community devotion with big stage ambitions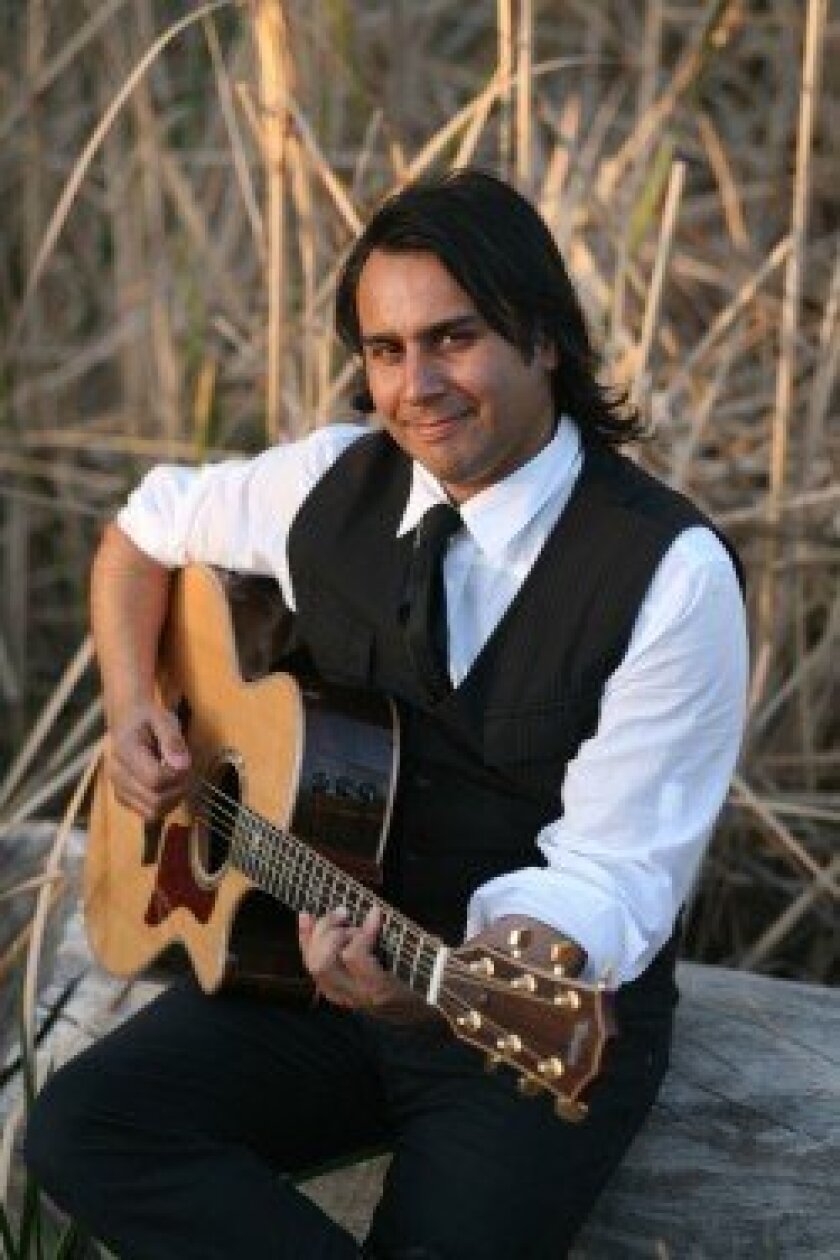 By Matt Liebowitz
On Sunday, April 29, Carmel Valley's Grace Point Church will host an event to support its Faith in Action program; church members and the larger community will assemble packages of food and supplies to feed and aid more than 100,000 Hondurans. Steven Ybarra, a celebrated San Diego musician, will, as expected, play the event.
It's expected because for the past two years Ybarra, a former Carmel Valley resident now living nearby in San Diego, has served as the church's worship arts director. But there's another reason Ybarra wouldn't miss this — while his music may be heard around the world, Ybarra's heart is truly at home.
"It's a logical extension, a creative outlet," Ybarra says of his role at Grace Point, in which he incorporates not just music but theater, photography, video, dance and other mediums into a comprehensive, and entertaining, whole. "It's all encompassing, and it's very fulfilling," he said.
Ybarra regularly wields his musical spotlight to illuminate the work of numerous charitable causes. He's performed at three Surfrider Foundation benefit shows, a March of Dimes event, at the Rock 'n' Roll Marathon in support of the Leukemia & Lymphoma Society's "Team in Training" program, and at the "Chaos for the Kids" Toy Drive among many others.
This balance, between using microphone (and guitar) to give voice to the causes of others and to follow his personal goals, is what keeps his music, and the man himself, in demand.
The demand, coupled with his persistence and flat-out solid modern country rock songs, is what has kept Ybarra in the game for nearly 20 years, from touring and releasing albums — his band was signed to EMI — to a stint as part of a songwriting team on Nashville's famed songwriting Music Row.
Most recently, it was Universal Music Group that came knocking. Ybarra's song "Love Love Love" from the 2008 album of the same name was recently licensed by Universal for an international marketing campaign. A five-time San Diego Music Award winner, Ybarra's tunes, from "Love Love Love" and his 2011 follow-up, "Best Days," have also appeared in MTV's "Road Rules" and "Undressed," on ESPN and in several surfing movies.
Ybarra remains humble about his accomplishments, maintaining a kind of reserved and modest confidence; he writes emotionally charged songs, and prefers to let them do the talking.
"It's always a challenge, musically, to write a song that's moving and taps into [the listener's] personal emotions and experiences," Ybarra said. "If I can write a song that happens to connect with millions of people — wow."
As the frontman for his former band, Liquid Groove (later known as 34Below), Ybarra has shared the stage with Jason Mraz, Sugar Ray, Hootie & the Blowfish, Switchfoot, Lit and the Gin Blossoms, and played hundreds of venues, from The Belly Up, the House of Blues and the Whiskey A Go Go to Coors Amphitheater and San Diego Street Scene.
It makes sense that Ybarra could live the life of a successful touring musician. He's done the touring part, and experienced the success. But, in late 2005 his life changed — and almost ended. Ybarra became seriously ill with meningitis. Not only could he no longer perform with the band, he could barely move.
"I was near death," he said. "I couldn't physically do anything. It took me out of the game." The experience marked a changing point in his life — "that's when I devoted myself to Christianity," he said — and ultimately, it led him to where he is now, a solo artist with big talent, big ambitions, and no ego.
If the title of his latest album, "Best Days," is any indication, Ybarra is doing just fine on his own, writing and performing his honest and heartfelt tunes and working to get them heard.
His audiences are receptive, and there's no shortage of gigs. On April 19 at 6 p.m. he'll play a show at the Rancho Bernardo Inn's "Tunes & Tastes" event; on Saturday, April 28, he'll play the main stage at the Mission Federal Artwalk downtown.
But, like the doting dad he is, Ybarra's favorite audience, smallest not in support but only in height, can be found in his living room. Ybarra and his wife, Kellee, a Carmel Valley Middle School teacher, have two children, a 3-year-old boy and a 1-year-old daughter.
"My son is so crazy about my music," he said. "I'll be playing guitar and he'll play his little guitar with me. It's so awesome."
More information, including tickets to Ybarra's shows, can be found at
.
---