New junior optimist club in Carmel Valley serves the community
By Kristina Houck
In a little more than two months, a new club at Torrey Pines High School has collected clothes for the homeless and gathered gifts for foster children. There are many more service projects the Junior Optimist Octagon International club has planned for the year.
"This is a wonderful group of kids who take the time from their busy lives of school, work, theater, sports and many other things to help others in their community," said club advisor Gwen Robinson. "We are so very proud of them."
The new JOOI club, the Torrey Pines Friendly Falcons, was chartered on Oct. 30. Sponsored by the Del Mar-Solana Beach Optimist Club, members work to promote positive change in their communities.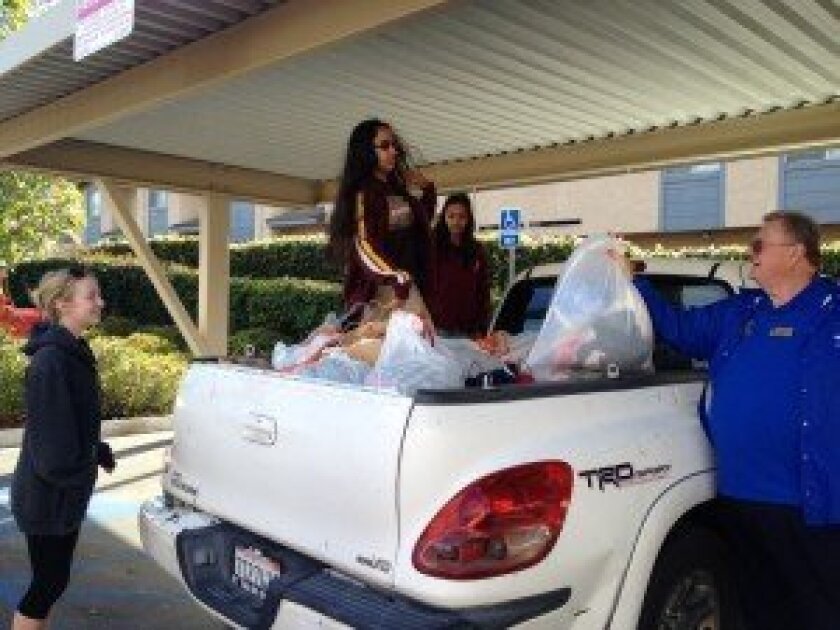 The group held a warm clothes drive in November for North County Solutions for Change, a Vista-based nonprofit organization that works to get homeless families off the street, rebuild their lives and move them into permanent homes. Club members filled the back of a pickup truck with jackets, sweaters, gloves and other warm clothing.
In December, the club donated new gifts to Straight From the Heart, a nonprofit resource center for foster families in San Marcos. In January, the club will hold a recycling drive and a bake sale to raise money for upcoming service projects.
"They are learning how their actions can affect the community and how they can positively influence other youth in the area," said Robinson, who is also a member of the Del Mar-Solana Beach Optimist Club. "They are developing leadership skills, organization skills and communication skills that they can carry with them into their college career and into adult optimists."
Optimist International is an association of more than 2,600 adult Optimist Clubs around the world. There are more than 15,000 JOOI members in more than 500 communities.
Student members from across the country will gather during the 2014 JOOI Convention July 6-8 in San Diego. Attendees must be members of a sponsored club.
"The primary focus of Optimist International is helping kids, and the JOOI club's motto is kids helping kids," Robinson said.
The Del Mar-Solana Beach Optimist Club also sponsors Canyon Crest Academy Ravens, a JOOI club that founded in December 2012. Both local clubs have more than 20 members.
In its first year, club members at Canyon Crest Academy prepared and distributed 250 lunches for the homeless. Other projects included two Mission Bay beach cleanup projects, a stuffed animal drive, a used book drive and fundraisers.
"We continue to provide support to them while they develop the skills to do their own projects and operate independently," said Jim Parrotte, a Carmel Valley resident and youth club chair of the Del Mar-Solana Beach Optimist Club.
The Torrey Pines Friendly Falcons meets at 11:55 a.m. on Thursdays in room 53 at the high school. Membership is free.
"The junior optimist program is not only a great way to give back to your community, but it's a great way to be a part of a larger organization," Robinson said. "We encourage interested students to join."
For more information, about the local JOOI clubs, visit www.optimistdelmarsolanabeach.com/junior-optimist.
To learn more about JOOI visit, www.junioroptimists.com.
---