New tenants coming soon to Beachside Del Mar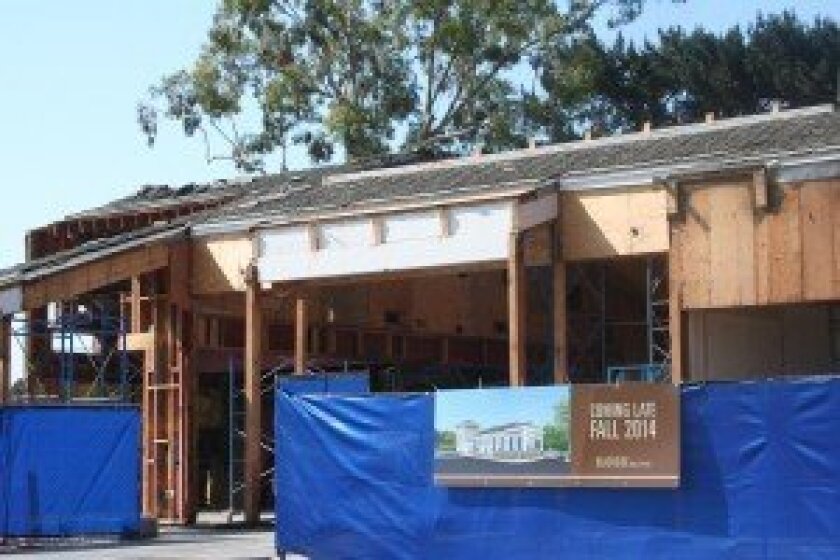 By Kristina Houck
Del Mar residents could have a few new places to shop locally for the holiday season. Four spaces are available at Beachside Del Mar as construction crews renovate the space.
"We are in negotiations with three very strong tenants right now for some of those vacancies," said Elizabeth Schreiber, vice president of operations and development for Donahue Schriber, owner and operator of Beachside Del Mar. "As soon as the leases are signed, we'll announce those names."
Formerly called Del Mar Heights Village shopping center, Donahue Schriber announced the center's new name in January, along with plans to give the center a makeover.
The renovation kicked off mid-June, with construction under way at the former Navy Federal Credit Union, which closed in February. Donahue Schriber is in negotiations with a coffee shop and restaurant to fill the space, which will be divided into two, Schreiber said.
"This little shopping center has been under-loved for many years," Schreiber said. "We're confident that our renovation will be well-received."
Beachside Del Mar hasn't been renovated since it was built in the late 1970s, she said.
Located on Del Mar Heights Road near Mango Drive in Del Mar, the shopping center has 33 tenants. Vons and CVS Pharmacy anchor the more-than-107,000-square-foot center, which has been owned and operated by Donahue Schriber since August 2012.
"We bought the shopping center because we saw tremendous potential," Schreiber said. "We saw tremendous opportunity to renovate and upgrade a center that really has had minimal attention over the years."
Similar to the company's previous work with Del Mar Highlands Town Center in Carmel Valley, Donahue Schriber gathered feedback from the community before finalizing its renovation plans. Through market surveys and online research, nearly 500 people offered input about the retailers and services they would like to see at the center.
Survey participants wanted an upgraded center that would maintain the neighborhood's charm, Schreiber said. Community members also wanted new stores and healthy eateries, as well as improved accessibility.
With the community's goals in mind, Schreiber said the remodel would continue the local tradition of craftsman architecture found in Del Mar.
Plans include new architectural designs and details to freshen the look and feel of Beachside Del Mar. Buildings will be painted green and brown, and accented with white trim, new storefronts and vine-covered trellises.
The landscape, plazas and sidewalks will reflect the beach community with sand-colored concrete. New open spaces will feature casual seating with a tiled water feature, collections of potted plants and benches.
Donahue Schriber is also exploring ways to enhance accessibility to the shopping center, including parking lot upgrades and improvements to the center's pedestrian and vehicular entries.
Construction is expected to be complete by mid-November.
"We just think it's really important to listen to what the community has to say and try to incorporate their feedback," Schreiber said. "We're honored to be part of the community."
For information about Donahue Schriber, visit
.
---