No meal over 475 calories is the premise of local chef's new UTC restaurant
By Claire Harlin
Local resident Steve De Barril, 27, just moved to town to bring the ever-expanding Seasons 52 concept to UTC. Known for its menu containing only dishes with 475 calories or less, the restaurant has been a hit in Orange County as well as on the East Coast, and Barril's franchise — the first in San Diego — is set to open on Nov. 19 at 4505 La Jolla Village Drive.
The concept began with the vision of Clifford Pleau, who started Disney World's California Grill in Orlando in the 1990s, so even though Seasons 52 also got its start in Orlando, it's truly a "California-born concept," De Barril said.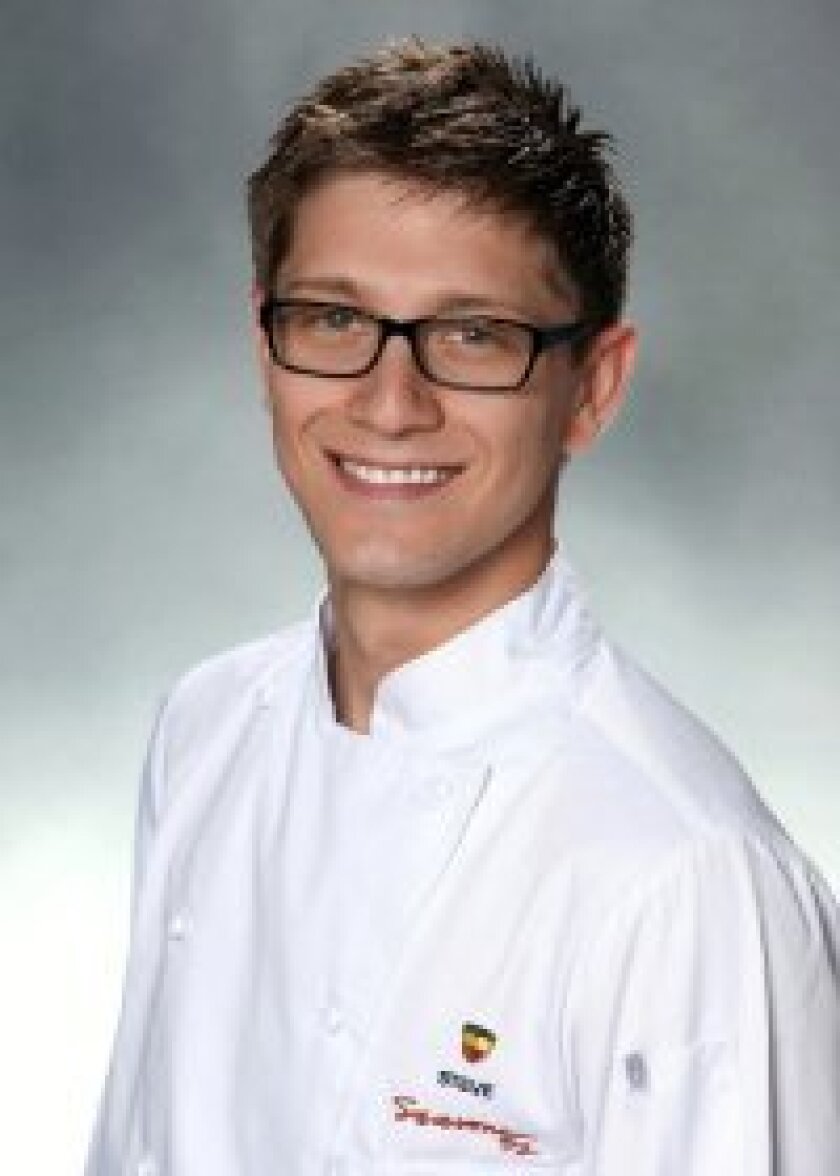 "It's really in line with the West Coast values," De Barril said. "It's so produce and seafood driven."
The San Diego opening is one of four Seasons 52 openings in California and about 10 nationwide. Simply put, the concept — fresh, healthy and upscale yet inexpensive — has taken off and this is a period of major growth for the restaurant chain.
"In all our cities, people have been amazed by what we do and the food and the value," De Barril said. "It's fast growing, but we're not expanding too fast because we want to make sure we do each one right and are very thorough with each restaurant."
Seasons 52 manages to keep all its menu items under 475 calories by using natural cooking techniques. De Barril has been training his UTC kitchen staff on the wood stove, and teaching how to cook with no butter, cream or deep fryers.
"It's easy that way," he said. "You just let the food and seasons speak for themselves."
By seasons, De Barril is talking about the restaurant's menu, which changes four times a year. In addition, a new mini-menu is put forth each week — hence the restaurant's name — featuring brand new items like soups, flatbreads and fish dishes. Seasons 52 is also known for its signature "mini-indulgence desserts" that only cost a couple of dollars and are served in shot glasses. The restaurant features nine desserts at any given time, and the selection is brought to the table after dinner for guests to choose.
"Guests say it's really the next level of a dining experience, while maintaining pocket books and still being figure conscious," De Barril said.
De Barril has been on the opening management team of several Seasons 52 locations, including Illinois, Orange County and Phoenix, from where he recently relocated.
His passion for restaurant life began at age 15 when he started working as a dishwasher in a hotel restaurant. He quickly moved up the ladder to working as a cook, and he loved the fast-paced feel of the kitchen.
"I have this huge sense of accomplishment from working in the kitchen," he said. "The same sort of feeling people get from racing cars or sky diving."
De Barril said his favorite part of being a chef is the teamwork that ensues in the kitchen.
"People are having a fantastic experience in the dining room, but they have no idea what's going on in the kitchen," he said. "It's a high intensity environment, and on top of that, you are working with so many individuals as a team and relying on one another to be successful."
For more information, visit www.Seasons52.com.
---