North Shore kicks off season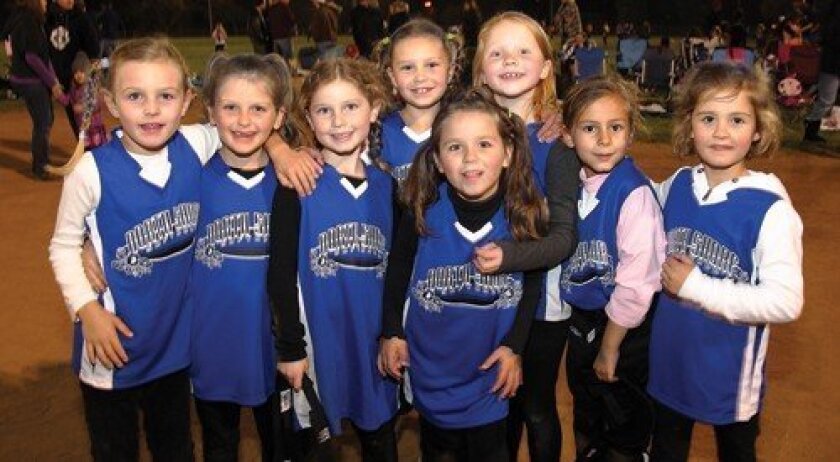 North Shore softball 2012
()
North Shore softball 2012
()
North Shore softball 2012
()
North Shore softball 2012
()
North Shore softball 2012
()
North Shore softball 2012
()
North Shore softball 2012
()
North Shore softball 2012
()
North Shore softball 2012
()
North Shore softball 2012
()
North Shore softball 2012
()
North Shore softball 2012
()
North Shore softball 2012
()
North Shore softball 2012
()
The North Shore Girls Softball League celebrated the beginning of the 2012 softball season with a fun-filled Opening Night ceremony at the Carmel Valley Rec Center on Feb. 10.
The festivities began with a welcome message from North Shore president Cathy Scheg, who went on to introduce all 23 North Shore spring teams during the parade of teams. The parade was followed by the singing of the National Anthem by 10U players Nicole Kim and Madigan Wade.
The evening's special honors went to much-loved longtime Torrey Pines High School varsity assistant softball coach Ana Sandoval. Sandoval also has been a beloved pitching coach to many North Shore players. She is moving to Arizona after 10 years with Torrey Pines.
Also recognized were the 2011 North Shore 12U and 8U Gold All-Star teams. Over the summer, the 12U team worked its way to the Western National Championships, while the 8U team made it to the State Tournament. It was the first time in North Shore history that an 8U team made it to States.
The 2012 season was officially declared open when the first pitch was thrown out by 8U player Ashlyn Bowman and was caught by 14U player Shae Williams.
For information on the North Shore Girls Softball League, visit
.
Photos: Jon Clark
---