North Shore Softball 12U team in Carmel Valley celebrates historic season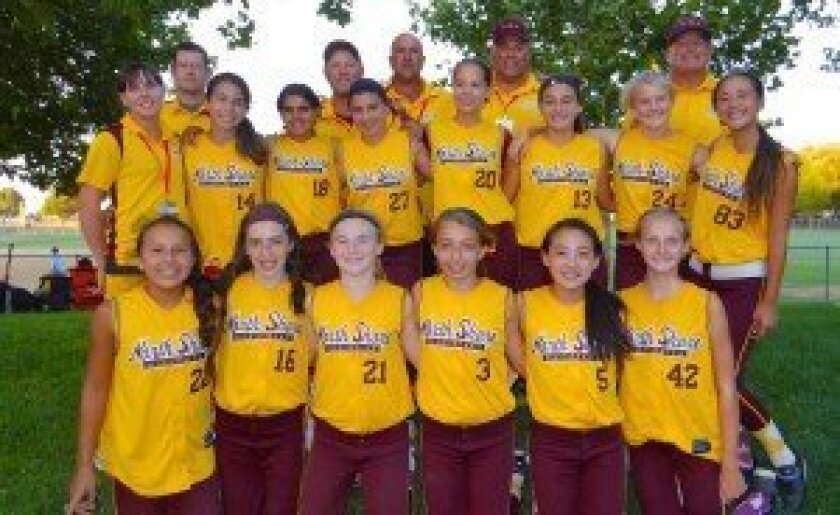 North Shore Girls Softball League celebrates its 12U team's strong performance in the ASA Western Nationals Tournament this summer. The team finished 17th out of 44 teams from California, Nevada, Oregon, Montana and Hawaii in the competition in Roseville, Calif., in August.
Players and families saw a week of pageantry, skills demonstrations and competition where the best teams from state-level tournaments battled to be the best in the West.
Steve Walling, manager of North Shore's 12U team, said he was proud of this group of young women, many of whom have played together for several years without even qualifying for the State Championships.
"I couldn't be happier for these girls," he said. "The way they played and came together as a team to beat great competition was truly impressive."
North Shore started the tournament with two impressive wins, beating Roseville 14-0, then edging local rivals Escondido in a comeback win, 8-7. The team lost the next two games to Simi Valley and Foster City only by margins of 2-1.
The group had an impressive performance, even though some members of the team who played throughout the season were not able to compete in the tournament due to conflicts. "We're so proud of all these girls who played throughout the All-Star Season for their incredible ability to work hard and win together," said Randy Rechs, president of the North Shore Girls Softball League.
The 2014 12U team represents only a handful of teams who have qualified for the ASA Western Nationals Tournament in its 27-year history. The team will be honored in the opening ceremony of the 2015 season on Feb. 15. Registration for the Spring 2015 recreational season opened Oct. 1. To register, visit
.
---