Northwestern Division officer focused on crime prevention in Carmel Valley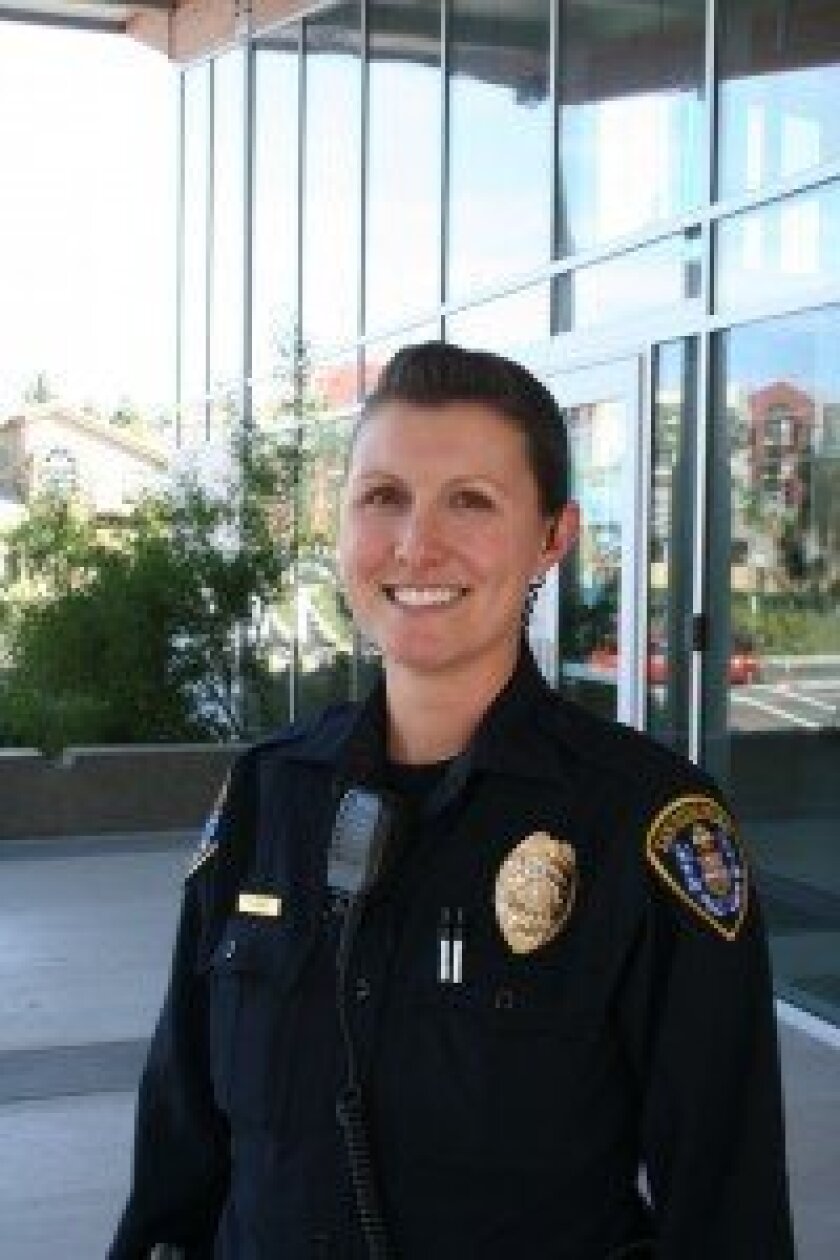 By Karen Billing
Natalie Hone, Northwestern Division's community relations officer (CRO), is enjoying her time serving Carmel Valley, taking an active role in keeping the community safe.
Hone has been in Carmel Valley for about a year and a half, coming from the mid-city and western divisions. She replaced Adrian Lee, who is now an acting sergeant at the Northwestern Division.
Hone said she loves the Northwestern Division, especially because the community is so involved.
"We know this is a nice community and we know it's a safe community and the people that I talk with want to keep it that way," Hone said.
The police department just went through one of its largest allocation and promotion processes that they've had in recent years. Through the process, Northwestern gained a new lieutenant in Lt. Stephanie Rose. Rose comes to Northwestern from the mid-city division. Captain Manny Guaderrama still serves at the helm of Northwestern Division.
Hone said this division has very low crime rates. The biggest crime problems in Carmel Valley are residential burglaries and car prowls, the majority of which are crimes of opportunity — cases of doors left unlocked, windows left open, cars being unlocked and valuables left in plain site.
"It's the little things you don't think about, the window cracked in the back of the house," Hone said.
For example, on Monday, March 25 between 2:20 p.m. and 3:45 p.m., a home on Amberglades Lane was burglarized. The suspect gained access to the home through a side door to the garage left open, as well as the door left open connecting the garage to the home.
The suspect took two security safes with jewelry and a .357 Magnum handgun.
Hone said she wants to close those little gaps that make it easier for a criminal to slip in and steal property. She said most criminals like to take the easier route so it's up to you to make your home a harder target.
"I'm all about education," Hone said.
As a community relations officer (CRO), she is available for free security surveys for homes or businesses. She is also willing to come out and speak to homeowners association groups or Neighborhood Watch groups on a range of safety topics.
"There are rumors of budget cuts and personnel moving but the police department keeps CROs consistent because they know how important it is for us to connect with the community and share information," Hone said.
She stresses working on crime prevention — she'd rather not meet residents after they've become a victim of crime, she'd rather work with them before to make their homes and neighborhoods as safe as possible.
"There's a lot you can do and a lot of things we offer," Hone said. "If we make that connection there can be a lot of positive change."
The most positive results can come out of residents keeping an eye out on their surroundings and reporting anything that seems suspicious.
Two weeks ago, an arrest was made in the community near Torrey Pines High School after someone called to report that a vehicle that had been parked on the street for some time with two young adults inside.
When police went to investigate they found the vehicle's driver had a felony warrant for narcotics. The people in the vehicle were both heroin dealers and users and were arrested on possession and the intent to sell.
"If no one called it in, we probably wouldn't have caught them and they would have kept selling and using in this community," Hone said.
Even if it seems insignificant, Hone said to "always, always, always call." She said people shouldn't worry about being a bother, even calling in to report solicitors without permits from the city to solicit is welcome because sometimes they are people casing homes to burglarize.
Any suspicious activity can be reported to the non-emergency line at (858) 484-3154.
Since taking over for Lee and from Officer Gaylen Sells before her, Hone inherited a lengthy community e-mail list. She said she is trying to phase out the e-mail tree as the means of communication and would like people to use the SDPD Northwestern Division Facebook page instead.
"We're trying to keep up with using social media," Hone said, noting the Facebook page offers instant information about local cases and other developments.
Additionally, the police department is promoting a site called Nextdoor, a private social network for neighborhood groups. People can sign up and be connected with their neighbors and receive updates specific to their neighborhood from Hone. Some Neighborhood Watch groups are already using Nextdoor and the police department sees it as a valuable resource for getting information out to people it matters to most.
"More information is more power, when you know what's going on in the community to protect yourself and watch out for your neighbors," Hone said.
Visit nextdoor.com to sign up and create a neighborhood group.
---