Ocean Air's Future Problem Solvers qualify for State Bowl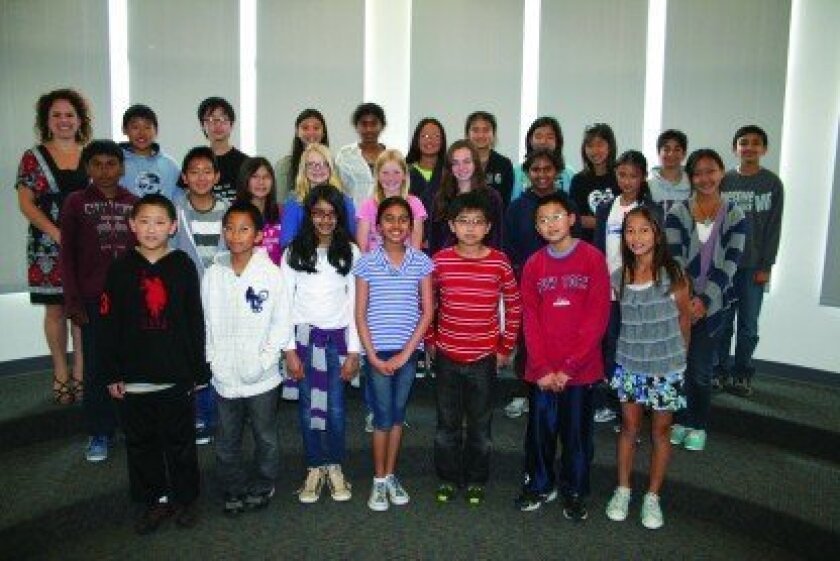 By Karen Billing
The future looks bright, if Ocean Air School's Future Problem Solvers have anything to do with it. Twenty-seven intelligent young fifth and sixth graders recently qualified for the California Future Problem Solving State Bowl, capping a year's worth of learning on real-world problems and coming up with possible solutions.
"They give up their lunch to talk about human rights and trade barriers," said teacher Ariella Leeder of her impressive group.
Five teams from Ocean Air qualified, as well as seven as individuals for the State Bowl which will be held on April 28-29 in San Diego. Winners from the State Bowl will advance to the International competition.
Qualifying team members included Maclaine Parish, Nicole Golden, Caroline Mackey, Boopala Arul, Joo Seung Kim, Mindy Xu, Rachael Liu, Issac In, Sathya Krishnasamy, Sarah Teruya, Rithvik Rao, Presley Silahian, Shreya Gopala, Nathan Zhang, Alan Zhu, Soumika Guduru, Erica Hwang, Joanne Kang, Amy Yan and Stanley He.
Individuals who qualified are Kevin Hu, Megan Tran, Cecilia Zhang, Andy Zhu, Alyssa Cho, Jordan Naughton and Soumya Kalluri.
"At the end of the day, it's not just for competition but for real-life purposes," Presley said. It's all going on right now, all the same problems that we still have now."
It's empowering for the students to know that their opinions matter and that they're not treated like just a 12-year-old kid.
"I love that feeling," Rithvik said. "It gives you an opportunity for your ideas to be known and valued and they might also be used someday."
In competition, students are asked to analyze a scenario set 20-40 years in the future relating to each of the five topics they have researched throughout the year, from coral reefs to emergency planning. Their most recent competition, the qualifying match, was on human rights. In the state competition, they will be problem solving about trade barriers.
In competition, they are given two hours to work on a booklet in teams of four.
"We write solutions to the underlying problem and everyone has to cooperate," said Sathya.
Adds Boopala: "Two hours seems like a long time but it goes by really fast."
They also have to perform a skit based on their solution.
"It's an immense collaboration to get it done as fast and efficiently as possible," Rithvik said.
At the individual level, students have to write a 1,500 words or less story that relates to one of the five issues studied throughout the year and it must take place at least 20 years in the future.
"You have to convey a message to the reader about the future, what you want to happen and what you don't," said Soumya.
They send their pieces to judges who send it back with lots of feedback—so much so that many of the students re-wrote their stories. Winners are revealed at the competitions.
"It takes a while to think about your story, but once you get inspired you start typing like crazy," said Sarah. "We edited each other's and got feedback from the judges. I thought everyone's stories were great."
"It's so hard to stay within 1,500 words," said Presley. "Once you start typing, you want to keep typing."
Boopala said the hardest part is not making it too sci-fi, since it does take place in the future.
The group meets at lunch to talk about the topics throughout the year, many of them very challenging for young minds. Leeder loads them up with information in "really big packets," as Maclaine described them. The students try to soak up as much information as they can on their own and then come to the group to discuss it further.
"My mind was bulging with so much information," said Stanley of his first year as a problem solver.
For the most part, the students enjoy their "bulging" minds.
"Before I joined, I didn't know a lot of these things," said Sarah. "I didn't even know there was a war in Iraq. It opens your eyes to the real world, not my own self-centered little world. I love the feeling of getting a new packet. I tear through everything and gain new knowledge."
---