On the Menu: Psst, Have you heard? There's something special about Cafe Secret
It's clear that Cafe Secret is becoming pretty well-known around the county. One of the most obvious indicators is that the Peruvian eatery is beginning to appear on "Best of" lists chosen by publications' readers, particularly for its fresh and flavorful ceviches.
And it's also not unusual to find a packed patio (especially weekends) consisting of customers unwinding with cups of coffee while poring over the cafe's magazines.
Under red umbrellas and trellises of bougainvilleas and other foliage, they listen to the rhythms of world music and the bubbling fountain, and admire colorful textiles and scenic photographs of Peru and Del Mar that adorn the walls. Dogs, big and small, curl up next to their owners, and everyone seems as if they're right at home.
At night, the atmosphere of the streetside cafe shifts to romantic. The patio glows from candlelight and tall, triangular-shaped heaters, and the server' attire is more refined ... yet still relaxed.
"We want everyone to feel as if they're coming to dinner at our place," said Daniella Basagoitia, who co-owns Cafe Secret with her husband, Bratzo.
The Peruvian natives bring their sense of home to their menu, creating dishes from childhood recipes. Nearly everything is made from scratch, including the salsas and dressings, and they're concocted from ingredients that people find familiar, despite the ethnic influences, Basagoitia said.
Organic items are used whenever possible, and fresh seafood is brought in daily.
Cafe Secret serves breakfast, lunch and dinner — from simple starters to filling entrees.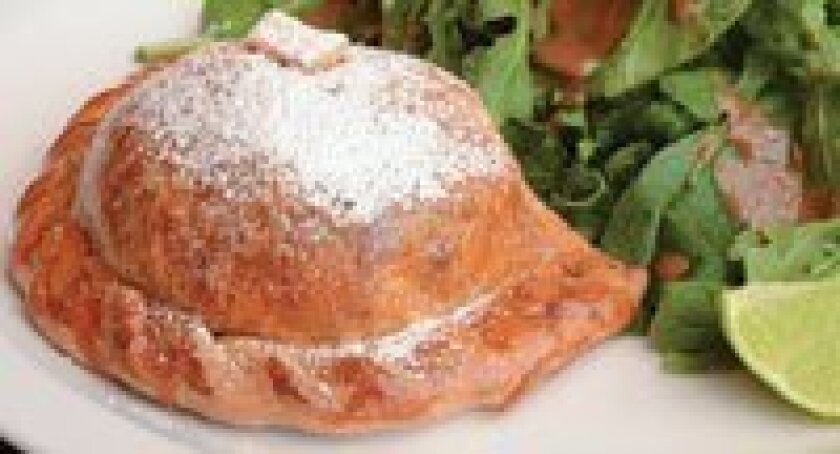 For a light morning treat, guests may sip on a foamy cup of cappuccino and nibble on an Alfajor, a small, soft and delicate shortbread cookie filled with dulce de leche and sprinkled with powdered sugar.
Other popular beverages during the first part of the day include mimosas and the orange juice, which is freshly squeezed by a Zummo machine before customers' eyes.
The restaurant's newest breakfast item is the Benedicto, a variation of a traditional Eggs Benedict. It's made with crunchy ciabatta, avocado, poached eggs, bacon and Huancaina sauce, a mixture of queso fresco and Peruvian yellow peppers. At lunchtime, offerings include the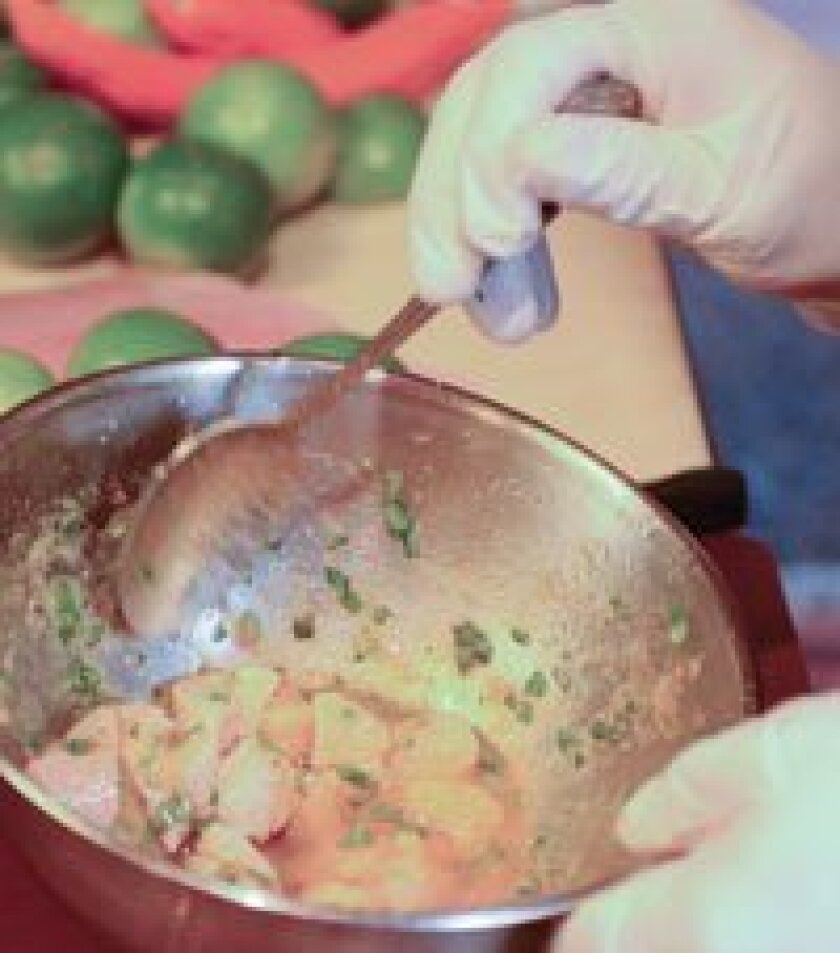 Quinoa Salad and Empanadas — pastry turnovers stuffed with savory ingredients like ground sirloin, onions and peppers; pulled roasted chicken and creamy aji sauce; and Swiss chard, spinach and queso fresco.
Of course, there are also the ceviches, such as the Kin Lui, named for one of the chefs. The Kin Lui version contains either halibut or sea bass, depending on the season; octopus; avocado; hearts of palm with lime juice; aji and rocoto (chili peppers); cilantro; sliced onion; choclo (Peruvian giant corn); yams; and conchita (Peruvian scallops).
On the dinner menu, patrons will find selections including the Lomito Saltado, a stirfry featuring filet mignon, tomatoes, red onions, aji, garlic, ginger, soy sauce and yucas (rain forest roots) that is served with rice.
To accompany the food selections, options include two Peruvian lager beers and a selection of wines from South America, Spain and California, along with a homemade sangria made with chicha, a Peruvian fruit punch.
Among the handful of desserts available to cap off a meal are Tres Leches, a light cake soaked in sweet milks that is topped with strawberries and mint.
Although everyone can order individual portions, Basagoitia recommends the family- style approach to get a taste of as many of the 40 items as possible. "For being such a small cafe, we have everything," she said.
cafe-secretThe restaurant also provides office deliveries in Del Mar, Carmel Valley and Solana Beach, and supplies breakfast to guests at the neighboring Secret Garden Inn.
With so many people becoming loyal customers, the Basagoitias know many of them by name. But even as Cafe Secret's following grows, it's still an intimate enclave. "It's a little, secret place," Daniella Basagoitia said. "For me, it's very magical."
---