Accusations made by both sides as One Paseo petition signature drive continues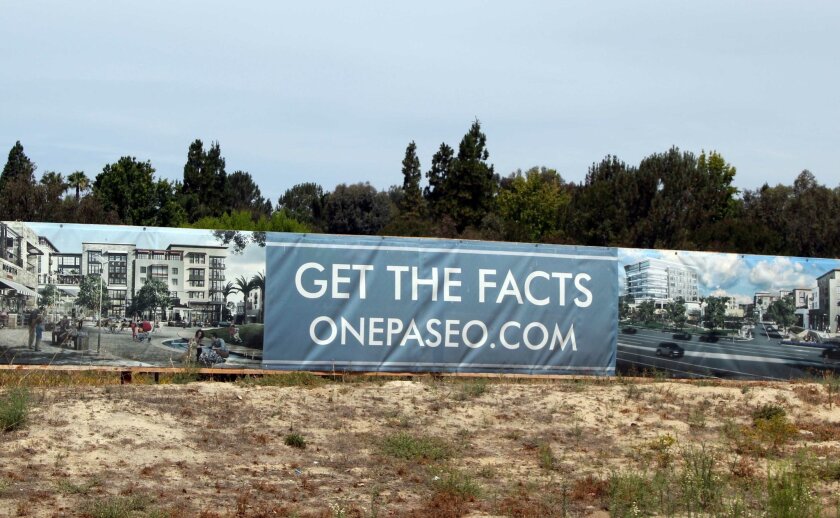 With the March 25 deadline looming to collect 33,224 signatures, One Paseo referendum signature gatherers have been out all over the city from in front of Jimbo's in Del Mar Highlands to Whole Foods Market in Hillcrest.
Both One Paseo supporters and opponents have been accused of dishonest tactics. Both sides have been accused of harassing people to sign or not to sign, and both have been accused of lying about what the petition is for — "saving the San Diego Chargers" has been a popular plea.
Legal representatives of Protect San Diego's Neighborhoods sent the first of two cease- and-desist letters to Kilroy Realty on March 13, demanding that the company stop its "egregious and anti-democratic activities." The coalition claims that Kilroy's "signature blockers" have spit in the faces of petition circulators and surrounded tables to separate them from the public.
"Kilroy's attempts to torpedo our efforts and manipulate San Diego voters are despicable," said Jeff Powers, spokesperson for Protect San Diego's Neighborhoods.
"More importantly, however, these extreme actions show that Kilroy is desperate. The company knows that if our efforts succeed and One Paseo is placed before voters, it will be soundly defeated."
Protect San Diego Neighborhoods is a coalition of residents, community planners and small business that receives major funding from Donahue Schriber, owner of Del Mar Highlands Town Center.
At the March 17 Torrey Hills Community Planning Board meeting, Carmel Valley resident Jerry Mailhot, who is helping to coordinate the referendum drive, called Kilroy's tactics "pure voter suppression at its worst."
He said the situation has become a "feeding frenzy" for signatures as the two groups clash. While they seek their signatures, he said Kilroy is seeking rescission signatures (which removes names from the referendum petition). He said the cops have been called when the situation has grown out of hand.
Officer Tracey Williams, community relations officer for the San Diego Police Department's Northwestern Division, said they have had many complaints, but no crimes have been committed.
At a recent Del Mar Mesa Community Planning Board meeting, Williams cautioned that "You can't touch or threaten [people] in any way; police are the peacekeepers."
Rachel Laing, representing Kilroy, said that accusing the other side of bullying in order to draw attention to their effort through the media is a standard tactic in signature gathering.
Laing said that some of the misinformation being spread by signature gatherers that Kilroy has heard include that tax dollars will pay for the project and that the petition is to keep Wal-Mart from coming to San Diego. Signature gatherers have allegedly claimed "a mall is being built on a wetland"; another table was set up under a banner that read "Save our schools."
"The simple fact is that Donahue Schriber is funding a million-dollar, paid signature gathering effort to overturn a bipartisan, supermajority vote of the council," Laing said. "Kilroy is exercising its First Amendment right to educate people before they sign a petition. There is absolutely no need to be aggressive to offer facts that most people appreciate greatly before they sign a petition."
Mailhot said he estimates they have gathered "well over" 33,000 signatures, and they are hoping to get 60,000.
"We're pushing like crazy to get all the signatures that we can," he said. "We can't afford to lose momentum in the last week."
Both sides have hired signature gathering firms to do the work. Mailhot said the firm they hired, Progressive Campaigns, offers $3 per signature. In addition to gathering signatures in front of stores, they are also going door to door.
After the recent Del Mar Mesa Planning Board meeting, board member Lisa Ross said, "I have received responses from citizens all over the city that the planned One Paseo is a flawed city planning process. There was a hearing on city TV, and the city ignored every citizen's testimony, including San Diego County Board of Supervisors Vice Chairman Dave Roberts.
"This is not only about Carmel Valley, but that the bypassing of citizens' input can happen anywhere in the city," Ross said. "People are terrified that what has happened to [citizens' voices] can happen all over the city."
— Suzanne Evans contributed to this report.
---