City Council rescinds Carmel Valley One Paseo project approval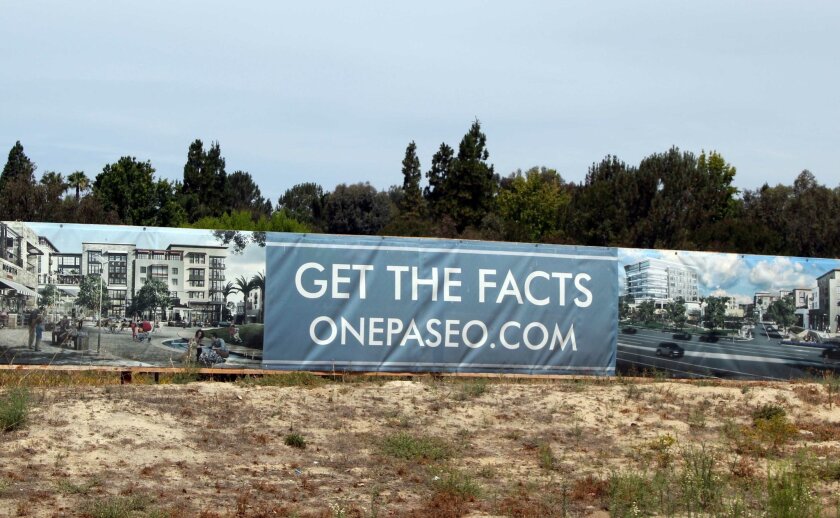 It took six years and three extra days, but Kilroy Realty was finally able to come to a compromise that appeased the community on its One Paseo development. The announcement that a scaled-down "new" One Paseo is in the works and news that lawsuits from neighboring Del Mar Highlands Town Center and community groups had been called off, came at the San Diego City Council's referendum-forced hearing on May 21.
After hearing that a deal had been struck that all parties were happy about, Council voted unanimously to rescind approval of the previous 1.45-million-square-foot project and send it back to the community for revisions.
"I'm hopeful about this agreement and I think it's a great thing and I think it will move this community forward," said long-time project opponent Ken Farinsky. "This is an opportunity to get the mixed-use project that we want with the community input that we need."
Jamas Gwilliam, vice president of Kilroy, said they have agreed to settle two separate lawsuits with Donahue Schriber, the owner of Del Mar Highlands, and a trio of community groups: the Alliance for Responsible Development, the East Bluff Community Association and Mitigate One Paseo.
Gwilliam said they would settle if and only if the project was rescinded and a new One Paseo project was considered that would dramatically reduce traffic and other impacts.
"It's been a long, hard road…reasonable people came to the right conclusion," said Pat Donahue, chairman and chief executive officer of Donahue Schriber. "Kilroy has listened to the people of Carmel Valley."
On Monday, May 18, when Council voted to delay the originally scheduled referendum-forced hearing to give more time for a compromise, President Sherri Lightner voted against the motion because she said she did not believe a suitable compromise would be possible. She said she was glad she was wrong.
"(The agreement) represents a significant collaboration between the community and the developer and brings about the results everyone desires," Lightner said.
Gwilliam said they are in the very early stages of the design of the new One Paseo project, but they have agreed to several parameters to follow as the plan moves through the public-input process.
Kilroy has agreed to reduce the project's 28,000 average daily trips by nearly half, have 30-foot setbacks from the road, eliminate one planned traffic signal on Del Mar Heights Road, cap office building heights at seven stories, and significantly reduce the bulk and scale of the project.
"We can deliver the community many of the amenities they desire while addressing traffic and visual concerns," said Gwilliam. "We believe this is a fair compromise that allows us to give the Carmel Valley community what they want and avoid a protracted legal battle."
The originally-approved size of One Paseo included 198,500 square feet of retail, 484,000 square feet of commercial office, and 608 multi-family residential units. In September 2014, the Carmel Valley Community Planning Board rejected the original proposal and said it would support a reduced alternative of 140,000 to 198,500 square feet of retail, 267,800 square feet of office and 304 residential units.
As Farinsky noted, there is no negotiated project size at this time, but Kilroy will work with the community along the agreed-upon framework with the hope to cut down on the need for additional turn lanes into residential neighborhoods, reduce the required street widening that would have necessitated the removal of mature trees and keep emergency response times at a safe level.
Bob Fuchs, co-founder of What Price Main Street community coalition, said they believe the project will be more in line with the intent of the community plan.
"I believe that the coalition members, though not a party to the negotiations, will find the settlement conditions consistent with what has been advocated for many years, and will be happy to leave the controversy behind and look forward to reviewing a project the community can be proud of," Fuchs said.
After the new version of One Paseo undergoes additional review by the Carmel Valley Planning Board it will also need to be approved by the San Diego Planning Commission and San Diego City Council.
The mood was celebratory in Council Chambers after the announcement of the agreement and audience members clapped when the unanimous vote to rescind came down.
"I've always been supportive of One Paseo and I'm excited about getting it going as soon as possible," said Carmel Valley resident Bobbi Walden.
Resident Alyssa Sepinwall was more cautiously optimistic — she said she hoped that public input will truly be valued moving forward.
"For years we wanted a compromise but it took them until this week to get it done," Sepinwall said, urging Kilroy to continue to listen to the community. "I hope we will be satisfied with the new plan."
---