One Paseo's second hearing set for May 18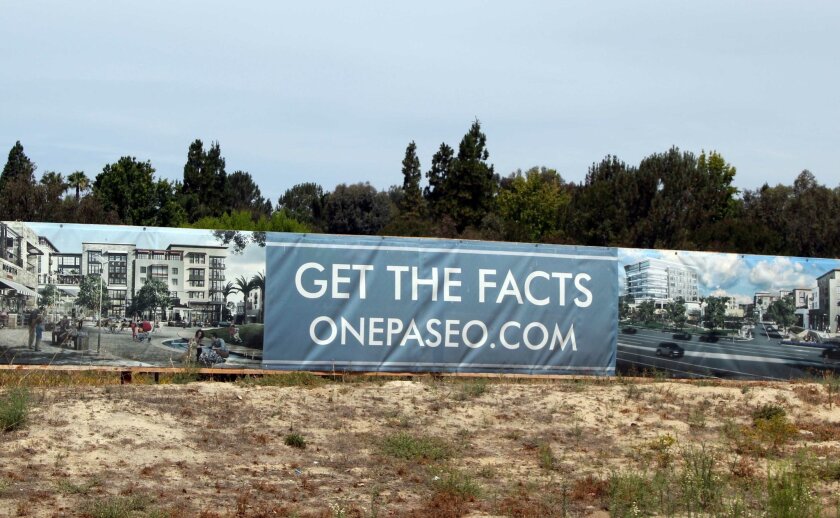 At San Diego City Council's May 11 meeting, the city clerk presented the certified One Paseo referendum petition, sending it to a second hearing at 1 p.m. Monday, May 18. At that hearing, held at the larger venue of Golden Hall, the City Council must rescind its 7-2 approval of the mixed-use project or send it to a citywide vote.
City Council President Sherri Lightner, one of the two votes against One Paseo, issued a statement congratulating Protect San Diego's Neighborhoods efforts in gathering the necessary 33,224 signatures for the referendum. In it, she stated that she hopes that the project does not go to the ballot and instead an alternative solution can be found.
"If One Paseo is allowed to stand, it paves the way for massive overdevelopment in San Diego and the destruction of community planning in our city. I hope my council colleagues will consider rescinding their approval of this project and sending the developers back to work with the community to create a project that minimizes traffic and visual impacts," Lightner's statement read.
"As I have previously stated, the community wants an appropriate project at this site and is willing to work with the developer. Therefore, I do not feel that the city should spend the time or money sending a community-specific initiative to the ballot when a solution can be found on the community level."
Kilroy spokesperson Rachel Laing said, "It's unfortunate that Sherri Lightner joined the One Paseo opponents in claiming they wanted to give San Diegans an opportunity to vote on the project. Now that they've gathered thousands of signatures from people on the premise of giving them a voice, they shouldn't go back on their word. We believe the facts are on One Paseo's side and that, when voters have a chance to learn about it, they'll approve the project. This about-face on letting voters decide is perhaps a sign the opponents agree."
Golden Hall is at the San Diego Civic Concourse, 202 C St. The hearing will also be broadcast live on CityTV.
Golden Hall is at the San Diego Civic Concourse, 202 C St. The hearing will also be broadcast live on CityTV.
---