Outgoing county supervisor Slater-Price honored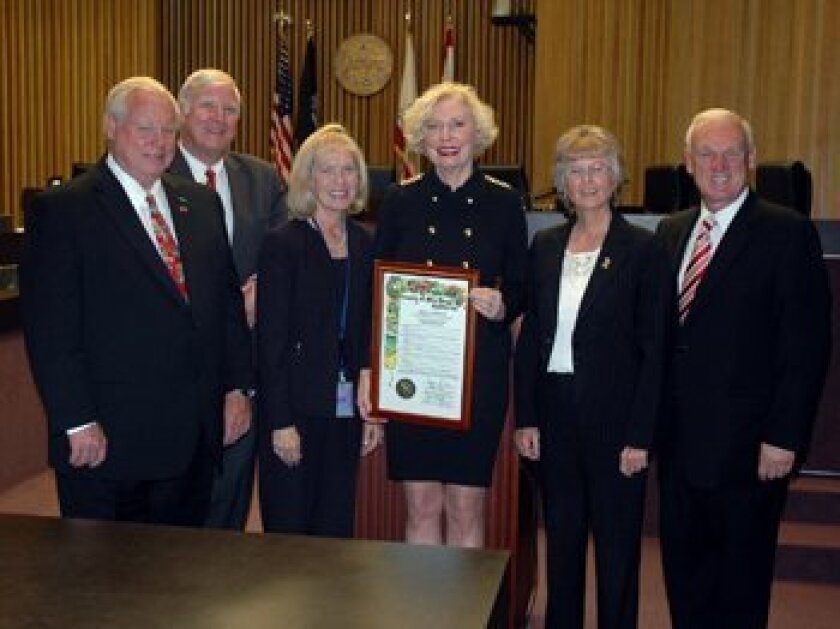 Supervisor Pam Slater-Price recently received accolades from her colleagues as she prepares to retire after 20 years of service on the County Board of Supervisors.
To recognize her leadership, board chairman Ron Roberts presented Slater-Price an official county proclamation.
"The name Pam Slater-Price has become synonymous with environmental preservation," Roberts said. In addition, the supervisor "has received numerous awards from clean-water and coastal preservation groups for her unflagging advocacy."
Roberts and other supervisors noted Slater-Price's strong support of public safety, libraries, animal welfare and helping to put the county on a strong financial footing.
Supervisor Dianne Jacob told Slater-Price that the two of them were among the few women to have ever served on the Board of Supervisors. She said Slater-Price was an inspiration to all women who are determined to advance their careers.
Slater-Price thanked her colleagues and told them that her long tenure had been an adventure.
"The culture of county government has changed for the better," she said. "I am proud to have served the public." (Look for a story on Slater-Price and her work on the board in an upcoming issue of this newspaper.)
---