Pacific Highlands Ranch park committee working to fit community's needs into recreation center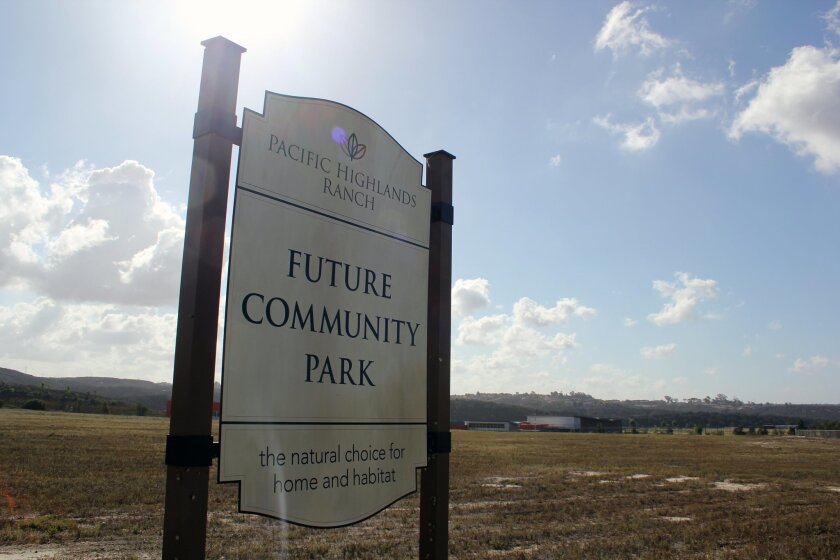 The Pacific Highlands Ranch Community Park Committee has begun the planning process, tasked with finding spaces for basketball to badminton, children's art to adult Zumba classes, in the new park and recreation center. The 13.5-acre park and 17,000-square-foot recreation center is planned for the open space next to Pacific Trails Middle School on Village Loop Road.
The committee met on Oct. 27 with the park design firm Schmidt Design Group and rec center architecture firm Hanna Gabriel Wells to offer insight on what they would like to see in the site's programming and facility.
The architectural and design firms will return to the committee's Nov. 10 meeting with a variety of ideas using the feedback received. The meeting will be held at 6:30 p.m. at Pacific Trails Middle School.
Glen Schmidt, president of Schmidt Design Group, is asking the committee to consider three options for the park — one being a heavily programmed, traditional park with features like multi-use fields, two backstops, two basketball courts, five tennis courts, a snack shack, children's tot lot, picnic shelters and social nodes.
Another alternative is an informal/alternative recreation park with features like sand volleyball courts, a parkour course, a pump track for bike riding, skate elements and a dog park.
A third option would include passive/neighborhood uses like an informal amphitheater and contemplative spaces.
While there was talk about synthetic turf, Schmidt said the park would not use artificial turf due to the community's access to recycled water.
Aaron Taraka, a student at Canyon Crest Academy, represented several teens in attendance who said they would love to see a bar park, with walls and bars for them to climb, jump and exercise on.
"I think it could really differentiate this park from other parks," Taraka said, noting that it would only require about a 20-foot-by-30-foot space.
JT Barr, senior associate with Schmidt Design Group, conducted outreach with a number of local sports groups to understand what their needs and challenges are.
"There was an acknowledgement that we're park deficient and field deficient, so there is a need for recreational facilities in the community," Barr said. "There is also a need for lighted facilities."
Building the backstops without an outfield fence allows more flexibility in how the fields can be used for sports like soccer, lacrosse and rugby. The user groups' wish list included a snack shack, restrooms close to the fields, and storage.
The rec center building will target activities like basketball, badminton, volleyball, martial arts, table tennis, arts and crafts, dance, exercise classes and meeting spaces.
"Flexibility is key in the planning," said architect Jim Gabriel of Hanna Gabriel Wells Architects, noting they want to create spaces that can accommodate multiple activities.
The committee can play around within the 17,000 square feet they have — some basic estimates of usage include 10,000 square feet, several multi-use rooms about 1,200 square feet and 900 square feet of storage.
Lauren Mirro, the assistant general manager of the CV Recreation Center, said they shouldn't skimp on storage and was a little concerned about the 900 square feet number given how full their storage capacity is.
The gym's floor would be lined to handle two cross basketball courts and one full-size high school court, six badminton courts and several options for volleyball court configurations.
Joe Young, the president of the San Diego Badminton Club, said he was happy with the court layout as he believes the facility will be used a lot by their group.
Committee member Scott Curry said he was happy to see the studio space for classes like dance and Zumba, as those classes fill up quickly at Carmel Valley's center. Resident Karen Dubey commented that non-permanent walls (such as sliding room dividers) don't work in rooms tapped for exercise and dance classes due to the noise disturbance — a quiet yoga class would not want to hear the music from the Zumba class next door.
Gabriel led a discussion for the committee about looking at the design character of the building and how it will "fit gracefully" with the park.
Gabriel said his company is committed to sustainable architecture — using solar orientation and prevailing breezes for daylight and natural ventilation.
They also place a priority on opportunities to shade and protect outdoor areas so that they are comfortable. Their buildings aim to use sustainable materials and employ visual connectivity through windows, so people can look inside the center and see what's going on.
"Nothing is more enriching than our connection to those around us and nature," Gabriel said. "Sensible, sustainable building design is what's needed to strengthen those connections."
The committee looked at examples of the firm's designs, such as the Montevalle Recreation Center in Chula Vista, the SDGE Energy Innovation Center in Clairemont Mesa and the Ocean Beach People's Organic Food Market, the only grocery store in San Diego that doesn't use air conditioning, relying on natural ventilation.
The committee liked the idea of creating a secured courtyard and usable outdoor space as well as the complex style of recreation center, breaking up the massing into separate buildings so it feels more like a community center.
The committee members said they weren't opposed to making a statement with a unique building, but they felt some of the designs presented were too modern and industrial for the community.
"I want the glass and openness and airiness of the modern style without looking like I drew it," said committee member Danielle McCallion.
The committee remarked that they would like to see the modern look "warmed up," and for the rec center, tie in more of the Santa Barbara-style elements of the Village and surrounding neighborhood and to create less bulk with articulated rooflines.
The committee said they were looking for input on what the community is lacking, and resident Maria Videla said the one thing that is really missing is a lap pool, as there are none at the local high schools.
"It's not in the funding program so there will not be a pool at this facility," Ranu said.
More ideas for the new park and recreation center can be emailed to phrpark@cvsd.com.
---