Grand opening held for Pacific Trails Middle School in Carmel Valley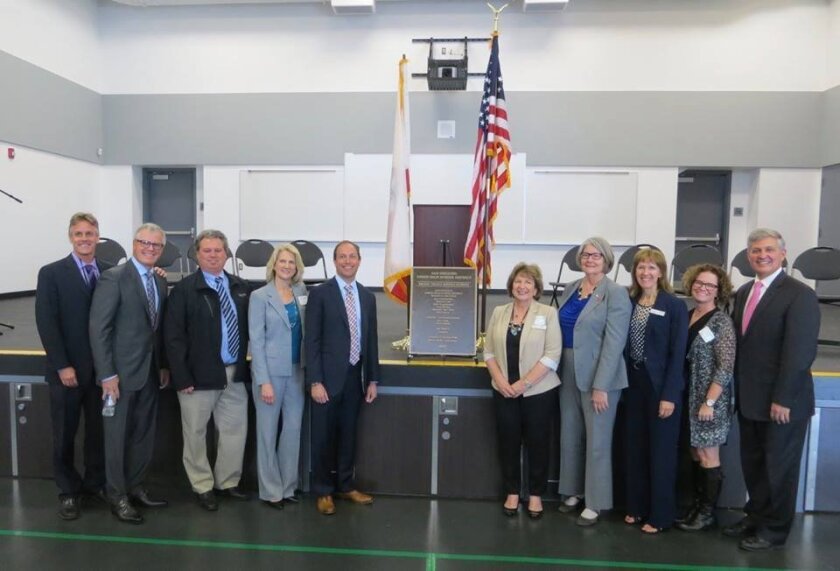 San Dieguito Union School District (SDUHSD) celebrated its newest and 10th school with a grand opening and dedication of Pacific Trails Middle School on Feb. 26.
The celebration was held inside the newly completed gym that features shades of the school colors of gray, blue and green. The Pacific Trails band serenaded guests that included school board members, district staff, Assembly Member Brian Maienschein, County Supervisor Dave Roberts and San Diego City Council President Sherri Lightner.
"The Wolfpack" and its campus den has been growing since the school welcomed students in fall 2015. Across the quad from the gym and the two-story building full of state-of-the-art classrooms, the newly completed nutrition services building is now up and running, as well as the learning commons.
"With the support of our board, staff, business and community partners, parents and amazing students, I'm confident this school, like our other nine, will be world class in every way," SDUHSD Superintendent Rick Schmitt said.
Leaders Lightner and Roberts remarked how great it is to see amenities come on line in the area — the neighborhood did not look like it does today when they took office in 2008 and 2013 respectively.
"I know how important this middle school is for this community and I'm so happy to be here today," Lightner said, noting how pleased she was that before the end of her term in office she has seen the addition of schools, parks and Village businesses that help Pacific Highlands Ranch become the vibrant, liveable and walkable community it was envisioned to be.
SDUHSD President Beth Hergesheimer said that the school was only made possible thanks to the support of voters in the community, who made an investment in the future by approving the $449 million Prop AA bond in November 2012.
"Each and every Prop AA construction project to date has been on time and within budget. In less than three years, Prop AA has touched each and every campus," Schmitt said. "When all of our Prop AA projects are completed, each school will be expanded to meet growing enrollment needs and will be modernized or finished. Finishing a school, for example, means Torrey Pines, which is 42 years old and is still without a theater. Plans are underway to get that theater built soon."
Schmitt joked: "We really do have long-range facility plans."
Schmitt noted that Pacific Trails Principal Mary Anne Nuskin has been instrumental in every phase of the development of this school — she dreamed up the best way to support kids and help build a positive culture in the school's first year.
Nuskin said her students, the high school class of 2021, have built a school community in the spirit of kindness. They have learned about social and physical wellness, participated in a charity food drive, picked their Wolf mascot and recently unveiled the school logo, tended to the blooming campus garden, and the girls field hockey team won the championship recently. The school also host its first dance Feb. 26.
"I'm so excited to watch our school grow," Nuskin said. "Pacific Trails is truly the school I envisioned it to be."
Pacific Trails will only hold the distinction as the district's newest school for the next 18 months as the new Earl Warren Middle School campus is set to open next year.
"In my opinion, the two most beautiful, student-friendly and environmentally tuned-in middle schools in the county are here in San Dieguito," Schmitt said.
---