Pacific Highlands Community Park, Rec Center design forwarded to Carmel Valley Recreation Council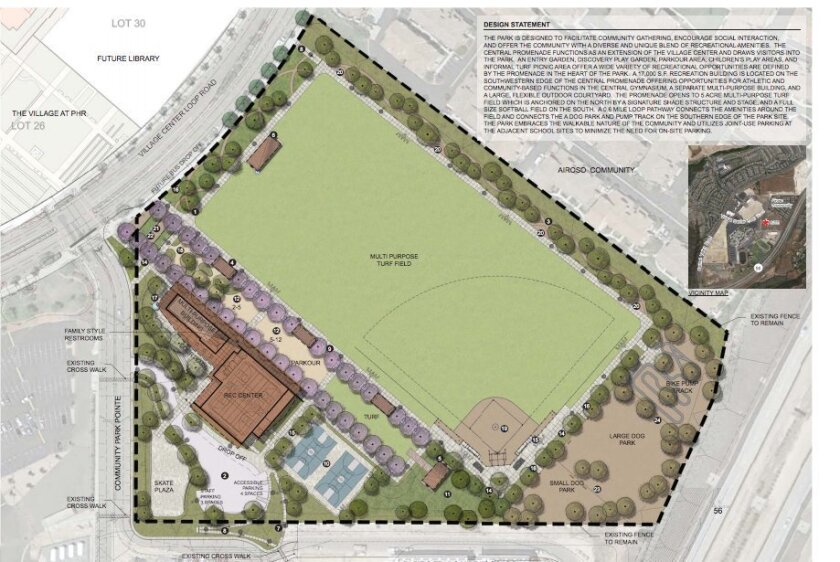 The Pacific Highlands Ranch Community Park Design Subcommittee "enthusiastically recommended" approval of the park and recreation center designs on Jan. 14. The park site is located in Pacific Highlands Ranch across from the Village and adjacent to Pacific Trails Middle School and Canyon Crest Academy.
The committee has approved a plan for a 17,000-square-foot recreation center with a gym, multi-purpose building and enclosed patio. The 13.5-acre park will feature 5 acres of multi-use sports fields, children's play and discover areas, outdoor basketball court, dog park, and alternative recreation such as a parkour course, a skate plaza and a cycle pump track.
The committee also made it clear that the turf on the field should be natural and not artificial as the Pacific Highlands Ranch community has recycled water for irrigation.
The plan will next go to the Carmel Valley Recreation Council for its recommendation on Feb. 2 and onto the Park and Recreation Area Committee to be reviewed by a design professionals group. San Diego's Park and Recreation Commission will make the final decision.
Funding for the park begins in July 2017 and construction is expected to take two years, with a target completion date of July 2019.
---