Patriot Profiles: 'I am just a small piece in a greater game'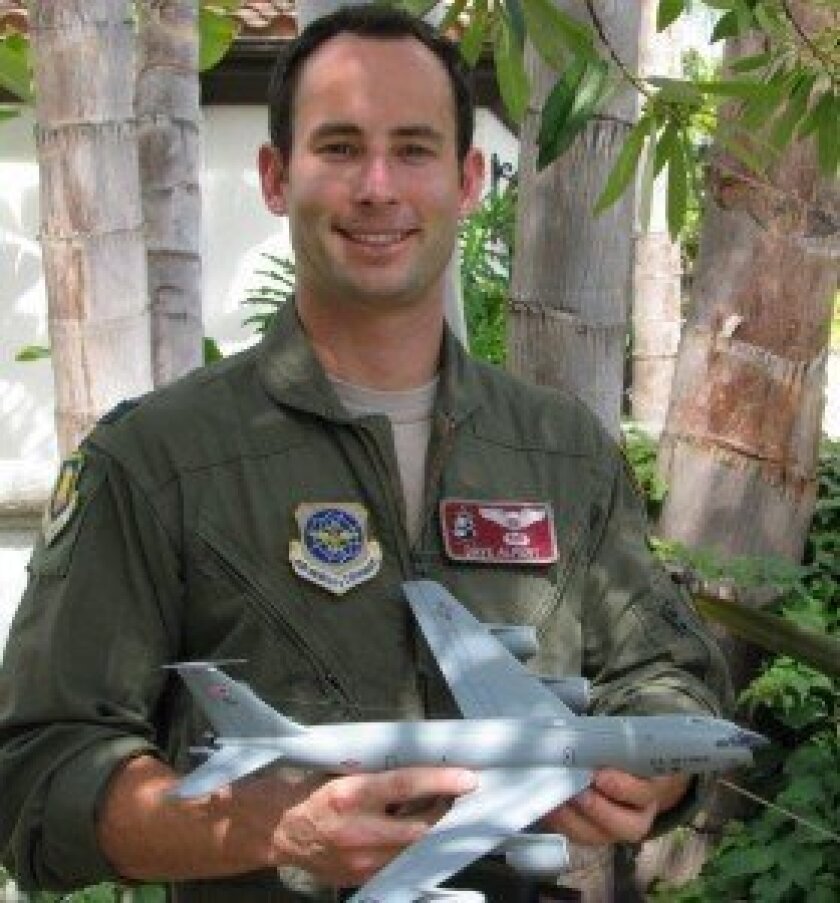 This column presents "Patriot Profiles" to provide readers with insight into the lives of our country's heroes.
By Jeanne McKinney
When fuel gauges get low during heated combat, Air Force Capt. David Alpert is near in his KC-135 tanker to offer thirsty aircraft a jet-powered drink.
Over a course of six deployments since 2011, Alpert has piloted his flying gas station in the skies of Iraq, Afghanistan, and Libya, and is always eager and ready for that heightened call. Refueling is a job only experts can do without a hitch, while traveling at 275 knots — roughly 300 miles per hour. Within minutes, fighter and bomber aircraft can get a fill-up from Alpert and his crew, then fire up the afterburners speeding back to their ultimate customers — boots on the ground taking fire.
A Carmel Valley native, Alpert describes the sky-high transfer. "Our crew consists of an aircraft commander, a co-pilot who assists the commander, and a (dedicated) boom operator." Once they meet up with a receiver aircraft, the boom operator lies on his chest looking out a window facing out the rear of the tanker.
"He has a set of controls back there so he can fly this big boom. It's a long, metal tube that extends and uses air flow to move."
Alpert and his crew must keep constant air speed and a stable, level flight. "They (the receiver) will fly up into an envelope and level off below the aft." Alpert calls the next step a reverse approach, a forward climbing motion on a diagonal. "They come literally from below and park it about 20 feet below the plane.
"That's when our boom operator makes his money. He positions the nozzle right where the hole is in the top of the aircraft and will extend the boom into the hole." Then clamps lock the boom in.
"It's a dangerous job, but is absolutely vital to every mission. Most of our (air) assets don't have the legs — they don't have the range to perform many of the missions we're doing. It keeps us busy — keeps us gainfully employed. We refuel Air Force, Navy, Marines — I've refueled Italian fighters over Afghanistan, Germans, and fighters from the Netherlands. We're all partners in this. I'm pretty sure there's a tanker flying a mission 24/7 somewhere in the world every day of the year."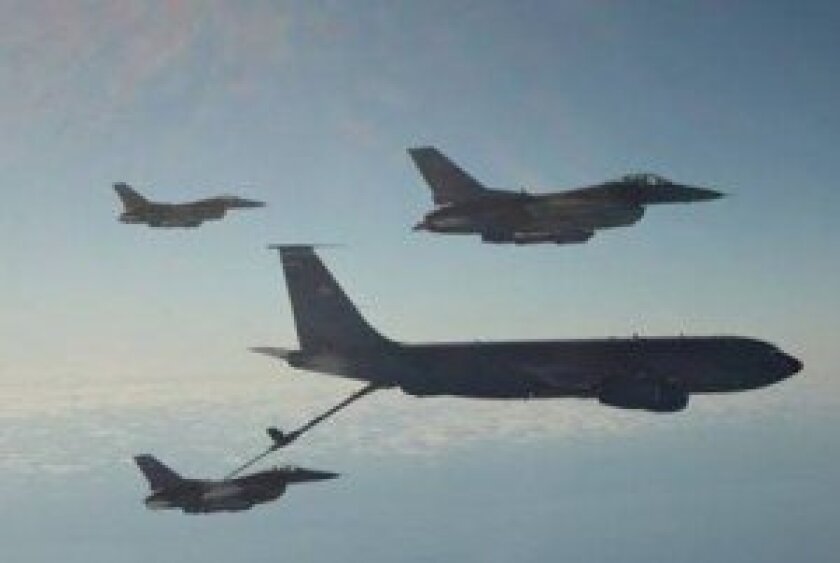 The biggest danger for a tanker pilot is not the enemy below. "Our biggest threat is some sort of air-to-air mishap or air collision." He credits having none on record to training that is "second to none" and "professionals taking their work seriously." Alpert praises the Air Force as "staying at the cutting edge of technology" and "building personnel up to think outside the box and be educated in those future facets of warfare."
Growing up in a Navy town influenced young Alpert, who dreamed of flying. His father took him to air shows every year, and later, when he was a teen, taught him how to fly his own Cessna turbo prop.
Alpert took to heart advice from a Torrey Pines High School superintendent who touted the quality of Air Force life and pilot potential. With a congressional commission in hand, Alpert went to Air Force Academy Basic Training for "six weeks of pure excitement — like a summer camp. No, I'm kidding; it's quite intense."
Basic was followed by four years at the academy in Colorado Springs, Colo., which is "a mix between college academics and hard-core military training done in concert."
President Bush handed the torch to his graduating class, referring to the war as "the Class of 2008's war." "I think he was saying 'This war has been started before you and it's going to be yours to continue and hopefully end.'"
After the academy, Alpert made the top 50 percent for pilot training. He was also chosen from a select few to train side by side with NATO brothers-in-arms at Euro-NATO joint jet pilot training at Sheppard Air Force Base in Texas. Alpert feels fortunate he was selected to fly the KC-135, an Air Mobility Command asset. When at McConnell Air Force Base, Kansas, in late 2010, true to President Bush's words, as soon as he was able to deploy, he did.
Refueling is "a big choreographed dance," says Alpert. An incident during Operation Enduring Freedom demanded fancy flight work over mountainous terrain near the Afghanistan/Pakistan border. It was night when they received a radio call from a B-1 bomber needing fuel. "They were doing close air support over a group of American fighters. You could hear the adrenaline in the voice — the excitement of what's happening on the ground."
After the rendezvous, when the B-1 was ready to make contact to refuel, the bomber got an emergency call back to the fight. Alpert and his crew followed, staying as close as they could, while the bomber did shows of force that meant "Stop messing with our guys."
Then, exceptionally low on fuel, the B-1 asked Alpert to come low to meet up. The hair on the back of the neck was raised, and the crew agreed to descend just above legal minimums, making sure to avoid hitting mountains and crossing sovereign borders. Command and Control had to move any manned or UAV aircraft out of the area, so they could eventually offload their vital gas and save lives.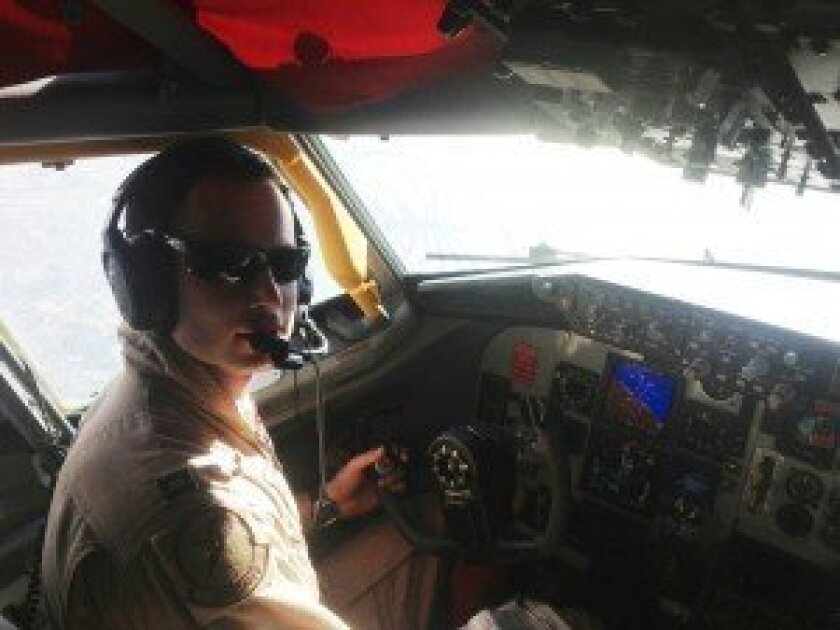 "Fighting fatigue" is part of the dance. While in Iraq, Alpert tells of taking off at noon one day, then taking off at midnight 12 hours later and doing that for nearly five weeks straight. "It really tires you … knowing I need to fit in my sleep, like you would fit in a meal."
How has the 2008 war changed in 2014? "I think we're seeing progress. From my standpoint, we're still doing our job every day to the best of our ability," states Alpert. He advises those he leads, "Adhere to the core values of the Air Force. When I step foot through that door, any hardships in my personal life stay there and I bring in a positive, energetic outlook and then lead by example via those core values. I like to get to know my individuals. I want them to know I care, because I do."
Alpert's father, Phillip, has been intimately involved with his career. "I would not have done any of this without his push, without his excitement, and intrigue. My mom has been there too, and my sister."
To young people who dream of becoming pilots, he says, "You need to have a work ethic, be competitive and have a goal." Alpert's goals have led him to unload multiple millions of pounds of fuel to receivers fighting for freedom. Goals are vectoring him towards new horizons and higher strategic commands.
"When you start off as a kid, you just want to be a pilot. That carries you so far. Work ethic carries you so far. Eventually you realize your role is taking the torch from all the people that brought it to that point and executing the final portion of the chain of events. Man, there are so many players, so many people that are required to eventually get me off the ground to ultimately provide close air support for the men and women getting shot at — carrying out our dirty work.
"The biggest eye-opener is to finally be selfless. Up to this point, it's all been about me becoming a pilot and an Air Force officer. I am just a small piece in a greater game — a small piece of the puzzle."
---