Patriot Profiles: 'It's a high-stress environment'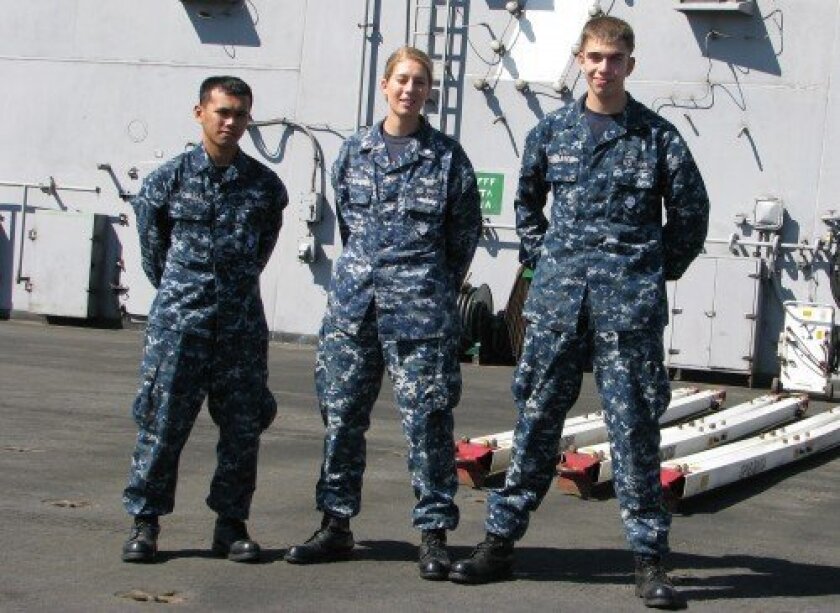 This column presents soldier stories to provide readers insight into the lives of our country's heroes.
By Jeanne McKinney
One didn't know what to do with her life, the other left his family half a world away in the Philippines, while a third never questioned his decision to be there. All three converged to work in one of the most dangerous places on earth — the flight deck of an aircraft carrier, where countless accidents are waiting to happen. It takes full-time professionalism just to survive.
These three keep their heads on a swivel while working on the USS Ronald Reagan. They and many other flight deck personnel have dozens of specifically-defined functions on a runway the length of a football field that dances with the untamed ocean. On a carrier's topside, each job has a recognizable color-coded jersey and helmet.
Aviation Boatswain's Mate Handler Third Class (ABH3) Ashton Hemphill, who graduated from Francis Scott Key High School in the middle of a Maryland cornfield, was attending community college when she got that life-changing phone call. Wanting to travel the world, Hemphill "decided to run with joining the Navy" — ending up wearing the yellow shirt of an Aircraft Director.
Ashton uses a complex series of hand signals (or yellow wands at night) to direct pilots in their planes to their catapult position in Fly 1, one of three flight operation sections on the ship's 1,094 foot deck. She also directs returning jets that have caught the trap wire to their final parking destination.
Ashton says "it's definitely a man's world up there," 90 feet above the deep blue. "Bull work is what we like to call it – grease and sweating, not your typical getting your nails and hair done." Naturally pretty, you'd never know Ashton was a tomboy growing up. Now, she doesn't bat an eye about lifting a 100-pound tow bar and lightheartedly claims to "run circles around her male crewmembers. It's really about mind over matter – physical wise."
Aviation Boatswain's Mate Equipment Airman (ABEAN) Troy Phillip Obuga thought "it sounded cool to launch and recover aircraft." Troy, who wished to go to school again, waited two years to get in the U.S. and became an American citizen through the Navy. He proudly wears a green shirt as a Topside PO in charge of the safety of the deck crew, pilots and aircraft on Catapult #3.
Troy deals with a steam-driven monster that shoots a 45,000-pound jet down a 300 foot track from 0-165 miles per hour in two seconds. Obuga explains; "You connect the aircraft to the buffer hooks, part of the nose gear launch (NGL) or holdback at the rear of the cat. The launch (tow) bar, in front of the aircraft, connects to the shuttle that is attached to the track. Once the proper weight is configured, along with proper steam and hydraulic pressure, then it's safe to launch. It will start taking tension, the pilot goes to combat power and they press fire."
In his soft-spoken homeland accent Troy adds; "Before we even put the aircraft on the catapult…we have to do a pre-flight check." One missed detail could spell disaster. "Was a close call", when Troy was a junior sailor. Acting as Weight Board Operator, he had gotten a thumbs-up from everyone on the 540 weight he was showing prior to launch, but only Troy noticed the pilot signaling 543. "Seconds before the shooter hit fire, I suspended it. We need a minimum end speed for each weight, so even a 3 pound difference could cause the bird to go into the water." For saving a life and a 50 million dollar plane, Troy received a Navy and Marine Corps Achievement medal.
No lift offs happen without the grapes or purple shirts. Leaving his family and best dog Chief in Hazelton, Penn., Aviation Boatswain's Mate Fuels Airman (ABFAN) Anthony Tombasco puts the "go-go juice in the jets." This tall, laid-back fuel handling specialist describes his job: "We provide the fuel on time when they need it. If there's an emergency, we take the fuel out. The fuel is put through a series of filters so "it's clean, clear and bright before it gets to the flight deck."
"It's a high-stress environment. You get angry at people you wouldn't normally get angry with and say things you don't really mean. But at the end of the day we still get the job done. The most rigorous thing is being on time and meeting everyone's schedule."
"I'm a Fuels repairman. The Navy is so safe that our fueling hoses have electronic grounding system, so if it's not electrostatically right, it won't fuel. It's tedious repair work because there are wires in each hose. You have to have a complete circuit so you have control of the switch and be able to kill it if something goes wrong."
Something wrong taught Anthony to pay better attention. "I ate some pretty good jet blast. There's a certain way to approach an aircraft when it's turning. I got a bit of a boost in a direction I wasn't planning on going."
Wrong can be unpredictable, like a fuel hose exploding at night, shooting countless gallons of fuel over the bow, causing the whole flight deck to come together to stop the flow and remove the hazard, using the ship's fresh water hoses.
Ashton recalls, "Up there, you have to stay scared and go by procedure. When you start getting complacent – that's when things start happening. My biggest fear of the trap wire snapping is always in the back of my head."
"It's trial by fire," states Anthony, who was 'Sailor of the Day' – hand-picked by the ship's Captain each day for special privileges and recognition.
In addition to getting aircraft safely around the deck, Ashton still does her first job, sanding and needle-gunning corrosion, finding it therapeutic. Troy's insuring no foreign object debris (FOD) is on the cat track and the jet blast deflector (JBD) and signal equipment is working. Anthony and his team are communicating to their Grape One Supervisor and following orders, trying to keep head-butting to a minimum during fueling operations.
---