Patriot Profiles: 'It's more than just an arms-to-arms fight over here'
By Jeanne McKinney
This column presents "Patriot Profiles" to provide readers insight into the lives of our country's heroes.
When a 19- year-old kid from the Midwest is carrying a rifle through the poppy fields of Afghanistan, a sweet sound is the thump-thump of an attack helicopter approaching. The aircraft is coming to support that Infantryman on the ground, who shoulders immense responsibility for his team, commander and country. The young warrior fights a different fight from what his grandfather fought in conventional wars, when it was one uniform verses the next. Today, an Infantryman is trained to seek out and destroy a lethal enemy that is hard to identify and must also foster cultural survival after that enemy is gone.
"It's more than just an arms-to-arms fight over here", says Captain Justin Lane Jackson, who's into his fourth deployment, currently based in Helmand Province. "In the same day that kid is carrying a rifle, he may have to facilitate the growth of the local economy, see that kids are going to school, and make sure a population that is largely illiterate has the understanding and ability to vote for their elected leaders."
Jackson continues, "To that end the people can know exactly what they're living for and working towards. We're asking a generation of Marines and soldiers to do things our grandfathers didn't have to do. The challenge for us is to adapt and be flexible."
Captain Jackson flies the skies of Afghanistan where dirt can hang in the air as thick as uncertainty. His day-to-day job is to help young Marines return home as heroes, not casualties. He's a "Whiskey" man, proudly flying an AH-1W Super Cobra or "Whiskey" — the Marine Corps twin blade aircraft that creates a distinct rotor noise.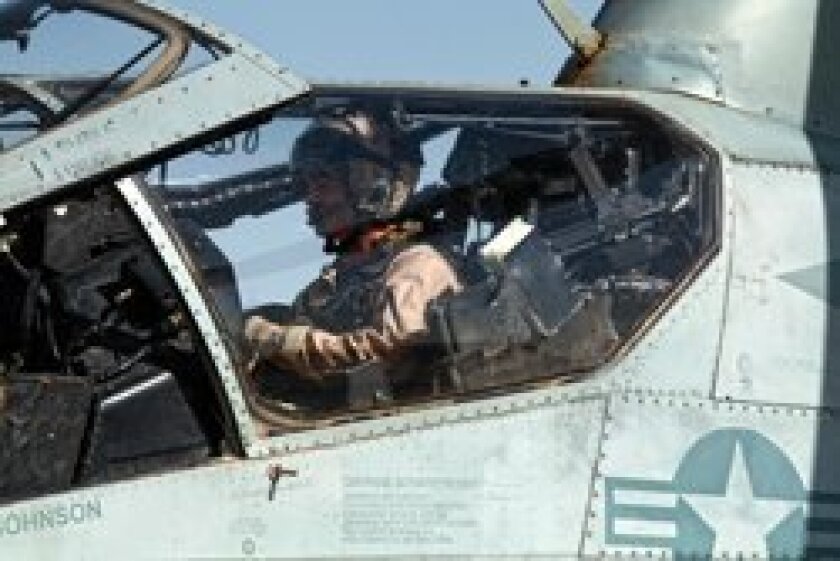 The Cobra has two pilots and the only other space on the helicopter is reserved for ordnance – toting an impressive arsenal of guns, rockets, and missiles. "It's built for a very narrow purpose – close air support", states Jackson, who calls himself "eyes in the skies" for ground troops. "Throughout all my blessed opportunities of education and training – all the money that's been invested to get me where I'm at today – my sole purpose in my career is to support that 19-year-old kid."
Jackson didn't wait for destiny – he created it. "I was pretty dead set I wanted to be a Navy pilot. You grow up watching Top Gun and you think how awesome it would be to do something amazing like that." His stepfather, who had served in the Army during World War II, encouraged him to go to a service academy.
It was during his sophomore year at Annapolis when Jackson saw the second twin tower fall. "We entered a year before the world changed, before everything in our country changed. You see the names of Naval Academy graduates etched in stone in Memorial Hall – men who have died in war decades ago. You have a strong sense of patriotism and pride, but you don't know them, don't know their faces and their stories. After Sept. 11, it became very personal."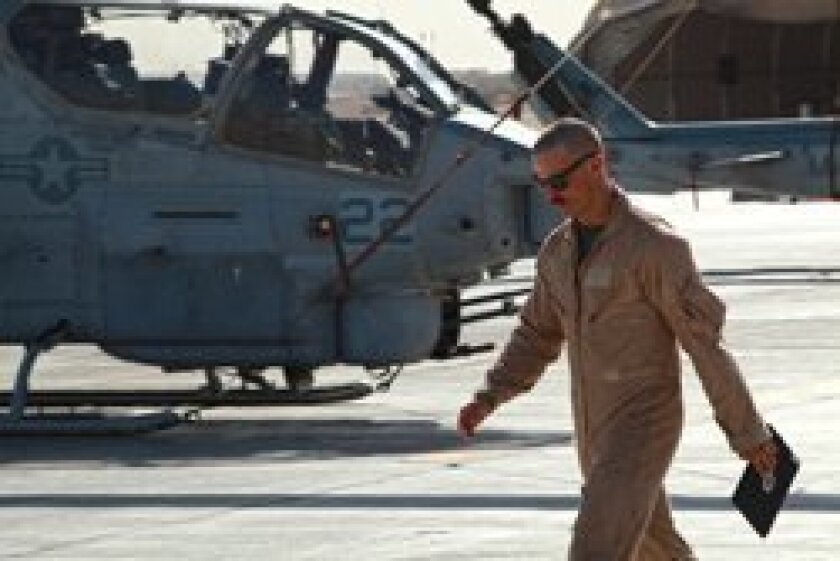 "A lot of guys I really respected started choosing Marine Corps verses Navy. When I saw the amount of sacrifice they were going through, deep down inside I knew my path was to become a Marine and serve my country in a time of war."
The death of a good friend and other Naval Academy graduates Jackson knew and admired made him bitter and jaded. "I made some bad decisions — got into trouble." Even though he had turned himself in to his superiors, he was forwarded for separation all the way up to the Commandant of Midshipmen, Colonel Allen — the last say.
The Colonel saw something below the surface in this wayward Midshipman. "Even though my offense was egregious, in terms of Naval Academy rules and regulations, he decided to retain me," remembers Jackson. Now this dutiful pilot goes to work each day for the man who believed in him.
Colonel Allen advanced to General Allen, the top leader of all forces in Afghanistan. "When I see him in the news, I can't help but remember him sitting me down and setting me straight — like a scolded son — giving me the chance to make right."
Jackson has spent two-and-a-half years (to date) serving fellow Marines engaged in the daily fight. "The Marines working the Afghan soil out here definitely appreciate us being overhead. For any hellfire missile, rocket or any other piece of ordnance I've employed, what worries the enemy the most and motivates the Marines the most is the sound of our helicopters approaching."
Over multiple deployments, Capt. Jackson has seen many sides to the "War on Terror," noting progress he labels "night and day." "When I deployed to Iraq in 2008, I didn't truly appreciate where I was operating at, because it was so quiet. In 2004-05, Al Anbar Province was the worst place in Iraq – extremely violent." The missions accomplished in Al Anbar and other hotbeds like Fallujah and Ramadi will live on as "remarkable" in Marine Corps history.
"In 2009, we were dealing with heavy losses in the fight for Garmsir, Marjah and Sanguin in Afghanistan," relates Jackson. There's a different discussion today, due to the efforts of the Marines in concert with their British brothers and now-partnered Afghanistan International Security Assistance Force (ISAF). "It's amazing to come in 2009 and now in 2012 and see the growth and change of everything in Helmand Province, where the Taliban once had a tight grip."
"In those same venues, I'm flying around making sure kids are going to school. You see thriving economies, green grass in soccer stadiums. There are still missions ahead, but the headlines aren't the same."
More than headlines are changing. Exciting upgrades are coming for the Cobra attack aircraft. The AH-1Z Zulu will have new avionics, four blades, and more room for ordnance, but Captain Justin Lane Jackson is comfortable flying his old "Whiskey" friend. He doesn't dwell on the risks of epic sandstorms, weeks of wind, flying an aircraft that doesn't glide or is minus an ejection seat. He's focuses on techniques, tactics, and procedures that mitigate hostile threats.
The Captain's too busy looking for those Marine uniforms slogging through the poppy fields, as he thump-thumps towards them, putting the enemy on the run. The sweetest sound for Jackson is a voice from below on the radio saying, "Thank-you for showing up – you saved the day."
---