Patriot Profiles: 'My job is to bring everyone home alive'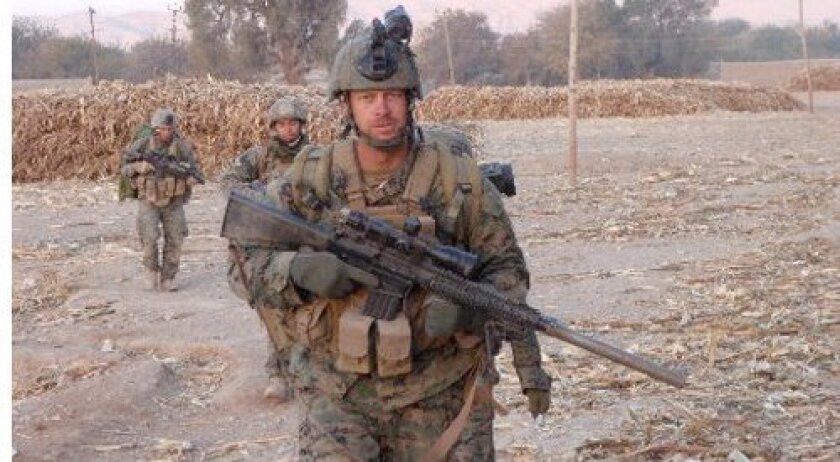 Patriot Profiles: 'My job is to bring everyone home alive'
By Jeanne McKinney
This column presents patriot profiles to provide readers insight into the lives of our country's heroes.
When you're up against terrorists who blend into their familiar shadowy nooks and crowded cities, their numbers are often elusive and consistently lethal. United States Reconnaissance Marines are inserted on their turf to locate them and observe their movements. Mindset is everything for a small six-man team dealing with hot, cold and wet environments, carrying heavy loads, and keeping morale up. They trudge on for weeks without personal comforts in an alternate reality from what we know. The information they report is essential to the battalion commander shaping the battle space. Keep going — do a little more are the thoughts that repeatedly drive them.
In an interview rarely given, I had the honor of meeting Master Sergeant David A. Jarvis, battalion training chief of 1st Recon Battalion, Camp Pendleton. Born in Bremerton, Wash., and raised in Port Orchard through high school, Jarvis got tired of rain and wanted to travel the world. He joined the Marine Corps in 1996 as an Infantryman. It was while he was an instructor at the School of Infantry in Camp Pendleton that he had the chance to move into Reconnaissance. His maturity, exceptional physical ability, reliability, and intelligence was evident to leaders.
At Camp Pendleton, 2002, Jarvis moved into the 1st Force Reconnaissance Company. After going through rigorous courses in basic Recon training, it was on to either Sniper school or Ranger school. To even get in the sniper course, you have to be an expert shooter on the rifle range, physically fit and medically sound. "I knew what I was getting into. I wanted to take myself to the next level" remembers Jarvis, a handsome upstart ready to excel. There were two things that worried him.
"I'd never done long-range shooting. You're supposed to be able to hit a 10-inch target, dealing with the wind and elements, out to 1000 yard range. That's the M-40 A3 weapon system's capabilities." David continues, "I had no one to mentor me as a sniper. It was 'Here's the quota for the school — good luck. We think you have what it takes.' You have to study verbiage and definitions, the nomenclature of the gun — so, I've got to burn oil at night." Learning to stalk was another worry. "Getting around crawling on the ground — I didn't know if I'd be good at it."
In 2007, David was sent to Okinawa, Japan, to serve with Special Operations Training Group (SOTG). Here, Recon Marines learn Close Quarter Battle (CQB), Reconnaissance and Surveillance skills, including breecher (explosives) and urban sniper training. This advanced training and instructing added to David's already diverse skill set as a Reconnaissance Marine, which includes jumping, diving, observing and reporting.
Doing all this, Jarvis is considered a "jack-of-all trades," an interesting title for someone who would be awarded two Presidential citations for bravery on the battlefield during the Global War on Terror.
The goal in Reconnaissance is to paint the picture, while standing as far off as possible from the target being observed. "As a sniper," Jarvis says, "various high-powered optics help me pick up characteristics about individuals down range beyond 'that's a bad guy.' I can talk about demeanors, interactions – basically look for trouble and report that information. Sniping gives you an enhanced tool to employ, but 90 percent of the time it's reporting."
If the target gets too close, "I want to make sure that's the target that deserves to go down. I would never scratch my head afterwards and say 'I shouldn't have done that.' If I was backed in a corner with no other choice, I would do what I had to do, but every time I've taken a shot — it's been methodical. Positively identifying the threat and knowing he's there to do the same damage to you, that's when it becomes personal and a serious game."
This extraordinary jack-of-all-trades has been deployed twice to Operation Iraqi Freedom (OIF) and once, in 2010, to Operation Enduring Freedom (OEF). During these deployments he was sent off to play the deadly game.
(1) In July and August, 2010, serving as Platoon Sergeant of 1st Reconnaissance Battalion, 1 Marine Expeditionary Force, Jarvis and his element were caught in separate ambushes in Trek Nawa, Afghanistan. While engaged in heavy fighting with large numbers of Taliban, Gunnery Sgt. Jarvis exposed himself multiple times to enemy fire, as he directed and redirected friendly fires, while maneuvering his patrol out of multiple kill zones. In both fights, his bold and decisive actions allowed them to identify targets and advance on the ever elusive enemy. His heroism saved fellow Marines and earned him a Bronze Star.
"As the leader of the platoon, my job is to bring everybody home alive. I don't know how many [Taliban] I'm up against. I don't know where they're at. They're hitting us first." reports Jarvis.
(1) October 2010 saw another ambush on Jarvis' patrol. While supporting combat operations in Afghanistan's volatile Helmund Province, the enemy attacked with an improvised explosive device (IED). Shortly after came heavy volleys of machine gun and rocket-propelled grenade (RPG) fire. Jarvis exposed himself to enemy fire as he repositioned his Marines and directed fires. As sensitive reporting indicated a large enemy force massing on the area, he led his Marines to hold their position during the hour-long firefight. Realizing the fight was jeopardizing a medical evacuation, Jarvis again exposed himself - crossing open terrain to coordinate fires and personally launch an Anti-Armor Weapon rocket. His selfless actions saved the life of a critically-wounded Marine and earned him a Silver Star.
From this leader of men who's seen the worst; "There's 10 things going on at once and each situation is unique. You've got to be able to think and make critical decisions on the spot – that takes experience. If you go toe-to-toe with them, make a stand and are bold in return, they're less likely to do something they previously did."
"We try to portray peace and improving their environment and build a sense of trust with the Afghan people. We advertise our humanitarian efforts. I think they truly appreciate our efforts over there, but they've got the Taliban strong arm that continues to whip them if they interact with us," David said.
"I'd be scared to death if I were out there by myself. You've got Recon guys to your left and right. You've got air and ground support. If something happens to you, you're going to be taken care of. It's not what I'm doing — it's what we all do together."
Throughout MSgt. Jarvis' OEF deployment, he participated in 70 combat patrols, 40 firefights and five complex ambushes resulting in a substantial reduction of enemy forces.
On the other side of the gun, this still young, but peppered Battalion Training Chief oversees training making sure it's safe. David and his wife (a Chief Warrant Officer) have only visited his home state for three months out of 16 years of service to his country. Upon retirement, he would like to live a life with their families and fish Washington's pristine lakes and rivers. Those Bass don't know who they're dealing with.
(1) The combat information was derived from two Presidential citations for bravery.
Link: https://
militarytimes.com/citations-medals-awards/recipient.php?recipientid=204777
---