Patriot Profiles: 'You never know what to expect'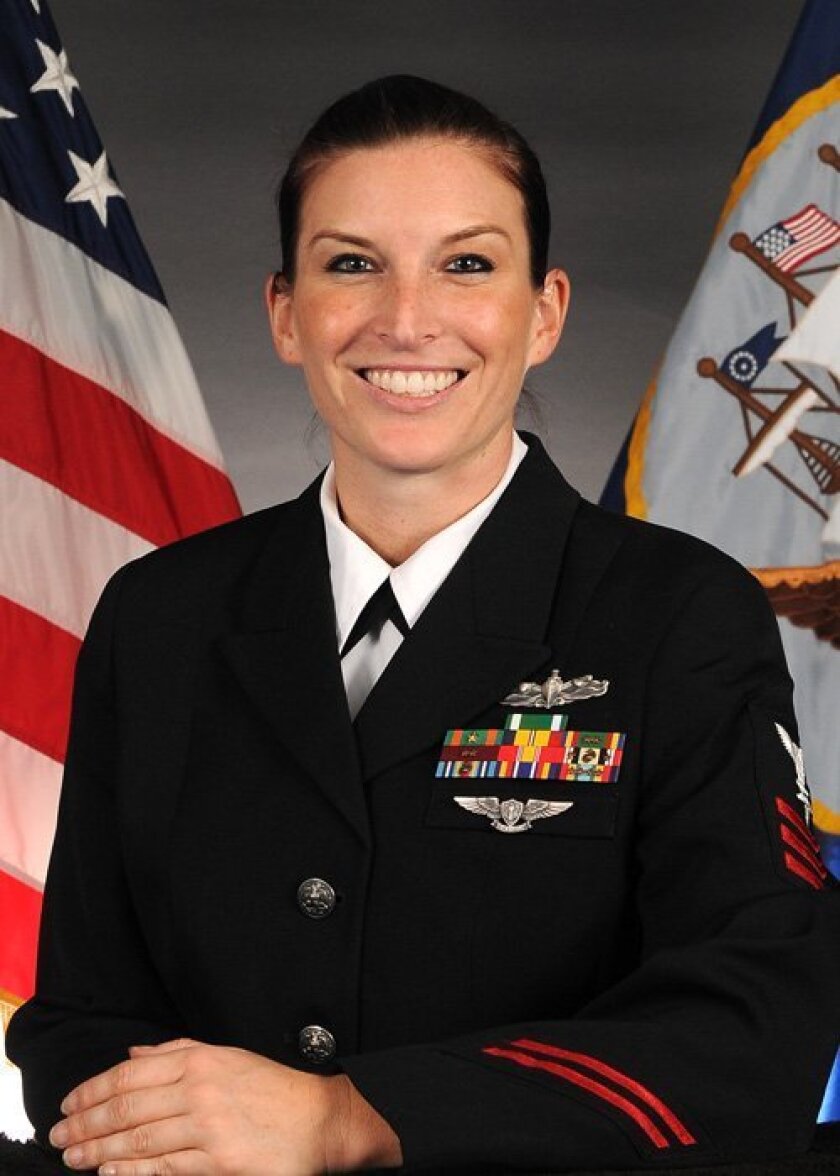 1/8

GHAZNI PROVINCE, Afghanistan– Ghazni Provincial Reconstruction Team members carry an injured soldier to the helicopter for further medical evaluation in Ghazni Province, Afghanistan, Aug. 3. The PRT was in route to a mission when they experienced a vehicle rollover. Medical treatment was provided by Ghazni PRT corpsmen, and combat life saving actions were applied by PRT members. The injured were stabilized, and everyone walked away with no life threatening injuries due to training and experience, and above all, teamwork. (Photo by U.S. Air Force Tech. Sgt. J.T. May III, Ghazni Provincial Reconstruction Team Public Affairs)
6/8

Petty Officer 1st Class Tarren Windham, hospital corpsman, checks a sailor\'s ear for an ear infection during sick call hours aboard the aircraft carrier USS Carl Vinson. Carl Vinson and Carrier Air Wing 17 are currently on a deployment to the U.S. 7th Fleet area of responsibility. (U.S. Navy photo by Mass Communication Specialist Seaman Rosa A. Arzola/Released)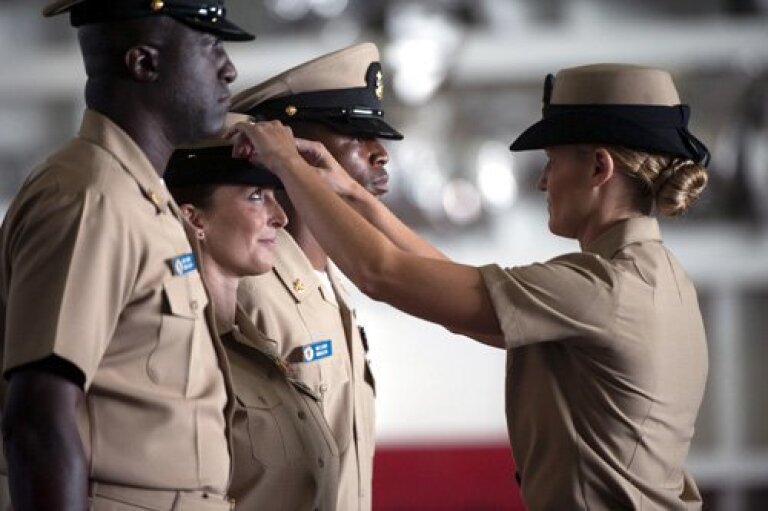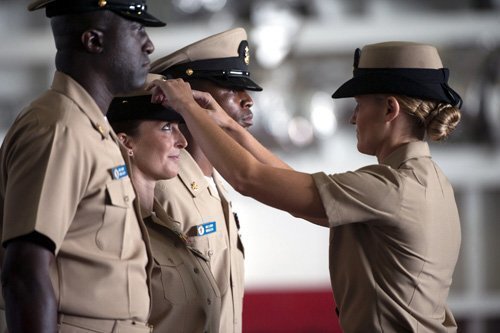 7/8

PACIFIC OCEAN (Sept. 13, 2013) Chief Hospital Corpsman Tarren Windham stands at attention as her combination cover is placed on her head by Senior Chief Mass Communication Specialist Monica Nelson during a pinning ceremony in the hangar bay aboard the aircraft carrier USS Carl Vinson (CVN 70). Carl Vinson is underway conducting unit-level training off the coast of Southern California. (U.S. Navy photo by Mass Communication Specialist 2nd Class Timothy A. Hazel/Released)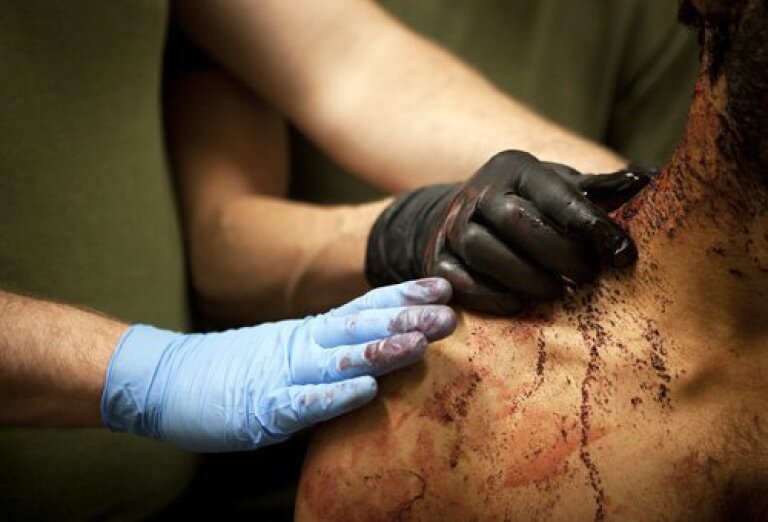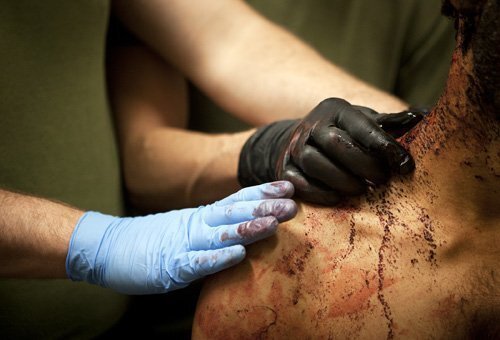 8/8

U.S. Navy Petty Officer 3rd Class Benjamin Knauth (blue), a 29-year-old native of Centennial, Colo., and Petty Officer 2nd Class Dustin Koch, a 26-year-old native of Las Cruces, N.M., corpsmen with 3rd Battalion, 3rd Marine Regiment, place reassuring hands on the shoulder of an Afghan National Policeman while examining his injuries in the battalion aid station here following an attack by a suicide bomber in Helmand province\'s Garmsir district, April 19, 2012. The 3/3 corpsmen treated eight injured Afghan policemen after being faced with a mass casualty situation following the attack on an ANP precinct headquarters in Garmsir\'s Lakari region. After initially being stabilized by three 3/3 corpsmen at Combat Outpost Sharp, eight casualties were transported to FOB Delhi and treated by a team of 28 Navy personnel. Medical evacuation helicopters later transported six ANP casualties to Camp Dwyer\'s Casualty Support Hospital for further treatment, while the remaining two were treated and released.
This column presents "Patriot Profiles" to provide readers insight into the lives of our country's heroes.
By Jeanne McKinney
Navy corpsmen form a brotherhood and sisterhood of medical providers revered by members of the Navy and Marine Corps. The infamous call, "Corpsmen up," means a professional — in every sense — is coming to help. HMC Tarren C. Windham has earned her place in the Navy corpsman legacy, one rich with stories of valor. Whether she's nursing someone's cold or scrambling to save those with terrible wounds, Windham says, "There's an adventure in every single day. You never know what to expect."
In a Navy news release, Marine SSgt. Matthew Morse calls corpsmen "security blankets." Morse says Marines fight harder when they know they have a good corpsman with them. "The corpsman, when he's good, can help Marines with more than just medicine. He can be a point of inspiration." "He" translates to "she" for HMC Windham.
This native daughter of New Castle, N.H., inspires daily on board the USS Carl Vinson, which ports at Naval Base North Island. As Chief of Hospital Corpsmen, Windham helps supervise and manage a group of 32 medical professionals — all trained in a variety of specialties. They are responsible for the health and well-being of 3,000 sailors (5,000 when they are under way).
She's upbeat and vivacious, "We cover everything from emergency to routine sick call care — anything people come down with," she says. She's expected to examine, get vital signs, run labs, read x-rays and triage patients to where they need to go.
A year of training started her on the path of working under and with Navy physicians in various capacities. "When I went through Corpsman 'A' school, you get the basic level of knowledge… terminology, anatomy, medical assistant training — stuff you need to succeed. From there, I went to Field Medical Service School where I learned to plug that into a field setting with the Marines."
Her shipboard duties include motivating and leading fitness. "I love to work out," says this bright caregiver. She helps make sure every sailor in her department passes a biannual Physical Fitness Assessment (PFA). The test is based on body fat ratios for height and weight, running a mile and a half, and maximum sit ups and pushups in two minutes. Windham educates on good nutrition and exercise. "Funny thing is, we always do better on our PFAs when we're on deployment than when we're back in port. The outside food and alcohol makes a big impact on weight and physical fitness."
Windham qualifies as Enlisted Surface Warfare Specialist and Enlisted Surface and Airfare Warfare Specialist, as well as other notable achievements. She was happily surprised when she won 2012 "Sailor of the Year," being selected out of all other sailors in her pay grade from across the ship. "It was definitely surprising because there were a lot of people I was going up against that are really great, so I did not expect it to happen. It was a happy moment when I found out," shares Windham."
A corpsman's service demands gut instincts and quick thinking in diverse medical settings. Windham smiles while saying what's great about her job, "You can do all these different spectrums and decide what you like." Her greatest strength lies in patient care, "identifying problems and being able to triage them to a level of emergency, non-emergency care and treat them from that level. Anyone we can treat, handle and rehabilitate back to health — we're going to keep our hands on all the way through."
Medical assistance can be minor or major when stress is high, "When we're out to sea and they call a medical emergency, we run up (to the flight deck). We don't know if this person is going to have their arm lying on the ground, if they're just passed out, or if there's blood everywhere." She says you don't always know how you'll need to react.
The world opened up for Windham in 2004 when she was sent to Iraq with the 11th Marine Expeditionary Unit. "I remember the terrifying thoughts on going on deployment the first time. It was Operation Enduring Freedom II. Everything was chaotic and you didn't know what was going to happen. The biggest scare for any corpsman is getting someplace and not being able to perform your job, whether you freeze or you aren't familiar with something.
"I was at Camp Duke in Al Diwania and we convoyed throughout the whole of Iraq." On an armored Humvee convoy she recalls, "We were going through the city transporting different people to places and got stopped by crowds in the street. It was the middle of Ramadan. One of the Marines in the turret saw somebody pull out an AK and start shooting —so we had a little bit of a shootout."
Windham says, "It's nerve-wracking, but also liberating to know you are whom those Marines trust. You are the one who has to make the decision. You can't rely on somebody else at that point." She's thankful none of her guys were injured and the shooting cleared the streets so they could move through.
In Battle Aid Stations on forward operating bases in Afghanistan or Iraq, clinical protocol is similar to that on a ship. People still get sick and it's the same standard of care. On the ground, first aid is a corpsman's main job for things like amputations, bleeding and blast injuries. "It's a level of care depending on where you're at that you have to keep refreshed on Windham said.
Completing three deployments, she remembers when flu broke out at sea. They gave IVs, meds, taught hand sanitation and told people, "OK, you're going to go rest. Don't give it to anybody else," relayed Windham. "It takes out a huge portion of the work force when it's in its full-fledged fury. We have to be very cautious of infectious disease because everyone is in such close quarters.
"Medical is a great field to be in, because there is always something new to learn. It's fun for me to see people that have something unusual."
In a force of thousands from different countries and cultures – unusual is a given. Windham strives to teach and employ what she learns to "help the Force stay well."
Windham would love to combine her medical skills with Special Forces. To date, women corpsmen are not allowed in Special Forces, although Public Affairs Officer Kyle Raines says, "All naval specialties are undergoing a review for the integration of women in previously closed areas."
When the troops have a good corpsman, says SSgt. Morse, "they don't worry about dying, they worry about the mission and that's one of the best ways to make sure everyone comes home alive." Corpsmen put spring in the boot step. It's people, like HMC Tarren C. Windham, that mothers and fathers cherish and military history adores.
---