Philly Soft Pretzel Company truck a hit with Carmel Valley students and parents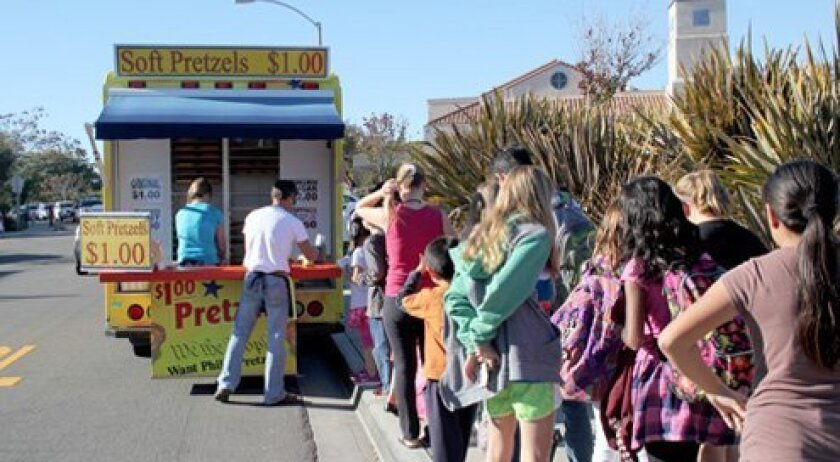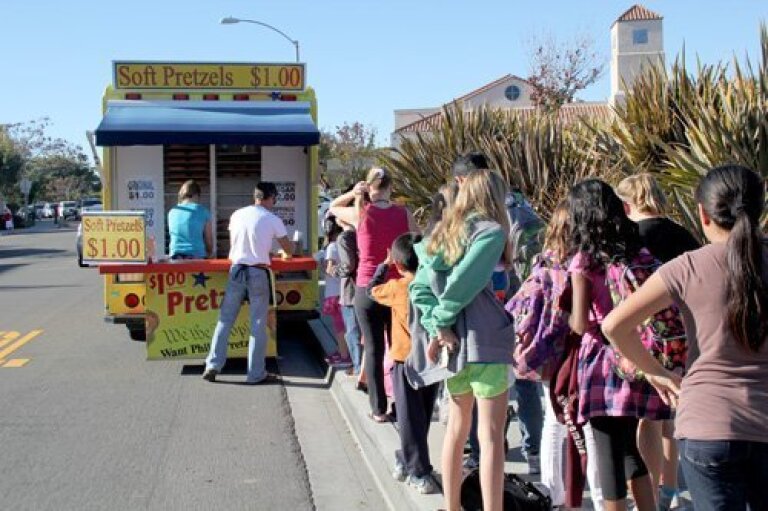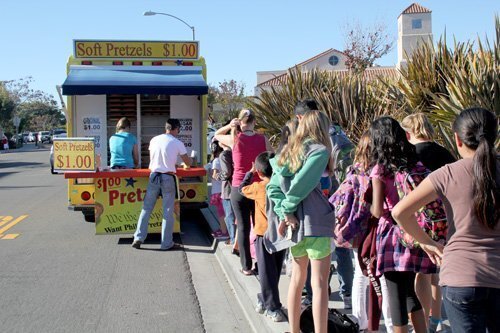 1/4

Philly Soft Pretzel Company Truck
2/4

Philly Soft Pretzel Company Truck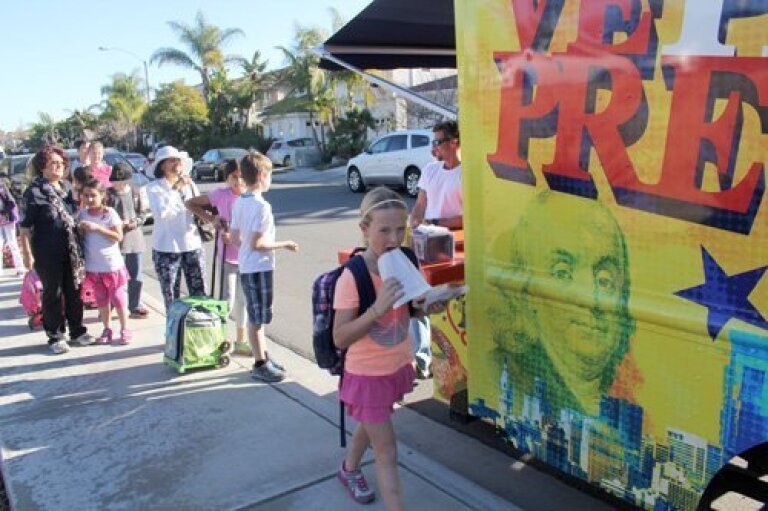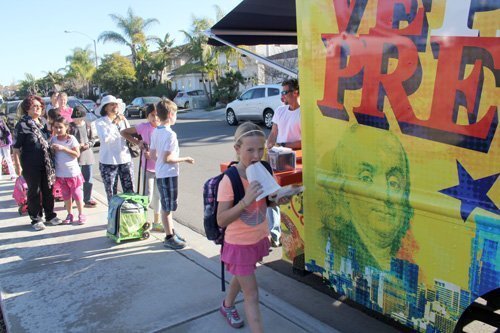 3/4

Philly Soft Pretzel Company Truck
4/4

Philly Soft Pretzel Company Truck
By Karen Billing
Carmel Valley school students know it by sight: The Philly Soft Pretzel Company truck. The bright yellow truck has been bringing tasty bites of Philadelphia-style pretzels to the streets of Carmel Valley.
The truck, owned by Carmel Valley residents Casey and Bob Canuso, visits various school campuses throughout the week and all of the kids know when it's pretzel day at their school.
"When the school bell rings the kids come running, it's like 'Willy Wonka' and they all have a golden ticket, it's the cutest thing," Casey said.
The children all know exactly what they want and have
their dollars and change in hand.
An original twist with big salt crystals and a side of mustard; cheese or buttercream; or perhaps a cinnamon twist, which one child adorably pronounced "cimm-a-non."
"We are a mom and pop business so if they're short 50 cents, we'll tell them they can owe it us next week, they know where we'll be," Casey said. "The kids love that, they're very responsible. We don't keep track but they'll come back and say 'I owe you for last time.'"
As the truck arrives before the bell, sometimes they have a "Mommy line up," when the parents wait in line to avoid the crush and have pretzels ready for their carpools.
Bob and Casey wait in the back of their truck, ready to greet customers with a smile.
"It's fun, it really is fun and we're really happy to feel like we bring something good to the community," Casey said.
Last week was the popular pretzel truck's first week back after a holiday vacation. The Canusos run a seasonal business during the hiatus, the Edible Ornament Company, where they made realistic ornaments that are actually chocolate chip cookies inside.
"We're growing slowly at a steady pace," Casey said. " I like keeping it small and I like knowing our community."
The Canusos have lived in Carmel Valley since 2003, moving from South Jersey. As the Canusos will tell you, in the tri-state area Philly is your city even if you live in South Jersey or North Delaware and the pretzel is the area delicacy. Their two older children still live in New Jersey and their youngest, Candace, is a junior at Torrey Pines High School.
Their previous careers were far from pretzel and cookie baking — Casey worked for Tyco Toys before it was taken over by Mattel, and Bob was in commercial construction, his last project in Philadelphia was the National Constitution Center.
The idea to start their companies started with a company cookie contest that the ever-creative Bob won by making his first set of cookie ornaments. The ornaments became favorites among family and friends, who encouraged the couple to start their seasonal business two years ago.
Starting their own company was one those life-changing events where the couple decided 'Let's live our lives and get out of the rat race for awhile," Casey said.
The pair got a bakery in Sorrento Valley for the ornaments, but they couldn't justify only using it seasonally so they decided to do pretzels, a Philly treat they always had to eat before leaving the city to come back to California and one they often brought home to friends.
"[The pretzel truck] was how we could spend all of our time together, be in business for ourselves and justify having the bakery to grow our cookie business and, in the meantime, do something we love," Casey said.
The couple does everything themselves — they are typically "twisting" by early morning, they bake and put the pretzels on the truck to take out every day. They also take orders and do special events — they recently booked their third wedding as a new trend in weddings is providing a late-night snack for guests. When school is out, they take their truck rotation to the beach.
Casey calls Bob the "creative mastermind" behind everything. It was Bob who designed their bright yellow truck decked out with patriotic stars, an image of Ben Franklin and the iconic Philadelphia "LOVE" sculpture.
Bob didn't want the truck to be like a food truck where people come to the window to order. He wanted it to feel authentic Philly, where pretzel guys are on the street corners with carts filled with pretzels from the bakeries.
"He wanted it to be as close to being on a street corner as possible, more of that experience, so he designed the entire cart that comes out of the back, so it's much more intimate and we can connect to the people who come to the truck," Casey said.
Since they started, Casey said it's amazing how many people come from the area and want to hang out and talk "Philly." As good as finding Philly brethren is, people enjoy that the taste brings them right back.
"If you don't do the pretzels in the way they're meant to be done it's not the same. That's our ultimate goal, to be authentic," Casey said. "People say they can close their eyes and be at the Walt Whitman Bridge or Liberty Bell Park and that would be the pretzel."
For more information, visit
Like them on Facebook or follow them on twitter to keep updated on their schedule.
Pretzel time! Find the truck:
Monday:
2:40 p.m. at the Carmel Valley Library/Solana Pacific
Tuesday:
2:15 p.m. at Ocean Air School
3 p.m. near Carmel Valley Middle School, corner of Del Mar Trails and Carmel Creek
3:30 p.m. corner of Carmel View and Carmel Grove
Wednesday:
12:15 p.m. Carmel Del Mar School
2 p.m. Carmel Creek School
Thursday:
2:15 p.m. Sage Canyon School
3 p.m. corner of Del Mar Trails and Mona Lisa Street
Friday:
2:15 p.m. Ashley Falls School
3 p.m. Del Mar Pines School, back entrance to Torrey Pines High School on Torrington St.
3:30 p.m. Corner of Quarter Mile Drive and Hartfield Avenue.
4:15 p.m. Corner of Carmel View and Carmel Grove
The Philly Soft Pretzel Company truck, owned by Casey and Bob Canuso, visited Sage Canyon School recently. Photo/Karen Billing
---