Plaques mark historical walking tour in Del Mar Village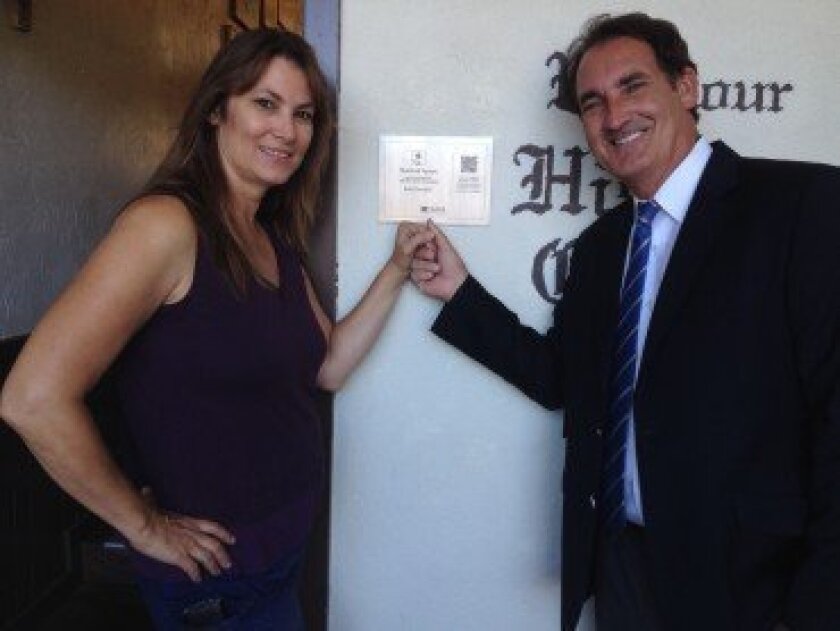 The Del Mar Village Association History Committee, under the chairmanship of local attorney Bing Bush Jr., has installed plaques on several of the historically significant buildings in the Village of Del Mar.
The plaques feature QR codes that link history with each building site so that pedestrians strolling through town can learn more about each building by scanning it with a smartphone or tablet.
Plaques are at L'Auberge Del Mar, originally built circa 1910 and also known as the Stratford Inn and the Hotel Del Mar. Stratford Square, at 1442 Camino Del Mar was historically known as the Kockritz Building, and when established in 1927 was the most prominent building in town.
What is now our Del Mar Library was originally St. James Catholic Church, and celebrated its first Mass in 1914 without pews, lights or an altar.
St. James eventually outgrew its space and moved to Solana Beach in 1966, so St. Peter's Episcopal Church, built in 1940, with its beautiful clear-cut redwood interior, remains Del Mar's only house of worship.
Across the street from the library is the Davidson Building, built in 1927 as the Hotel Del Mar Garage. It later added gasoline and automotive services. Some longtime residents remember spending time there in their youth, watching the mechanics at work.
The Stratford Inn Garage was the very first garage to be established in Del Mar in 1910 to serve hotel guests. Today we know it as Jake's Del Mar.
La Tienda/En Fuego Cantina and Grill was built in 1930 and housed the Family Mushet Office and Residence. Erected in 1926, the boutiques at 1414-1418 Camino Del Mar originally housed the old Del Mar Post Office.
Despite its 1989 origin, the Del Mar Plaza has become another historically significant building and has a plaque commemorating its past and evolution.
Future plaques are planned for Zel's Restaurant, named after longtime business owner, resident and city supporter Zel Camiel. The restaurant occupies the original Pacific Telephone Exchange's Kline Center site, which was relocated in the 1970s. A plaque is also proposed for the Bully's building on Camino Del Mar.
Bing and the history committee invite you to take walk through town, enjoy the preservation and restoration of these locations, and learn a little bit more about their rich history. Stop by the Visitors Center, 1104 Camino Del Mar, or visit one of the main street kiosks and pick up a map.
---