Popular Carmel Valley Swirls to offer unique holiday flavors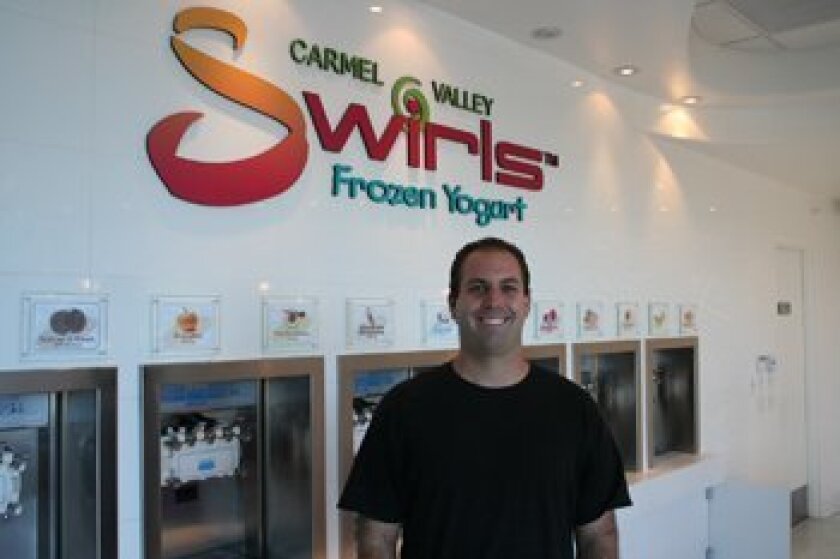 By Karen Billing
The holidays are coming and so are the holiday flavors at Carmel Valley Swirls. Owner Evan Wilensky has some delicious frozen yogurt fare in the works for his newest location at the Del Mar Highlands Town Center.
While the creamy pumpkin flavor is already available, customers can keep an eye out for peppermint, egg nog and gingerbread cookie in the coming weeks.
"This is a really fun place to come, kids and adults really enjoy it," said Wilensky. "I want the customers to have a great experience, which we provide here."
Wilensky, a graduate of Torrey Pines High class of 2002, is the CEO of ESW Investments Inc. and opened his first Swirls shop in Del Mar in 2008. After the Del Mar Swirls shop became such a success, he went on to open Encinitas Swirls in 2009 and Carmel Valley in January of 2012.
At Swirls, there are 52 flavors in the mix and 12 on tap on a daily basis. Carmel Valley always has a non-dairy flavor and a no-sugar added flavor. Most of the yogurts are non-fat; there are just a handful of flavors that are low fat.
"Yogurt is super healthy," Wilensky said, pointing out that he keeps yogurt's health claims to fame posted on the wall.
It's a good source of protein, can help lower cholesterol, improves digestion, increases metabolism and stimulates the immune system, Wilensky said.
In the self-serve style, customers can fill their cup however they want, as well as sample flavors before they commit. There are always a variety of 30-plus toppings in addition to fresh fruit prepared daily.
Wilensky ensures that his stores are kept "surgically clean"—if a dollop of yogurt misses the cup or a hunk of cookie dough gets separated from the rest they are swiftly cleaned up by the staff.
Wilensky said he knows the customers appreciate the cleanliness as well as the taste of his frozen yogurt. He was grateful to be voted number one favorite Best Yogurt by this paper's Readers' Choice Best of North Coast 2012 contest, as well as third in the Best Dessert category.
"I want to thank the readers for voting us best frozen yogurt," Wilensky said. "I love interacting with the customers and serving up a healthy, quality product."
Learn more about Swirls at CarmelValleySwirls.com. Carmel Valley Swirls is located at the Del Mar Highlands Town Center, 12925 El Camino Real, Suite AA1, San Digo, CA 92130; (858) 794-7033.
---