Popular Del Mar brunch spot now offers dinner during Summer Nights
By Claire Harlin
editor@delmartimes.net
Stratford Court Cafe in Del Mar has been a local hidden gem of a breakfast and lunch spot for more than 20 years, and now it's adding dinner to its menu.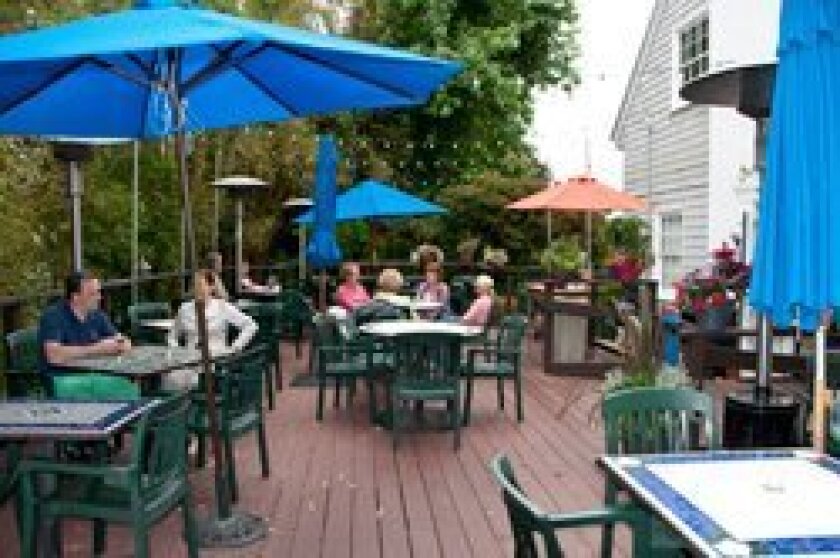 "Our customers gave us the idea, actually," said owner Terry Sonken. "They said it would be so nice to sit on the patio at night and have a glass of wine, so we thought we'd try it out for the summer."
In addition to beer and wine, The Stratford (as locals commonly call it) has incorporated a menu with a local, fresh California summer food theme. Popular items include a ham panini with fig jam and mozzarella on an herb focaccia bread, and an Italian sausage flatbread with caramelized onions, mozzarella and roasted red peppers. Sonken also expects to offer live music, but she and her family are easing into Summer Nights, opening only Thursday through Saturday, from 4-8 p.m.
The Stratford is truly a family-run operation. On any given day you can find either Sonken or her husband, Gregg, on site running the cafe. Their daughter, 23-year-old Alexia, also works there.
"When our other daughter comes home from school, we put her to work too," said Sonken. "The fact that we are family owned lets people know we really cater to customers and want them to feel comfortable. People like that they are well taken care of, like family."
Being one of the few dog-friendly establishments in Del Mar, the Stratford allows visitors to comfortably bring the entire family.
So far, locals have quickly picked up on the cafe's new hours. On a recent Thursday, guests began trickling in right around 4 p.m., steadily filling the outdoor patio for dinnertime. Regardless of the success of Summer Nights, Sonken said she doesn't want to extend the new hours into the winter.
"I could see this becoming a tradition every summer," she said.
Stratford Court Cafe is located at 1307 Stratford Court, Del Mar 92014. For more information, visit www.stratfordcourtcafe.com; 858-792-7433.
---