Praxum Brass plays March 11 at Carmel Valley Library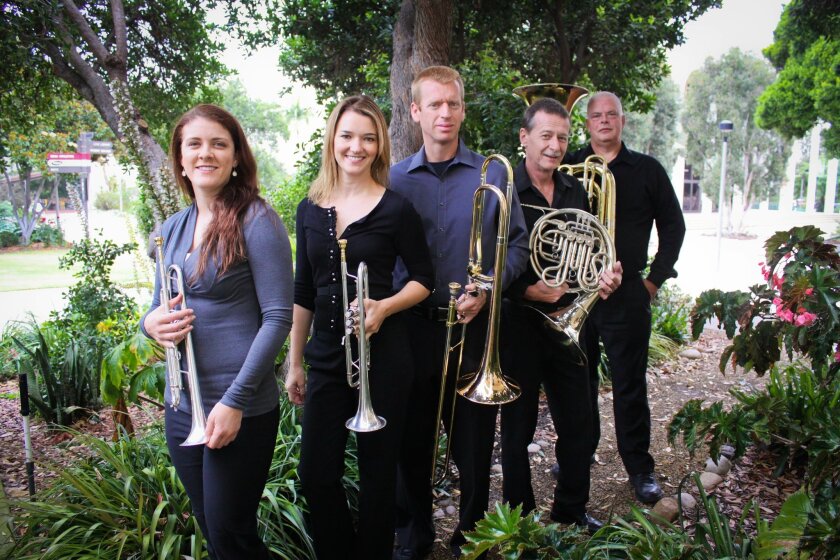 March's free family music program, sponsored by the Friends of the Carmel Valley Library, will feature the Praxum Brass Quintet in a recital of the history of the brass quintet.
The 45-minute program will be at 7 p.m. Wednesday, March 11 in the library's community room. The quintet will perform works by Ewazen, Ives, Lutoslawski, Cheetham, J.S. Bach, and Ewald.
Members of the quintet are Rachel Allen, Elizabeth Meeker, John Lorge, Eric Starr, and Michael Wiley.
Praxum Brass was formed in 2012 and is dedicated to promoting and performing modern brass quintet music with an occasional reverent nod to the classics of its genre. Its members are among the finest brass musicians in Southern California. They have performed with many professional orchestras and chamber ensembles, including the San Diego Symphony, Orchestra Nova, Los Angeles Philharmonic, Milwaukee Symphony, and the St. Paul Chamber Orchestra. Its members bring performance experience from other styles and genres, including pop, jazz, rock, ethnic, country, and even heavy metal.
Rachel Allen is a freelance trumpet player and teacher, and plays regularly with the La Jolla Symphony. She has a BA from Oberlin Conservatory in Ohio and a master's in orchestral performance from McGill University in Montreal. Her international adventures include a musical outreach at rural schools in El Salvador and a residency at the Festival de Musica de Santa Catarina in Brazil. In the States, she has played in the Aspen and Idyllwild summer music programs and the Chosen Vale International Trumpet Seminar. She is also a high school trumpet coach.
Elizabeth Meeker has a bachelor's in music from Boston University and a master's in music from Yale University. She has played trumpet with the San Diego Symphony, Orchestra Nova, Old Globe Theater, and the Lawrence Welk Theatre. She also plays with the San Diego-based Westwind Brass Quintet. She is a brass instructor at Southwestern Community College and also teaches privately.
John Lorge studied music at the University of Wisconsin and is principal horn emeritus of the San Diego Symphony and San Diego Opera. He has also played with the LA Philharmonic, San Antonio Symphony, St. Paul Chamber Orchestra, and many recording studio orchestras in Los Angeles. He is often called on to compose and arrange music for the San Diego Symphony and chamber ensembles across the nation. And he leads the San Diego-based French-horn ensemble Hornswoggle, as well as the La Jolla Brass Ensemble.
Eric Starr has a bachelor's degree in music from the University of Southern California, a master's in music and an artist diploma from the Cleveland Institute of Music, and a doctor of musical arts degree from SUNY Stony Brook. He has played trombone with the San Diego Symphony, San Diego Opera, La Jolla Symphony, Orchestra Nova, and the Orquesta Sinfonica UANL in Monterrey, Mexico. His solo and chamber music engagements have included appearances at San Diego State University, the University of San Diego, the Peabody Institute, the University of Cincinnati College Conservatory of Music, and Southwest Minnesota State University. He also plays with the Westwind Brass.
Michael Wiley studied music performance at the Eastman School of Music and San Diego State University. He has been a performing musician for more than 35 years and is an active freelance tubist. He has played with the San Diego Symphony, the San Diego Pops, Grossmont Symphony, Westwind Brass, Pacific Sounds Brass Quintet, and many other chamber groups. He is also an accomplished bass guitarist and has performed, recorded, and toured with many San Diego-based artists.
---