Productive San Diego Jewish Academy quarterback gearing up for another great year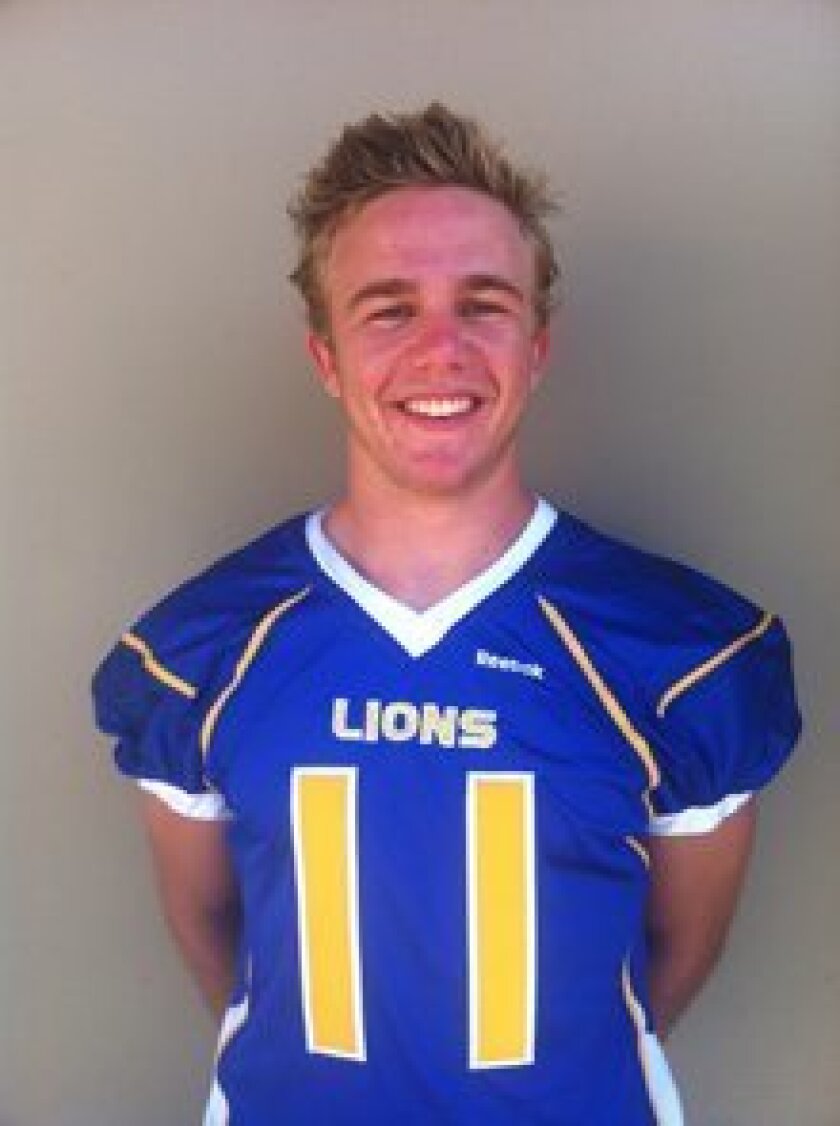 By Gideon Rubin
Micah Weinstein was just a freshman when his San Diego Jewish Academy coaches took the unusual step of installing him in a dual quarterbacking system on the varsity.
And in the early going, to say that Weinstein's demeanor didn't exactly inspire confidence would be an understatement.
"He had this 'deer in the headlights' look," SDJA coach Joseph Gurfinkiel said.
Weinstein is the first to admit that the trepidations he projected weren't far off from the reality of how he experienced being thrust in a high-pressure situation.
The challenge he faced was especially formidable because the Lions run a modern spread offense that demands advanced aptitude.
"At a young age everything was moving very quickly on the field," Weinstein said. "I had to learn how to react and look for different (defensive) coverages.
"I was nervous, but I thought if I proved myself it would be a big deal for the next year."
After experiencing some initial growing pains, Weinstein's development turned out to be a big deal for the Lions.
Weinstein, who will be a senior this year, is already from a statistical standpoint the most productive quarterback in school history and arguably the most impactful player in program history.
In his last two seasons, he's combined for over 2,500 yards and 15 touchdowns with a 54.2 completion percentage (190 for 350) over that span.
He's been instrumental in helping SDJA transition from 8-man football to the 11-man game, which the Lions went to his freshman year in 2009.
The Lions will be counting on another 1,000-plus-yard passing season from their starting quarterback this year. SDJA opens its season on the road against Calipatria on Sept. 6.
Today, Weinstein believes he's reaping the benefits of playing as a freshman on the varsity.
"When you're a freshman everything is beyond fast, but when you're a junior or a senior the game slows down," he said. "Even when you're a sophomore the game slows down ten-fold."
Weinstein said the mentorship of then senior quarterback Joseph Mizrachi was a big factor in his development freshman year.
"He would train me throughout the year," Weinstein said. "He would teach me what to look out for, what to read, how to hand the ball off and how to use my feet."
"It was big," Weinstein said of Mizrachi's impact on his development. "I was nervous the whole year and Joseph was my mentor."
Gurfinkiel, who has known Weinstein since he was a sixth grader, believes Mariachi, himself a very talented quarterback, also taught his protégé about the intangibles that are integral to being a successful quarterback at the high school level.
"They created this special bond that I think made him comfortable in that position," Gurfinkiel said.
Weinstein still has room for growth in his development, Gurfinkiel said.
He described Weinstein as an accurate short yardage passer with quick feet and tremendous football intellect and leadership qualities.
"He would be a great Division III player," Gurfinkiel said.
"He's smart and he's hard working, and when it comes to the weight room we don't have a more dedicated guy," Gurfinkiel said. "He's a player a coach would love to have."
Weinstein is still weighing his options but said he's now leaning against playing at the college level. He has a 4.15 GPA at the academically rigorous SDJA and wants to put all of his focus on schoolwork in college. He plans on studying business.
But as his team prepares for its opener next month, he's now focused on the business of football.
"It's a disciplining sport," he said of his experience playing football contributing to his high-level academic achievement.
"It's a difficult sport and it teaches you discipline and it teaches you how to learn. I think it's helped me as a student learn faster in the classroom."
Weinstein believes his football experience has also made him a better person.
"The football team is like a family," he said. "We learn to struggle and pick each other up and we learn how to care about each other."
For Weinstein, the SDJA football team practically is his family.
His two older brothers both played for the Lions. Seth Weinstein played for SDJA when Micah was in middle school.
Micah took snaps from Devon Weinstein, a teammate two years ahead of him who played center for the Lions.
"It's ironic because we always talk about the football team being like a family, and it literally was my family," he said.
It also made for an unusual dynamic, with Micah getting a chance to boss around his big brother in huddles.
"It doesn't happen very often," Micah said. "[Devon] kind of owned the offensive line because he was the center, but I was in control" of the offense.
---