Profile: Meet the new Chief of Staff at Scripps Memorial Hospital, La Jolla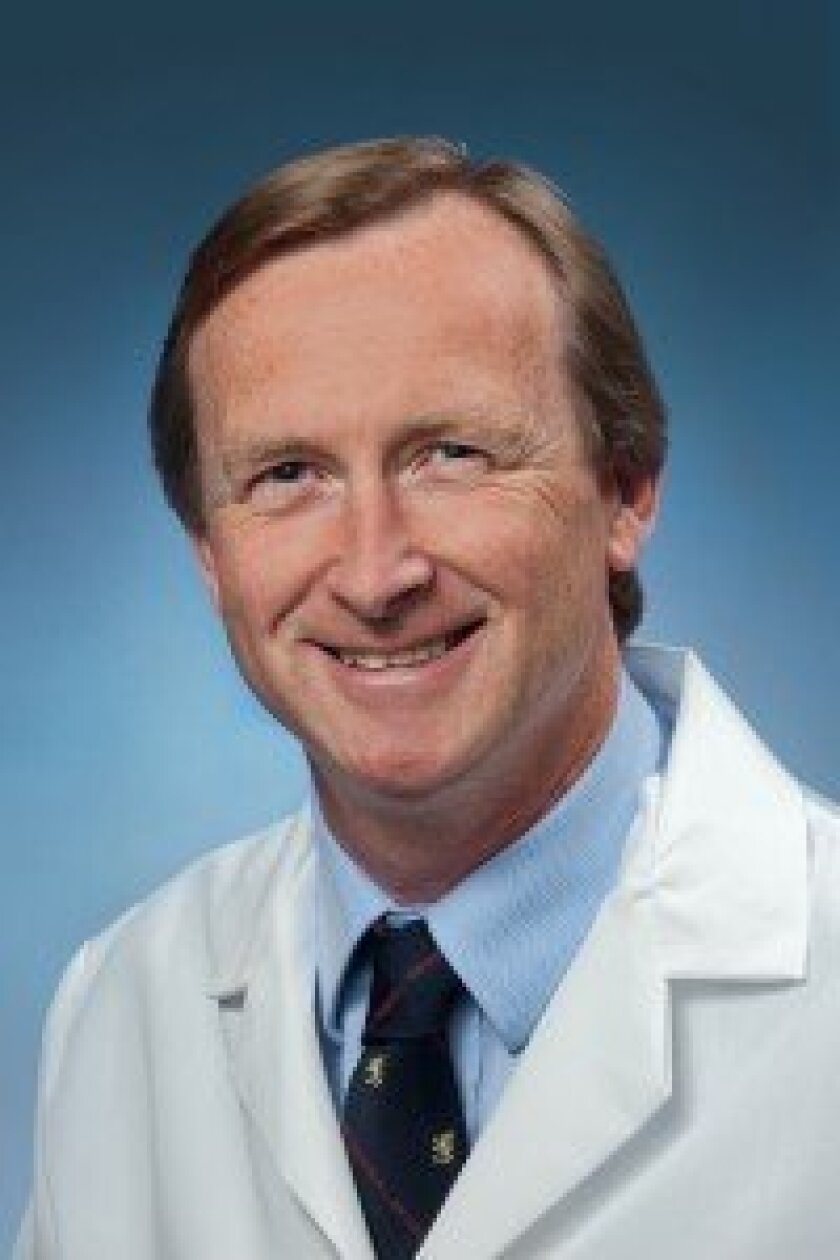 By Kathy Day
M. Jonathan Worsey, M.D. knows full well the life of a small businessman. Now the colorectal surgeon is learning a new role in big business as chief of staff at Scripps Memorial Hospital La Jolla. He's just added about 15 hours a week to his prior workaday life of about 50- to 60-hour weeks.
Worsey has been a member of the medical staff at Scripps Memorial Hospital La Jolla since 1999 and has held numerous medical staff leadership positions, including chief of surgery.
The Carmel Valley resident's new two-year post as medical liaison to the hospital's administration and board makes him the point person for the 1,000 or so doctors who treat patients there. That means keeping an eye on patient care and safety, as well as doctors' rights and communication from their points of view. He will also provide medical staff input into the major expansion and renovation projects under way on the hospital's campus, including the Prebys Cardiovascular Institute, which is scheduled to open for patient care in 2015.
"We have a responsibility to be good at patient care," Worsey, said in recent interview, noting that 25 years ago the job of chief of staff was very different.
Today there's more to just seeing patients and taking good care of them – from reporting and regulations to understanding the Affordable Care Act, he said. "We are doing pretty well adapting to the environment."
But as the system grows and that environment continues to shift, he said his main goals are "to look out for the medical staff and to know what is happening. With change comes opportunity."
Worsey grew up in the working class area of South Wales, where his grandfather worked in the then-dominant mining industry. As the '70s and '80s wore on, heavy industry left and today only one mine remains. He left South Wales at 18 – one of only about 10 of his 300 or so classmates to attend college.
Upon entering the University of Cambridge he immediately began studying medicine, which is how the British system works, he noted. He picked medicine because "it was the hardest thing to do and get into … I have not regretted it."
By 1985 he had completed medical school at St. Thomas' Hospital in London, England, serving his internship in surgery at the hospital. (St Thomas' Hospital can trace its roots back to an Augustinian infirmary in the 12th century. It was formally founded in 1552 by Edward VI.)
He came to the U.S. in 1989, starting at the University of Iowa with plans to stay for just one year. He entered surgical residency at the University of Pittsburgh in 1991.
When an opportunity for additional training in colon and rectal surgery at the Cleveland Clinic arose, he jumped at the opportunity.
"It is a nice niche," he said. As the practice of general surgery has grown smaller and such specialties as colon and rectal surgery, vascular and breast surgery have expanded, many surgeons move to subspecialties like these to keep up with all the new advances and treatment options.
Worsey also performs specialty surgery; he sees patients with an array of colon and rectal problems from Crohn's disease to rectal cancer, and has extensive experience in laparoscopic surgery. In addition to having written for surgical textbooks, he teaches gastrointestinal fellows at Scripps Green Hospital.
Now, besides caring for his patients, — "that's the fun part of the business" — he has to keep up with his new duties as chief of staff at the hospital. Each Scripps facility has its own chief of staff.
Among his responsibilities is being part of the Physician Leadership Cabinet where administrators and the medical staff exchange viewpoints and talk about what's coming up.
It's a "very doctor-friendly staff" concerned with maintaining good relations with the doctors," he said. "We talk very openly." That's not always been the case; often there's distrust between the two sides and at Scripps in the '90s that distrust was rampant.
Now, he noted, "things are going right. They are much more interested in the quality of care and accountability."
Physicians are willing to adjust if they are given good reasons and ways to make change happen, with the keys being collaboration, transparency, feedback, openness and fairness, he added.
As for the Affordable Care Act, Worsey takes the position that "it's law. We can stick our heads in the sand and ignore it, or we can change with the environment and be part of it."
While the stress of being chief of staff is a bit greater than just being a surgeon, Worsey finds his outlets in family, exercise and sports.
Worsey and his wife, Hallie, have a 19-year-old daughter studying at The Bard College Conservatory of Music, a 15-year-old son at Canyon Crest Academy, and a 13-year-old son at Earl Warren Middle School.
As do other physicians at Scripps, Worsey takes advantage of being able to exercise in the cardiac rehabilitation center alongside patients. A former crew team member, he said, he uses the rowing machine there a lot.
And while he doesn't play rugby anymore – he quit in his 30s – he's still a fan of that game as well as cricket. Several years ago he spent two weeks in New Zealand, taking in the Rugby World Cup. While his children didn't make that trip, when the tournament is held in England in 2015, he said he likely will take his sons if they want to go. For a while he coached locally.
Travel is a recurrent theme for the Scripps physician, who spent time during college in East Africa and South America on medical expeditions, one of which was literally "chasing snails" that carried schistosomiasis, a parasite that causes chronic illnesses in many underdeveloped areas of the world.
After medical school, he backpacked for several months through Peru, Bolivia, Chile and Ecuador.
"It was pretty safe in the mid-'80s," he said, noting that then the cost of a bus-train trip across the Andes was $5.
"Traveling in the Third World gives you a different perspective," he said.
For more information, visit www.scripps.org.
FAST FACTS
Name:
M. Jonathan Worsey, M.D., Chief of Staff, Scripps Memorial Hospital, La Jolla
Distinctions:
2011 U.S. News Top Doctor – Colon, rectal surgery; 2012 San Diego Top Doctor – Surgery.
Family:
Wife, Hallie; daughter Claire, 19; sons David, 15, and James, 13.
Interests:
Rugby, cricket, microbrewery beer from San Diego
Reading:
Science fiction, history, The Economist
Favorite films and TV:
Lord of the Rings trilogy;
TV:
Dr. Who, Sherlock, Inspector Morse and Lewis, Friday Night Lights.
Favorite getaway:
Sequoia/Kings Canyon, Eastern Sierras, camping in Death Valley, Central Coast of California
Philosophy:
You get what you deserve in life, though sometimes it may take a while. Also, loyalty repays itself many times over.
---