Progress being made on long-planned Pacific Highlands Ranch park in Carmel Valley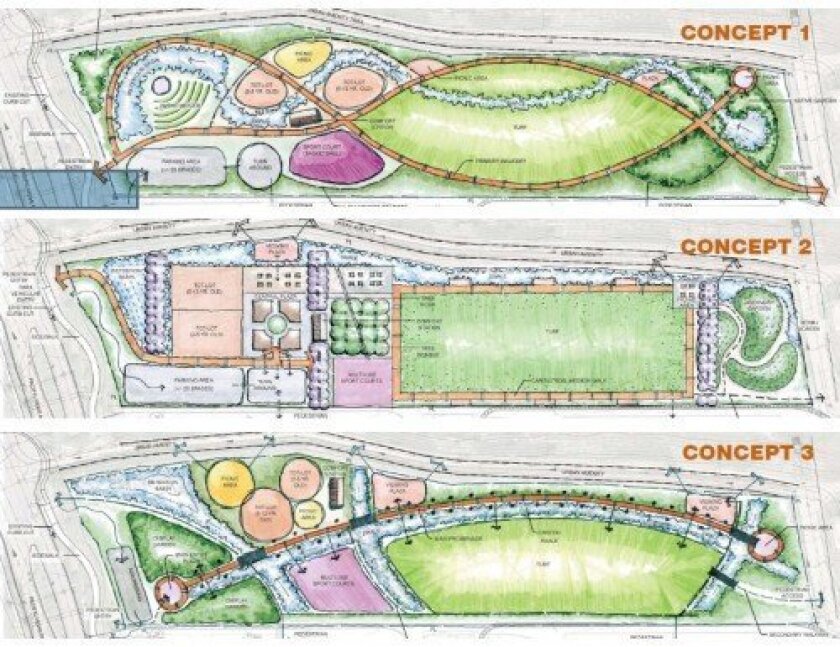 By Karen Billing
Pacific Highlands Ranch (PHR) is inching closer to finally getting its long-awaited, fully-funded-since-2008, much-delayed Gonzales Canyon Neighborhood Park. Residents whose children have played on asphalt for six or seven years might be able to unleash their kids on fresh park greens by late next year.
Schmidt Design Group has completed a community-wide survey and drawn up three design alternatives for the park. It is the hope once the design is finalized it will go to the Carmel Valley Parks and Recreation Council for design review and city public hearings by June.
Beth Fischer, Pardee Homes division president, said they are committed to delivering the park by December of 2014.
The Carmel Valley Parks and Recreation Council established a Gonzales Canyon Neighborhood Park ad hoc committee at its March 5 meeting, with the idea being to get planning into the hands of people who actually live in Pacific Highlands Ranch.
The subcommittee's intent is to build a dialogue so residents feel like the park represents what they want, according to Ken Farinsky, a CV Parks and Recreation Council board member who will serve on the committee.
"This has been one of the highest priorities of Pacific Highlands Ranch and we took it to a citywide vote in 2010 to make sure our community's future happens. We want to make sure this park has the voice of Pacific Highlands Ranch so the new park committee includes five residents from PHR, including me," said Manjeet Ranu, a Gonzales Canyon Neighborhood Park ad hoc committee member who is also the PHR representative on the Carmel Valley Community Planning Board. "We will be watching…There will be no more delays, this park is going to happen."
The ad hoc committee will get busy on design details on Thursday, March 21, at 7 p.m. at the Carmel Valley Recreation Center (3777 Townsgate Dr, San Diego, 92130). A second meeting is planned for April 16 before the preferred alternative of three tentative design plans is submitted in May. Any community member is welcome and encouraged to attend.
City Council District 1 Councilmember Sherri Lightner was in attendance at the meeting, mentioning she first heard how important the park is to the community when she was first running for City Council in 2008.
"We're very excited about it and I'm glad it's moving forward finally," Lightner said. "Sooner is better but do it right."
JT Barr, senior associate with Schmidt Design Group, said they know how eager the community is to have the park and said Pardee Homes and the city is just as eager to get it done.
"The focus is on getting the park delivered. We're looking forward to working with you to make this park a reality," Barr said.
Schmidt did a survey to get feedback on the park's design and Barr said it was one of the most highly responded to survey in his 12 years designing parks. They received more than 70 responses and the top 10 priorities were children's play equipment (ages 5 to 12 ranked highest), shade trees, an open lawn, picnic tables, security lighting, swings, restroom buildings, shade structures, basketball and 2-to-5-year-old play equipment.
"We got a lot of feedback, it was really great to see," Barr said.
Other community preferences were small group and barbecue areas, climbing walls, nature trails/garden, public art, exercise stations, a dog run and an amphitheater.
The park will be located at the end of Pacific Highlands Ranch Parkway. It is a 5-acre site adjacent to the Solana Beach School District's future Solana Ranch School, currently under construction for a fall 2014 opening.
The park is right on PHR's "urban amenity" trail and is about a seven- to 10-minute walk from the future Village Center on Carmel Valley Road. Barr said it's important that the park play into PHR's goals of being a walkable community.
Barr said they also have an opportunity to draw the community's character into the park design, such as the Spanish architecture and natural, draught-resistant landscaping seen on the community's medians and throughout the neighborhoods. Gonzales Canyon will also figure into plans as it edges the park; Barr said there are great opportunities for view lookouts or to tell the canyon's stories through interpretive panels.
There are three preliminary alternatives being discussed.
Alternative 1 is "inspired by the community" and features a meandering trail and a landscaped "swale" creek connection running through the park. Active uses, such as tot lots, basketball courts and picnic areas, are located on the western part of the park. The plans also show a 25-space parking area, a comfort station (restroom building) and a terraced amphitheater with Gonzales Canyon as a backdrop. A large open turf area separates the active uses from a passive use area on the eastern part of the park, the area closest to family homes. The passive-use area includes a native garden, a picnic area and "contemplative" areas to explore the canyon.
Barr said he envisions the walkway could be stamped with etchings that tell a story about the environment.
Alternative 2 is inspired by "Mission revival." The park would have a very structured layout similar to the California mission style, with the western side of the park featuring a central plaza surrounded by the tot lots, a viewing plaza, sport courts, comfort station and a tree "bosque," a gallery shaded by trees.
Tree-lined paths would lead to the large rectangular turf area at the center of the park and the eastern edge of the park would have a picnic area and discovery garden.
Alternative 3 is inspired by Gonzales Canyon itself, "balancing artistic expression in design with environmental sensitivity."
There would be a main, tree-lined promenade through the park, book-ended by a main entry plaza on the west and picnic area on the east. Other features would include tot lots, sports courts picnic areas and the comfort station, and the large turf area would have a series of canyon overlooks
"We, as a group, tend to like areas where sports teams can practice or play," said Ken Farinksy of the Carmel Valley Parks and Recreation board, noting Alternative 2 provides the most options for sports fields.
With PHR planned for nearly 5,000 residences, there is going to be a need for children to have a place to play sports such as soccer, baseball or lacrosse. Carmel Valley's fields are already "stressed to the max," Farinsky said.
"The more active use space for kids, the better off you'll be in the long run in the neighborhood," Farinsky said.
Farinsky said residents should keep in mind that more field space is coming for PHR in the future: Solana Ranch plans to have a sports field as part of its school; a 20-acre community park with a recreation center and fields is planned next to Canyon Crest Academy; the future San Dieguito Union High School District junior high school will have fields; and there are additional fields planned for CCA.
---