TPHS students take action with Red Cross campaign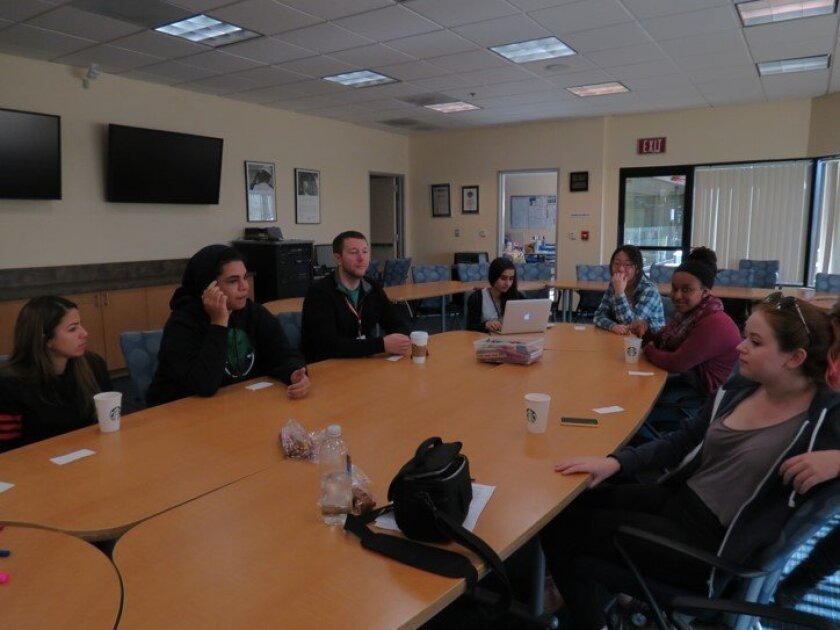 A group of Torrey Pines High School students are doing their part to raise awareness as part of the American Red Cross' International Humanitarian Law Action Campaign, which works to educate people on the atrocities of wartime and the laws in place meant to avoid these catastrophes.
The campaign seeks to teach international humanitarian law to young people through peer education. Since the program began in 2013, more than 400 volunteers have joined — designing and presenting campaigns to raise awareness and make a difference in their communities.
Torrey Pines High School juniors Neela Aghajan, Jennifer Yuan, Hassan Alamar and sophomore Hayder Alamar are part of an 11-member San Diego team, which includes students from Scripps Ranch High School and intern supervisor Kevin Iraniha. They meet once a week after school at the Red Cross' downtown headquarters.
At their meet-ups, the group learns about different aspects of humanitarian law and principles as well as information about current worldwide conflicts.
Hassan said it was eye-opening to learn all about the Geneva Conventions, which regulate the conduct of armed conflict. The laws protect people who are not taking part in the hostilities of war, such as civilians, health workers and aid workers such as the Red Cross.
Each year IHL Campaign teams chose a different subtopic to focus on and past topics have included child soldiers and refugees — the local group has selected torture.
Per the Geneva Conventions, captured combatants and civilians are entitled to respect for their lives, dignity and must be protected against acts of violence or reprisal.
Their objective is to get at least 250 people to hear their message and if their presentation is successful, they will be asked by the American Red Cross to present in Washington, D.C. The team will be going up against about 18 others in the country.
For their presentation, the local group would like to make a music video and are reaching out to local high schools' spoken word clubs to participate.
"We want to create an interactive story from the perspective of a torture victim," said Jennifer.
The group hopes to hold their event in May, possibly hosting it on the UC San Diego campus.
"There are certain misconceptions about torture," Neela said. "Forty-six percent of Americans agree with the method of torture for interrogation despite its inefficiency. We would like to try to get that number down to zero."
Neela's hope for the community is that people not be so "narrow-minded and hidebound," to open their eyes and pay attention to what's going on in the world and recognize the importance of basic human rights.
To learn more about ways to help and take action, visit redcross.org.
---