Rozalia Project visits school in Carmel Valley to teach students how to protect the ocean environment
By Karen Billing
It takes six weeks for a piece of paper to dissolve in the ocean and two months for an apple core. Plastic never dissolves but takes over seven years to break down into tiny micro-plastic pieces. It takes 80 to 200 years for a soda can to dissolve; 450 years for a plastic bottle to break into micro-plastic; and a discarded, durable glass bottle stays intact for one million years in the ocean.
Students at Ocean Air School learned about the problem of marine debris and steps they can take to protect the ocean environment during a Sept. 24 visit from the Rozalia Project.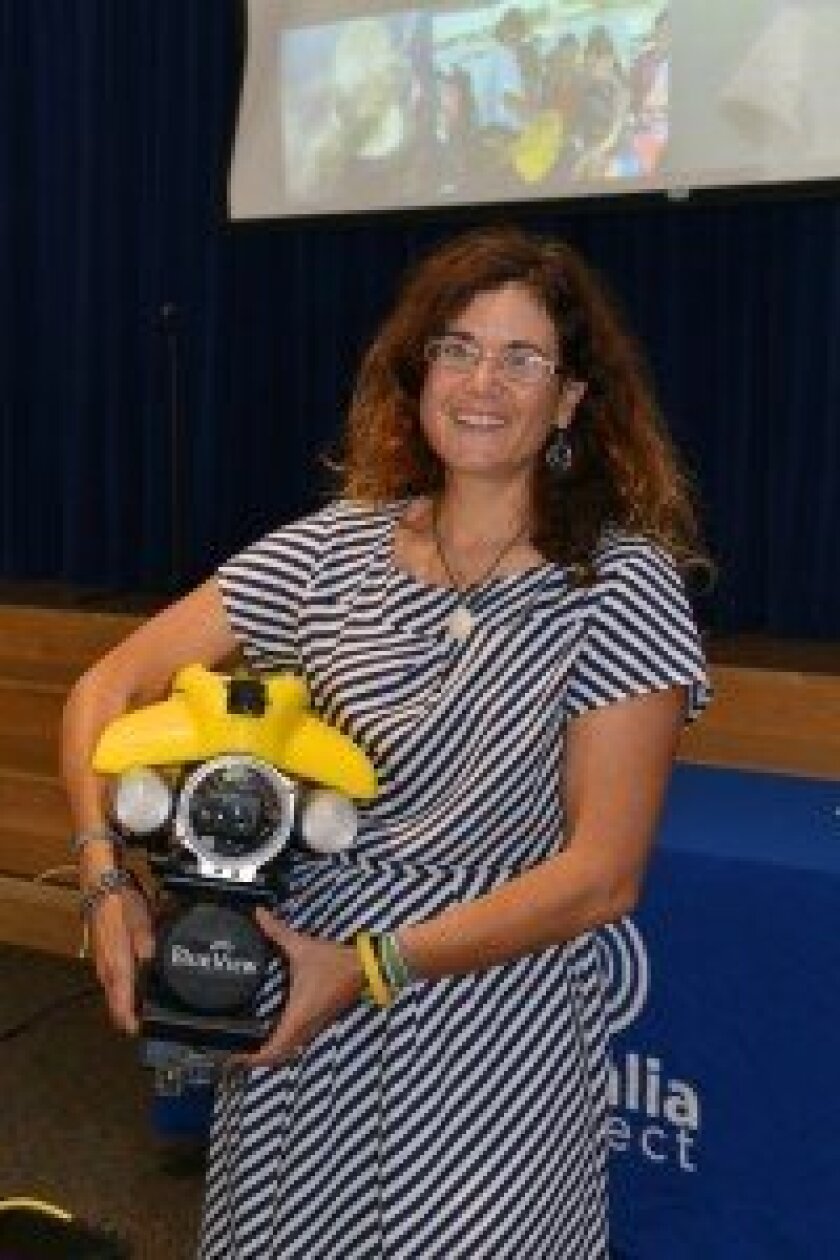 "Our goals are to clean the ocean, learn everything we can about the problem of marine debris and inspire people to be part of the solution," said Rachael Miller, the founder and executive director of Rozalia, an East Coast-based organization.
The Rozalia Project visit to Ocean Air was sponsored by Kilroy Realty.
Miller told the students about her organization's adventures in trash-hunting on their sailboat American Promise. They clean up shorelines, collect trash on the surface with drip nets and clean the sea floor using underwater robots (ROVs).
Rozalia's Hector the Collector has found everything in the water from a moonshine jar from the 1800s to a fake mustache; a witch hat at the bottom of a lake and four bikes at the bottom of the ocean last year.
Students were excited when Miller used Hector to scan the room, their images appearing on screen the same way the ROV shows their crews trash in the ocean.
Students participated in an activity to uncover what the top 10 items are that the ROVs pick up off the sea floor. One student's guess of false teeth did not crack the top 10.
Among the top 10 items are Styrofoam cups/plates/utensils, food wrappers, glass bottles, cans, metal building materials, plastic bottles, plastic bags, plastic sheeting/tape, sunglasses and clothing, and rope.
Miller pointed out a common theme among the top items — that they are things that are disposable and used only once.
Keeping in mind how long it takes plastic to break up into microplastic and how hard it is to clean up all those little pieces, she said it really does make a difference to pick up trash that is on the shoreline or in the local environment.
Miller said 80 percent of debris comes from land through runoff and unexpected weather events can also cause a lot of debris — they fished 2,000 tires out of a river after Hurricane Sandy last year.
Besides being ugly, she said trash has an impact on marine mammals, can poison humans through the food chain, and effect tourism and local economies. She said everyone can make a difference by reducing their waste, putting trash in the appropriate place and picking up trash when they see it.
"Our goal is to stay optimistic," Miller said. "We feel that every effort toward a clean ocean makes a difference."
Currently, Kilroy Realty is sponsoring a contest to bring awareness to beach cleaning. People are invited to submit their favorite beach photos via twitter or instagram using @kilroygreen and the hashtag #sdbeachlife through Oct. 15. The winner will receive an eco-friendly designer "My Other Bag" beach tote.
To learn more about the Rozalia project, visit rozaliaproject.org.
---