Salsa Nights heat up at the Fairmont Grand Del Mar in Carmel Valley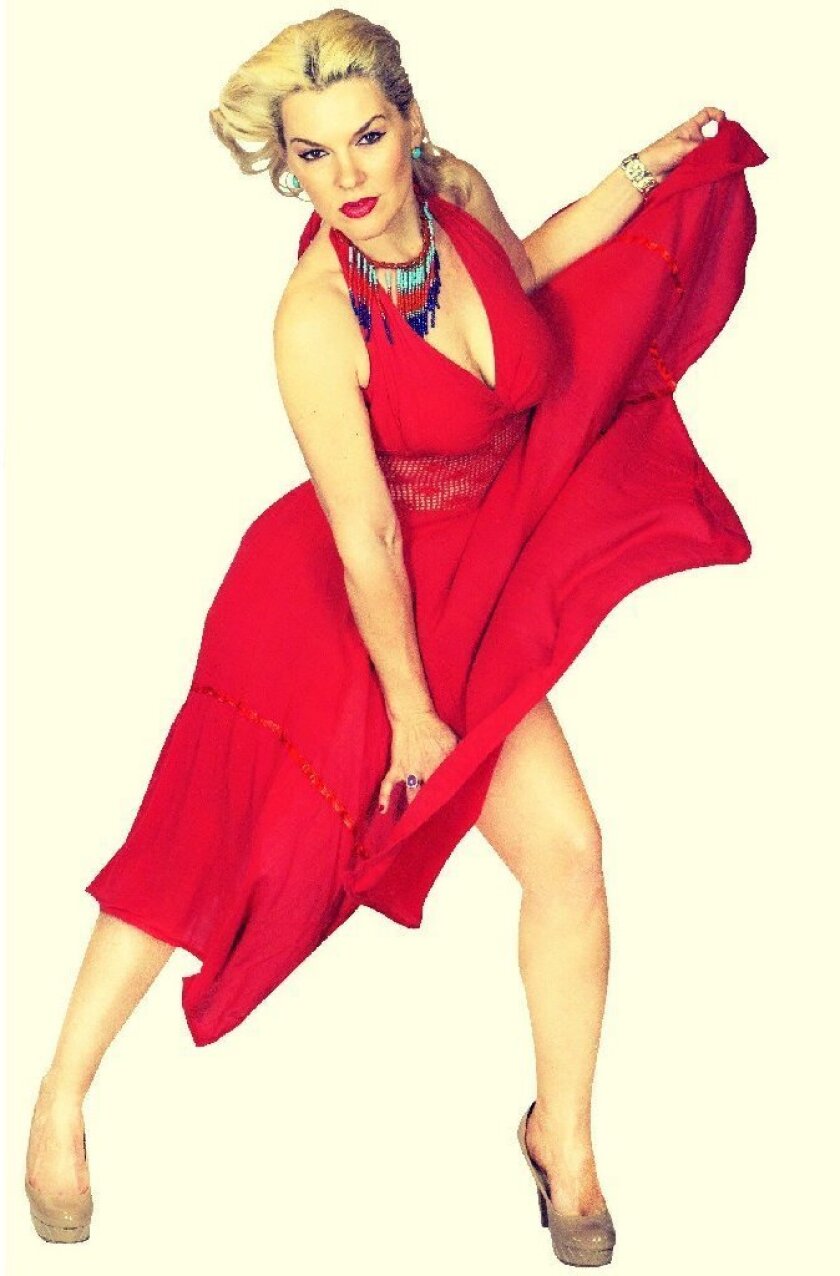 Once a month, salsa dancer Marilyn Klisser spices up Salsa Nights at the Fairmont Grand Del Mar's "sultry" nightclub Club M. No partners are required for Salsa Night, which starts at 6:45 p.m. with a beginner class followed by social dancing from 7:45 p.m. on with a live salsa band.
"If you can walk, you can dance," said Klisser, encouraging dancers of all abilities to come out on the last Thursday of every month at Club M. "It's good for your body, it's good for your mind, it helps with strength, coordination and it burns calories. Don't be nervous, you'll have a blast."
Known as "The Modern Marilyn," Klisser has a wave of platinum hair, often paired with dramatic red lips with a flair for fashion that rivals a certain other Marilyn.
Originally from Europe, Klisser was born in Luxembourg to French and Dutch parents. She danced ballet from ages 3 to 14, performing her last ballet performance at age 14 in a production of "Swan Lake" while living in Monaco.
While living in San Francisco and working as a flight attendant, Klisser was re-introduced to her love of dance as an adult after being encouraged by a co-worker to come to a salsa class.
"I was just absolutely hooked, I loved it," said Klisser who is fluent in Spanish (as well as French) and has always admired the Latin culture.
She took a few more salsa classes but found she really learned the most from social dancing.
In 2006 she joined a professional salsa dancing company in San Diego and danced with them for several years—the group won fifth place in the World Championships of Ballroom Dance for salsa in 2010.
Klisser has taught salsa for heart health in the Sweetwater Union High School District's adult education program, as well as salsa for teens at Royal Dance Academy. Once a month, she also teaches beginners salsa classes in Coronado at Candela's on the Bay.
Klisser said Club M is a great place to learn salsa as it is such a beautiful setting, the staff takes good care of guests and there is great food and drinks. Salsa Night draws a wide age range of dancers and while there are lots of regulars, Klisser said there are new faces every time.
"I'm pretty good at getting people excited about it and not feeling nervous, I really enjoy breaking down the dance for beginners," Klisser said. "It's so much fun, I love teachingm it's one of the things I love the most."
Klisser said men have the most to learn when it comes to salsa dancing — the men are the leaders and the women's job is to follow the best that they can.
The first thing everybody has to learn to dance salsa are the basic steps and the rhythm.
"The rhythm is the most important, you keep the rhythm with your feet and never stop that rhythm," Klisser said.
While keeping the rhythm, dancers work in a series of turns and combinations. Salsa is different from paired dancing, such as swing dance, as partners are always moving together and flowing.
Like salsa, Klisser is constantly in motion.
She works as a hair stylist, is working toward her real estate license, volunteers once a week with the Wheelchair Dancers Organization at Grossmont Hospital with a dancer with Multiple Sclerosis, and has recently launched a non-profit, Dance Away Dementia.
For years during dance classes Klisser has touted the health benefits of dance and it's ability to "dance away dementia." It's an important issue as more than five million Americans live with some form of dementia today and that number is projected to increase to somewhere between 13.5 to 16 million by 2050.
When she started researching it more thoroughly, she found a study in the New England Journal of Medicine that proved partner dancing, such as tango, salsa and swing, can reduce the risk of dementia by 75 percent.
She is now working on producing a mini-documentary to introduce her non-profit and has generated support with individuals and organizations who want to help the cause.
"This is something that I feel is my calling," Klisser said. "I feel so passionate about it and want to make a difference and help the world."
For more on Klisser's salsa classes and events, visit themodernmarilyn.com. The non-profit's website will launch April 23 at danceawaydementia.com.
---