San Diego Surf U15 team wins Elite Clubs National League Championship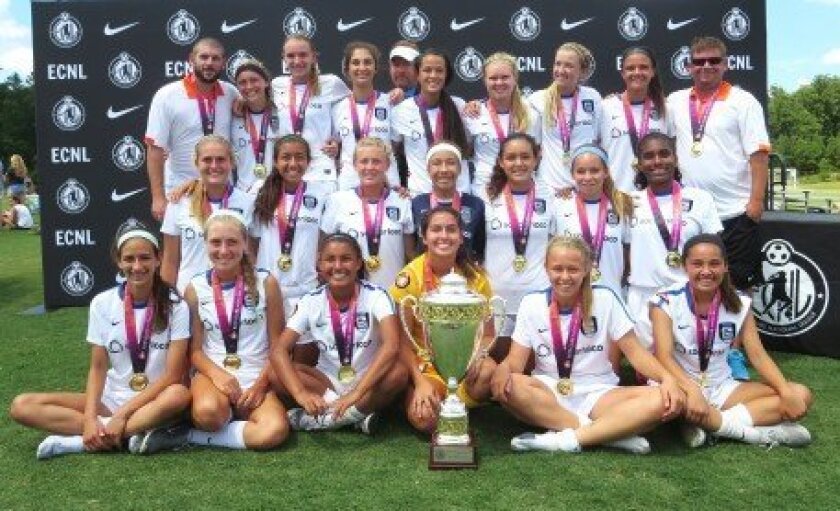 The girls San Diego Surf under-15 team won the Elite Clubs National League Championship on July 17 in Richmond, Va. The girls qualified for the finals by being the only U15 out of the top 35 in the national to go through bracket play in the playoffs in Seattle without giving up a single goal.
After toppling the best soccer talent in the nation at the ECNL finals, Surf U-15 came home and won the Surf Cup tournament on July 27 on the San Diego Polo Club fields.
The girls are led by Coach Mark Spooner, who last coached with the MLS club Chicago Fire.
The championship was the culmination of an 18-2-2 season that started last September with league games and continued until Memorial Day weekend, with a break for high school competition from December to March. The local league's 12-team conference consists of teams from Southern California, Nevada and Arizona.
This year, the top five teams in the conference advanced to the ENCL National Playoffs in Seattle to compete against the top 32 teams in the nation. Group games determined which eight teams advanced to the National Finals in Virginia. Surf and two other U-15 conference teams from Orange County survived the playoffs and headed for Virginia.
At nationals, Surf went undefeated after three games in group play, scoring 10 goals and conceding none.
Surf beat the No. 1-ranked defending champions, the De Anza Force from the Bay Area, and highly ranked Real Colorado to advance to the finals against Player Development Academy. This particular PDA team lost in the finals last year and hadn't lost a game since.
The U15's 1-0 victory marked the end of a long, hard season and was a testament to great coaching and the players' persistence, character and desire.
Between the playoffs in Seattle and the finals in Richmond, coaches representing 100 or more colleges and the U.S. Women's National Teams were on the sidelines to watch these girls play.
Two players from the Surf team, Chloe Frisch and Catarina Macario, have received nationwide recruiting attention as U.S. National Team members.
Catarina is a Brazilian national who came to the U.S. to play soccer for San Diego Surf. She attends and plays soccer at Torrey Pines High School. Catarina was also named MVP of the Surf Cup tournament.
Chloe plays for La Costa Canyon, and scored two goals in her first game back from injury during the national finals.
These two standouts aside, the championship was a true team effort, where every player needed to know their responsibilities, and had to deliver when called upon to achieve this first in the nation ranking.
SD Surf's ECNL finals performance was unprecedented this year, with the U15s finishing first, the U16s finishing third, the U17s finishing fifth and the U18s finishing third in the nation.
---