San Diego Veterans For Peace begins third year helping the homeless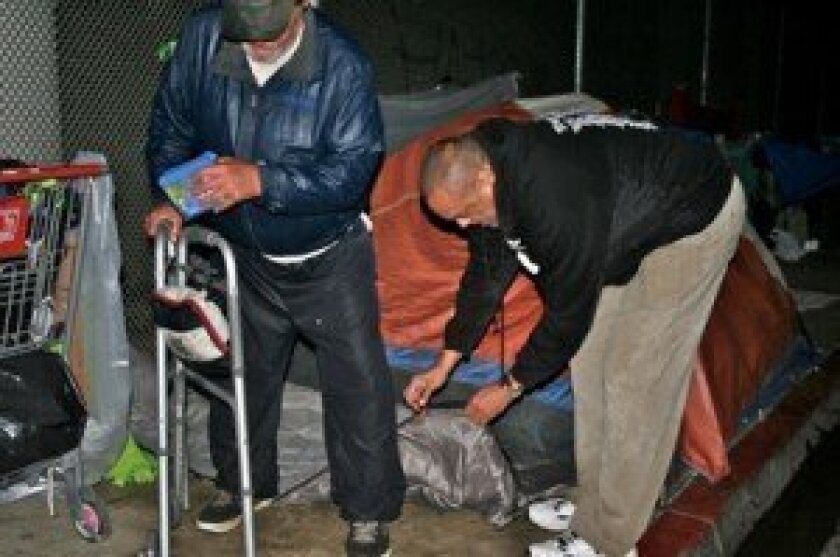 Carmel Valley resident Gil Field and his fellow San Diego Veterans for Peace (SDVFP) members continue to visit the downtown San Diego streets after dark and make a positive, necessary impact in the quality of life for hundreds of homeless people, many of whom served in combat.
Now in the beginning of its third year, the group's "Compassion Campaign" is just that, a coordinated effort by a few tireless and dedicated veterans. Established in December 2010, the "Compassion Campaign" is the nonprofit group's crusade to provide sleeping bag sets and waterproof gear to San Diego's homeless population.
Two or three times a month, based entirely on available donations, SDVFP members head out after dark to areas in downtown San Diego known to be popular sleeping spots for the homeless, and hand out about sleeping bag sets, each of which includes a sleeping bag, a waterproof stuff sack, and a heavy-duty plastic poncho. Each set costs the vets $33 wholesale from the Coleman Corporation.
The campaign raised more than $30,000 in its first two years, enough to deliver 1,350 sets to homeless people staying in many locations downtown, including spots near the Civic Center, the new library, along 16th Street, on Pacific Highway and in camps under three I-5 overpasses.
SDVFP Director of Communications Gil Field said he and his fellow SDFVP members saw groups of homeless people sleeping on the pavement on cold and rainy days two years ago, and decided, as a group dedicated to helping veterans, many of whom are homeless — Field estimated the number to be 25 to 40 percent — that it was their duty to take action. From there, the Compassion Campaign became a project that the SDFVP put its weight and benevolent spirit behind.
Citing those who return from war with post traumatic stress disorder and are unable to receive adequate care, Field said, "Veterans on the street, whether we like it or not, are victims of war." As veterans for peace, we pledge to "help veterans and other victims of war. Our outreach is a natural fulfillment of our statement of purpose."
The program has been a success, Field said, and the homeless who receive the group's sleeping sets are "so incredibly magnanimous and generous and incredibly grateful." Recipients often cry. Field said homeless people have even turned down his help, directing him to deliver the sleeping bag sets to another homeless person who needs it more.
"They said, 'I don't need it as much as the guy on the next block,'" Field said. "It's astonishing, some of these people have nothing but the guy down the block has less. You'd think somebody who sleeps on the street, when they're offered something, would take it regardless."
That selflessness struck a chord with Field and his fellow SDVFP members, who have taken now to bringing, in addition to the sleeping sets, extra car loads of donated cold-weather clothing to hand out. They have even made connections with civic-minded corporations like REI, who has provided them several hundred pairs of returned shoes and hundreds of pairs of socks. In addition, the Quaker community in San Diego has been very generous with donations, donated clothing and blankets.
Now in its third year, the Compassion Campaign hopes to continue to receive generous donations from the public to enable the chapter vets to make even more trips out after dark, where each recipient is evaluated for true need and only then given a sleeping bags set. The group is always looking for civic groups and corporate sponsors to help. One local company, JW Floor Covering, and its humanitarian outreach group, Outreach For Humanity, has donated both cash and backpacks full of safety supplies and toiletries for the homeless, and employees have gone out with SDVFP veterans to hand out the life-saving supplies.
For more information on the San Diego Veterans For Peace and its Compassion Campaign, visit www.sdvfp.org. Donations made be made on line and by check.
To donate by check, make out checks to the San Diego Veterans For Peace and mail them to San Diego Veterans For Peace, c/o Treasurer, 12932 Sunderland Street, Poway, CA 92064. All donations are tax deductible and 100 percent of donations go directly to purchasing sleeping sets. Each donor receives a card of thanks and a receipt for their taxes, as the San Diego Veterans For Peace are a 501-C-3 organization. For more information, please call 858-342-1964.
---