Carmel Valley resident training next generation of scientists at SDSU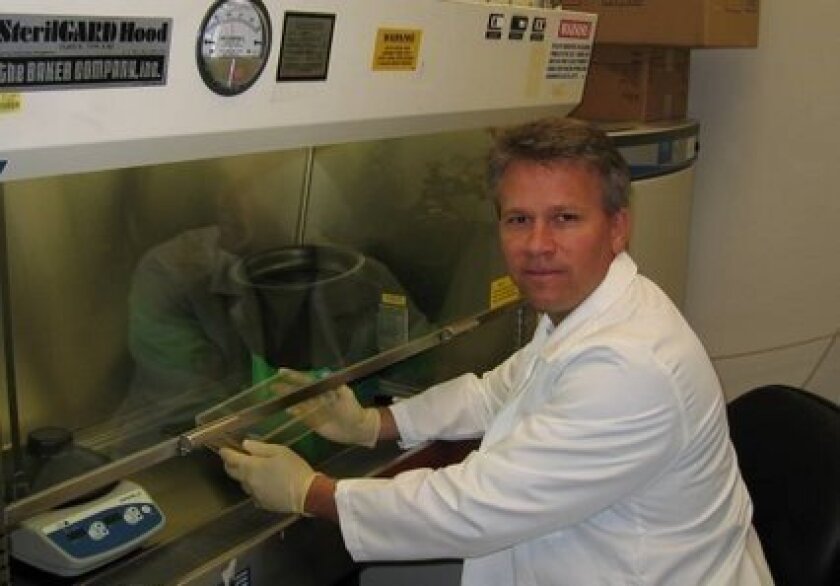 The Bridges Stem Cell Research Internship Program (BSCRIP) at San Diego State University recently received $3 million in funds from the California Institute for Regenerative Medicine (CIRM) to continue the program. The funding helps to support young scientists as they get the experience they need to launch their biomedical careers.
"The program has been a monumental success in recruiting highly competitive and diverse students here at SDSU to begin a scientific career in regenerative medicine," said Ralph Feuer, Ph.D., the program's director and an associate professor at SDSU.
Feuer has been a member of the faculty at SDSU since 2006 and has taught a number of courses in the biology department at all levels, from undergraduate courses to the cell and molecular biology joint doctoral program. He additionally runs his own research lab at SDSU studying heart and brain diseases, training a number of Ph.D, master's and undergraduate degree candidates as they complete their degrees.
As an educator, he said it is a privilege to be able to train the next generation of researchers.
Feuer has been the BSCRIP program director since 2011, taking over from the program's founder, Dr. Christopher Glembotski. Susan Kaiser has been involved as a program administrator since the beginning and has made major contributions to its success, according to Feuer.
"It's a program that picks very talented and very competitive undergraduate and master's students at SDSU. We only pick 10 students," Feuer said.
The program is innovative in training and providing job opportunities for interns and, according to Feuer, is in many ways similar to the German style-apprenticeships endorsed by President Barack Obama.
"The paid internship ensures that we attract the best students but also ensures that they have plenty of time to complete their training…it alleviates stress so they can really concentrate on completing a successful project," Feuer said.
Students participate in a lab course that provides hands-on experience in stem cell research techniques and then take on a 12-month internship at host institutions such as UC San Diego, The Sanford/Burnham Institute for Medical Research, Scripps Institute for Research and various local biotech companies.
"It's not just a matter of giving them money, but also of giving them good mentors who can help train and guide them, of giving them meaningful engagement with patients and patient advocates, so they have a clear vision of the impact the work they are doing can have on people's lives," said C. Randal Mills, Ph.D., the president and CEO of CIRM in a press release.
Students in SDSU's progams have achieved great individual success, going on to careers in research, at biotech companies, earning doctorates and pursuing medical degrees. After completing his internship at the Salk Institute in Dr. Fred Gage's lab, student Ian Ladran graduated from SDSU, started his own lab in New York City studying stem cells, and then co-founded a diagnostics company, MiRNA Analytics, based on micro-RNA technology.
"We would like to see the program grow," said Feuer. "The program is valuable not just for SDSU but also because the students that have gone through this program are going on to much bigger and better things. The role of the program is to attract the next generation of researchers and technicians that are interested in pursuing stem cell research and developing therapies for changing diseases and injuries of humans. This program is about finding those students and allowing them to pursue their dreams."
Feuer is grateful for CIRM, which invested more than $40 million for internship programs at 15 California campuses this year to help cultivate the next generation of scientists.
"The California Institute for Regenerative Medicine has put California on the map for stem cell research," Feuer said. "California is the world leader in research and training for stem cell research and it's the hope that the state and the public taxpayer will continue to support this highly worthwhile program."
For more information, visit www.sci.sdsu.edu/scip/
---