Scripps cancer researcher focuses on his own illness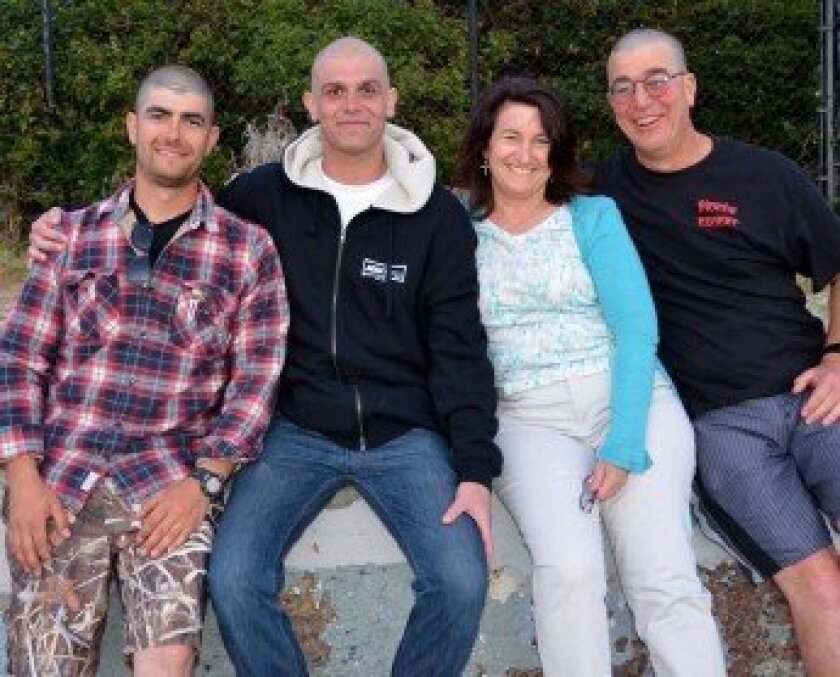 By Joe Tash
When Dan Williams was diagnosed with pancreatic cancer in January, he was in a unique position to fight the disease. As a cancer researcher at the Scripps Research Institute in La Jolla, Williams went into action with his colleagues, studying his own cancer cells to search for possible treatments.
In spite of those efforts, Williams, 29, faces tough odds in his battle with the disease, which is the fourth-highest cause of cancer death in the United States.
"Six percent make it to five years, which is terrible," said Williams, a graduate student in the Ph.D. program at Scripps. "With research, things are getting better, but not really improving survival rates that much. The mean survival rate is six months."
Williams was an avid cyclist and surfer when, in January, he began suffering from back pain and jaundice. His diagnosis came just a couple of weeks after he joined a research team that was studying breast cancer. Doctors determined he had Stage 4 pancreatic cancer, the most serious diagnosis, and predicted he would live just six months.
He enrolled in a clinical trial and initially the drugs worked, shrinking his tumors. But several weeks ago, he learned that new tumors were growing in his liver, meaning the cancer had spread even while he was undergoing chemotherapy.
"It's so devastating. You're at the end of the tunnel and you can see the light and you're about to walk into it, then you have to start the same path again," Williams said.
He still has a few options, including radiation and different types of chemo drugs. But he knows that he faces a difficult struggle, which he might lose.
"I'm preparing for the worst and hoping for the best," he said.
During his cancer battle, he has worked with local volunteers with the Pancreatic Cancer Action Network, a nonprofit that supports research and also helps patients and families grappling with the disease. In September, he ran in the "Purple Stride," an annual 5K run and fundraising event put on by the group.
"The first time I met him, he gave me goose bumps. Stage four and so young, and his outlook on this is amazing. No matter what happens, he wants to leave a legacy behind with what he's doing," said Anggie Becorest, a PanCAN volunteer who is also a rare, long-term pancreatic cancer survivor.
"I've never seen him not smile," said Kimberly King, a San Diego TV news anchor and reporter whose father died from the disease last year, just six months after diagnosis. King also volunteers with PanCAN.
Along with funding research, PanCAN has created a database to link pancreatic cancer patients with resources, including clinical trials that could help them fight the disease. The group's goal is to double the five-year survival rate by 2020.
Williams said that by sharing his story, he seeks to raise awareness about this deadly disease, and help PanCAN achieve its goal. "I really want people to know this thing's a killer," he said.
Soon after he was diagnosed, Williams got to work in the lab. His blood samples were used to create an "anti-body library," and cells from the tumor in his liver were grown in petri dishes in the lab for further study. He also had his genome, and that of his cancer, sequenced, meaning that the DNA blueprints for Williams and his tumors were identified.
"That revealed some pretty cool things," he said. Foremost, he discovered a genetic mutation that contributed to his developing pancreatic cancer in the first place, and also pointed to a potential course of treatment, albeit one that is highly experimental.
Because of the mutation, said Williams, the cancer cells would not be able to repair themselves if chemo drugs targeted and damaged their DNA.
For now, because of his health, he is not spending as much time in the lab, and is instead writing grants seeking funding to continue his research and that of his colleagues, "because science is expensive."
As Williams continues his fight on two fronts — in the doctor's office and the lab — he draws support from his friends and family, including his mother, Jane Williams, a cancer nurse navigator at Scripps Clinic.
"I just keep my head down and I live for today. I don't want to look at the future. It's too hard," he said.
To make a donation in support of Williams' research, visit Scripps.edu/philanthropy/donate-now, or contact Nicholas Burchfield of the Scripps Philanthropy Office at 858-784-2874. For information about the Pancreatic
Cancer Action Network and its services, visit www.pancan.org.
---