Show explores mystical horse-human bond
By Kelley Carlson
As a story of power and love told through the voice of the horse, the new "Valitar" show speaks volumes.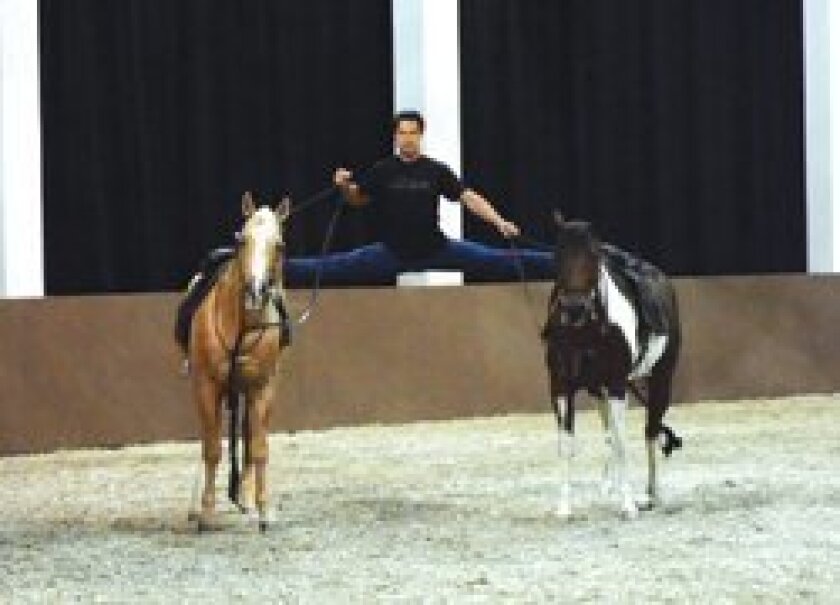 Staged in a 45,000-square-foot big-top tent at the Del Mar Fairgrounds, the production begins with imagery on a large screen that represents today's world — fast city life, texting and cell phones — which transitions to a sky with pollution and a river filled with garbage. Then, a dramatic blackout ... followed by visions representing the elements of earth, wind, fire and water and the introduction of the stars of the show, the equines.
"Valitar" — derived from the Latin word Validus, meaning strong, mighty and powerful — demonstrates the mystical relationship between horse and human in a 90-minute performance, beginning Nov. 16 and continuing through New Year's Eve. About 50 equines of a dozen breeds and 25 performers partner for the energetic and dramatic presentation that features state-of-the-art technology. The crowd can expect to see bareback riding; "liberty" acts, in which horses are free of tack such as saddles and bridles; mountain boarders; acrobats and aerialists; contortionists; vaulting; and trick riders.
"('Valitar' is) the expression of how we all (horses and humans) interact," said Tamara Hemmerly, director of marketing and publicist for the Solana Beach-based production company Equustria Development Inc., in an interview.
With all of its area connections, it's natural that Del Mar was chosen as the location to debut the show.
"We are honored to be launching the world premiere of Valitar in San Diego this November at the Del Mar Fairgrounds," said Rancho Santa Fe resident and Equustria President Mark Remley in a news release. "As a locally based company, our priority is to provide a unique experience showcasing some of the finest breeds of horses, combined with the strength and grace of world-class performers."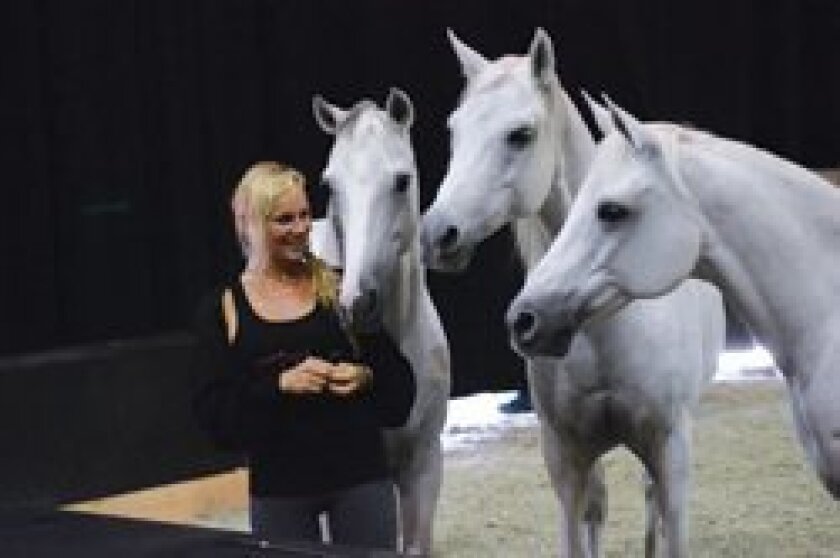 It was a little more than a year from "Valitar's" conception to its launch. Mark Remley, an entrepreneur whose background involves business software, and his wife, Tatyana, a fashion model from Ramona who grew up riding in all types of disciplines, from dressage to barrel racing, were inspired to create their own production after attending some shows in Las Vegas.
Combining their passion for horses with the entertainment concept, the Remleys began assembling a team that included riders and "horse whisperers," and of course, the equines. Special consideration was taken when matching horses and riders, such as their discipline and personalities, and rehearsals began nine months ago.
One of the performers is Sylvia Zerbini, also director of equestrian affairs for "Valitar." Zerbini, a ninth-generation performer, orchestrates about 10 horses at once during her "liberty" act, using sounds and hands to control her charges.
"Everything is done in as natural a way as possible," Zerbini said.
"Horses ... help us pay attention to life a little more," she added. "They sense when we're sad, happy, upset."
Additional key crew members include Artistic Director Bernard Quental, who has performed for Cabaret Equestre, Opera Equestre and Chimére with Zingaro; and Production Manager Louis Cote, who has more than 25 years of experience with large-scale productions.
To enhance the show, "Valitar's" team worked with Marc and Shanon Parker of Parker Brothers Concepts to include props such as a 9-foot-tall iron horse and a 20-foot-tall trampoline wall that is more than 28 feet long. Each prop is utilized by performers, including contortionists and acrobats.
"We were intrigued when we initially got the call from the team at 'Valitar' as they described their unusual request for these amazing props," said Marc Parker, creative director at Melbourna, Fla.-based Parker Brothers Concepts, in a news release. "We typically design motorized concepts that push the creative and technological envelope, and these props do just that. A trampoline wall pulled by horses is definitely not your typical project."
The props and performers are being brought together under the largest aluminum clear span tent in the world. The 225,000-square-foot "Valitar Kingdom" at the fairgrounds also has tents for concessions, warm-up and makeup facilities for the stars, a VIP area and stables, where special attention is given to horses in terms of their diet, grooming, shoeing and comfort.
Seven shows are planned per week, on Wednesday, Thursday and Friday evenings, and matinee and evening showings on Saturday and Sundays, through New Year's Eve. There are 14 acts, and each horse is in a maximum of two acts per show.
Once "Valitar's" run is finished at the Del Mar Fairgrounds, it will travel to five cities throughout 2013. According to Hemmerly, there are international plans for 2014.
Ticket options for "Valitar" include general admission starting at $39 for children and $65 for adults, as well VIP. The VIP Lounge includes hosted appetizers and cocktails 60 minutes before the show, premier seating, desserts during intermission, a commemorative program, and a behind-the-scenes tour with a one-on-one meet-and-greet with the cast — humans and horses.
Also, according to Hemmerly, about $1 per ticket will be donated to Helen Woodward's Equine and Large Animal Hospital, as well as its Therapeutic Riding Program.
Tickets for "Valitar's" world premiere in Del Mar are available at www.ticketmaster.com.
For more information about "Valitar," email info@valitar.net, go to www.valitar.net, or find it on Twitter and Facebook.
---