Solana Beach 7-year-old places third in BMX Hall of Fame nationals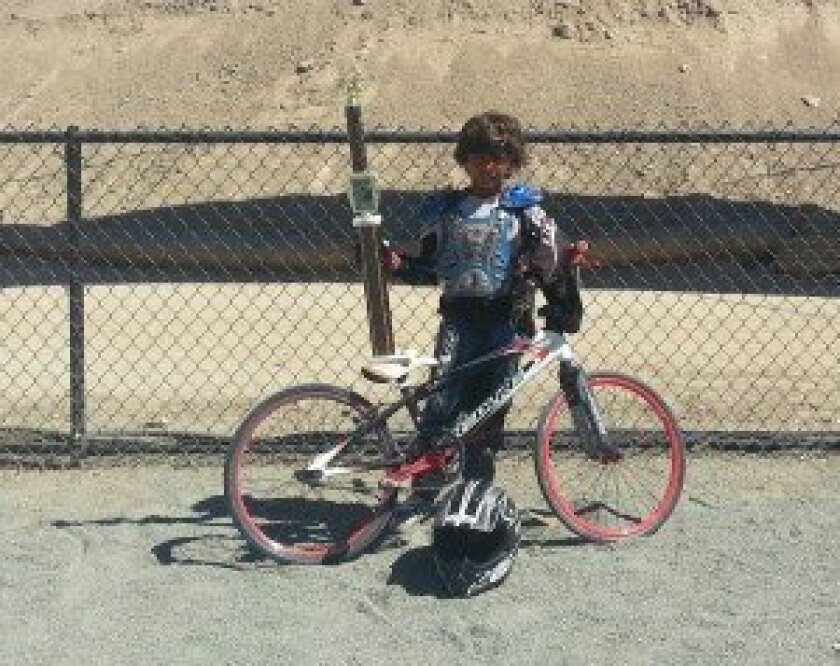 By Kristina Houck
When 4-year-old Peyton Rodgers scraped his arm during his first practice at Kearny Moto Park in San Diego, he wanted to give up riding. Then he saw the trophies.
"He said, 'OK, maybe I'll stay," recalled his father, Paul Rodgers, whose family lives in Solana Beach.
After competing in his first local competition that same day, Peyton took home a second place novice trophy.
Dozens of trophies and nearly three years later, the Solana Vista second grader now competes in the intermediate class and is two wins away from the expert class. He recently placed fourth, then third, in two 7-year-old intermediate competitions during the USA BMX National circuit Sept. 27-29 at the U.S. Olympic Training Center in Chula Vista.
Renamed the Hall of Fame nationals, more than 1,000 amateur competitors from across the United States competed throughout the three-day event on the smaller amateur track, while professionals and Olympians competed in the UCI BMX Supercross held on the London-replica course.
"It felt great," said 7-year-old Peyton. "I was proud."
When Peyton was just 3 years old, his uncle gave him a BMX bike. His cousins, who live in Illinois, have competed in a number of BMX competitions.
After Peyton got a bit older and taller, Rodgers and his wife took their son for a practice ride at Kearny Moto Park.
"He grew into the bike," Rodgers said. "But we had no clue what we were doing. We just went down to the racetrack one day."
Peyton has always enjoyed playing outdoors and competing in sports, Rodgers said. He started riding his bike without training wheels when he was just 2 years old. Like his 11-year-old sister, Peyton also plays soccer, in addition to baseball and basketball.
"I like the fact that he's involved in one sport where it's just all him," Rodgers said. "He really loves his team sports, too, but with this one, he doesn't have to rely on anybody but himself. It builds confidence and that spills over into everything else you do."
Peyton, who can currently ride around the Kearny Mesa track in less than 40 seconds, wants to increase his time. He also hopes to eventually ride on a BMX team.
"I like riding a bike," Peyton said. "It feels good to go fast."
---