Solana Beach - based Project Raw serves healthy smoothies to the hungry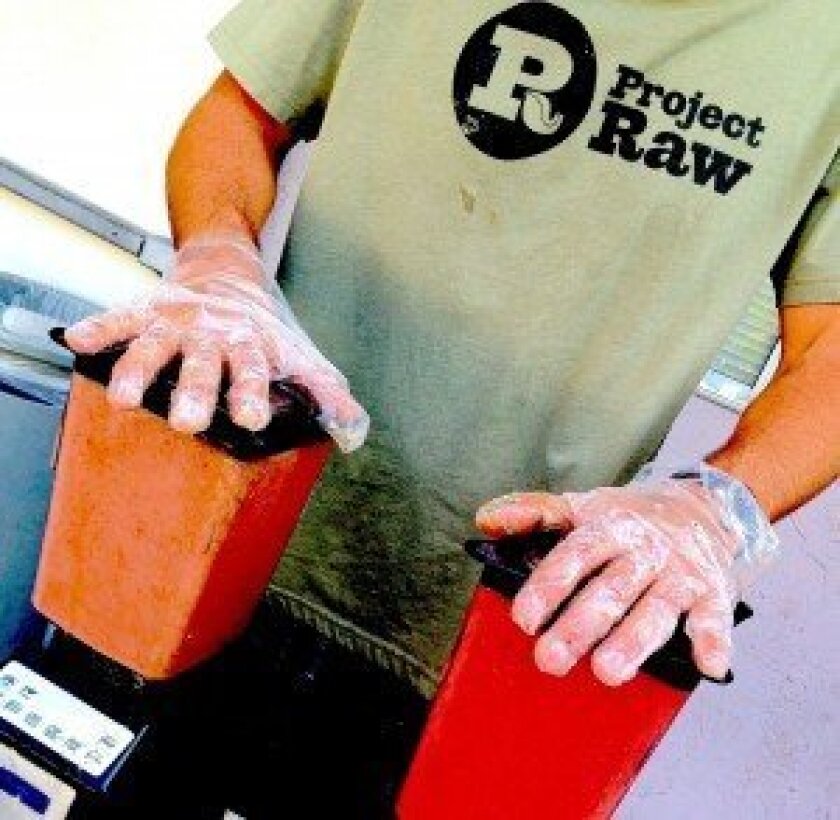 By Kristina Houck
For more than a year, a few locals have supplied thousands of healthy smoothies to the homeless and hungry in San Diego County. In an effort to reach even more people, Solana Beach-based Project Raw is going public with a launch party Feb. 12 at the Belly Up Tavern.
"That's the motivation behind our launch party — to get the word out on what we're doing," said Del Mar resident Aubrey Hackman, director of Project Raw. "The more that we get the word out, the more resources we have to pull from."
Founded as a flexible purpose corporation in December 2012, Project Raw aims to promote the positive effects of a raw food diet on personal health, communities and the environment.
According to a 2012 report from the Natural Resources Defense Council, 40 percent of food in the United States isn't consumed, amounting to $165 billion a year in waste. Nevertheless, 49 million Americans live in food insecure households, which means they lack regular access to healthy, nutrient-dense food, according to the United States Department of Agriculture.
In 2013, Project Raw served more than 22,000 smoothies to food insecure people in San Diego County, saving more than 6.5 tons of food and totaling $110,000 value for the community.
"There's tons of food insecure people around San Diego County and there's a lot of free food," said Project Raw Co-Founder John McGuire. "It was pretty easy to make a big difference just because we were staring with such a big gap."
The idea for Project Raw came about Christmas Eve 2012. John McGuire's brother, Brian McGuire, purchased a blender for his brother, his friend — retired Major League Baseball player Cole Liniak — and himself. The three agreed to a 21-day raw food detox.
"Two weeks into it, all three of us felt amazing," said John McGuire, a physician who lives in Fallbrook. "We wanted to somehow bring this to other people."
The brothers and Liniak then formed Project Raw.
"We came up with the idea of blending for people who are disadvantaged because the same thing holds true for them," John McGuire said. "They really need nutrition, and there's something about blended food where you can get all of these fruits and vegetables in a way that's palatable that you can't get otherwise."
"It seemed like a smart thing to do — donate a blender or two and show people what we have discovered," said Brian McGuire, a medical device distributor, who has worked in the health care industry for 15 years. The Torrey Pines High School alum lives in Encinitas.
Project Raw currently works with four shelters, as well as "The Crossings," a housing community in Escondido. The company hopes to expand its program to 11 organizations in 2014, serving up to $1 million worth of smoothies in its second year.
Eventually, Project Raw hopes to expand to a third of the homeless shelters in the U.S., providing $100 million worth of green smoothies — what the company calls "The $100 Million Dollar Project."
"We want to take that value that we created to the community and bring it up to $100 million," John McGuire said. "It may sound overly ambitious, but when you're starting with billions in food wasted, to save $100 million of that is really just a drop in the bucket. We think we can do that. We want to bring the healing power of raw foods to everyone that we can."
The launch party starts at 7 p.m. Feb. 12 at the Belly Up Tavern, 143 South Cedros Ave. in Solana Beach. The event will feature live music from Terraplane Sun, a silent auction and raffle prizes. All proceeds will support Project Raw's efforts.
General admission tickets cost $14 and VIP tickets cost $24.
For more information about Project Raw, visit www.projectraw.org.
To purchase tickets, visit www.bellyup.com.
---