Solana Beach community garden opens
By Claire Harlin
Solana Beach truly has its own "garden of Eden," or at least that's what mayor Joe Kellejian called the new neighborhood garden that launched Oct. 25 at St. Leo Mission Catholic Church in Eden Gardens.
Made possible through private donations and a $10,000 grant from Home Depot, the organic garden has 12 plots that are open to the public. Diane Hardison of the La Colonia de Eden Gardens foundation said most gardeners live within walking distance and don't have room for a garden at home.
"Many around here live in apartments, so this is for the people who wouldn't be able to have one otherwise," Hardison said.
Volunteers from the foundation posted notices around town calling for people interested in the garden, and about 16 people originally signed up. Fortunately, only about a dozen people showed up at an informational meeting about the plots, so each interested family was able to have a plot. To get to use a free plot, community members must keep it fully planted and perform other volunteer tasks regularly to maintain the space.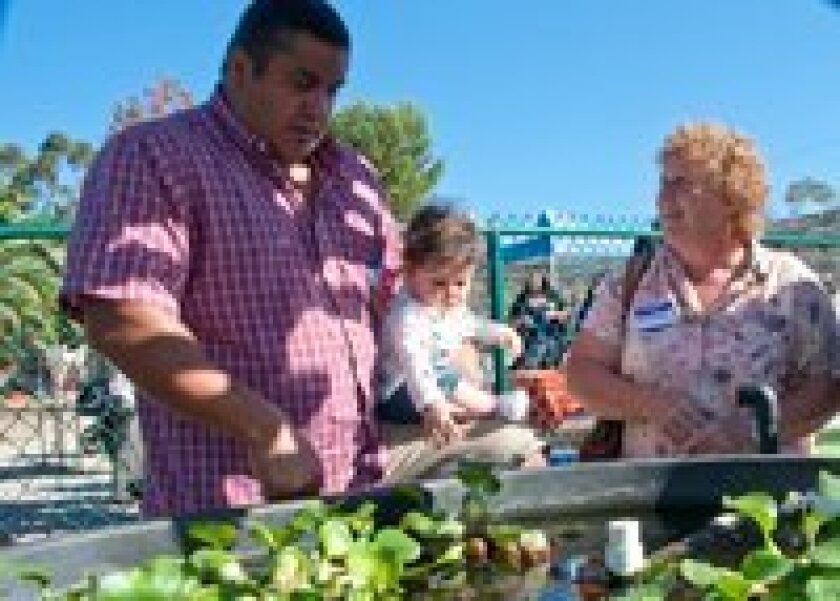 "One of the greatest things about the garden is seeing the children come with big smiles," said Hardison. "They love going around with the watering cans and you can tell they really want to learn and help."
Hardison said the feedback so far has been overwhelmingly positive.
"One lady told me it renews her spirit," said Hardison, adding that the gardeners have all formed bonds working together at the church site. "It's so beautiful and it's so great seeing everyone working together."
For more information on the garden or how to get involved, call Hardison at (858)342-4288.
---