Solana Beach Community Sing-Along to celebrate 25th Anniversary
By Joe Tash
While many people are perfectly willing to belt out a tune in the shower, where there's no audience and the acoustics are flattering, they're generally much more reserved about singing in public.
The reluctance to sing in front of people is an attitude that Dr. Ed Siegel, a Solana Beach psychiatrist, has been working to overcome — one song at a time — for more than a quarter century.
Siegel, 72, who is now "semi-retired," is the founder and enthusiastic leader of the weekly Solana Beach Community Sing-Along, which celebrates its 25th anniversary on Wednesday, Aug. 15.
"There are people (for whom) it's part of their lives, like going to church," said Siegel of regular attendees of his musical gatherings. "But most people are afraid, they think, 'I can't sing.' But I'm not giving up, it's too much fun."
The sing-alongs have been a reliable part of community life in Solana Beach almost since cityhood was established in 1986. The only time they are not held, said Siegel, is when he is traveling. (Siegel's home is decorated with mementos of his ramblings, which have extended to 81 countries.) A piano holds a place of honor in his living room.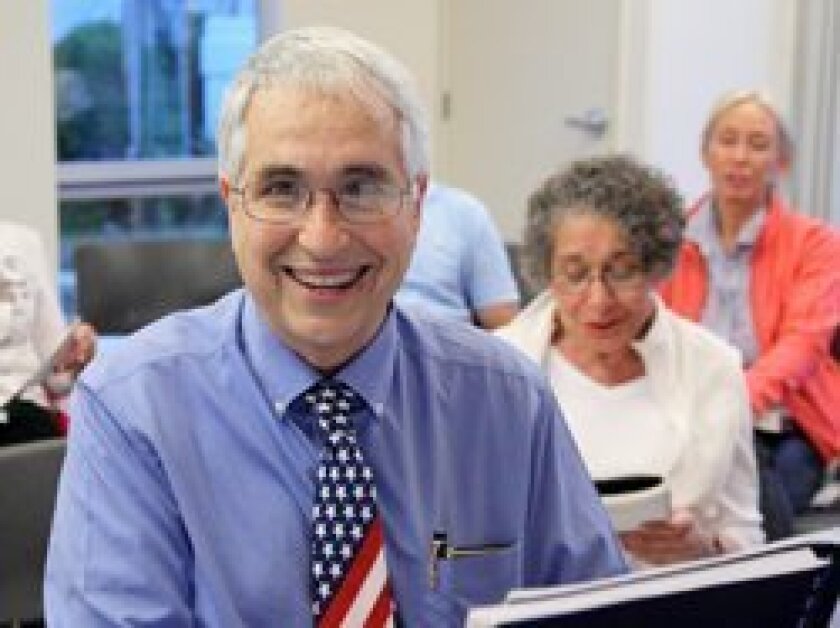 "Whether you're a good singer or not so good, it's just a happy place to be," said Solana Beach Mayor Joe Kellejian, who attends a few times each year. "This is a great thing for our community, and it runs the gamut from young children to the elderly."
"I'm not much of a singer but it's fun to be there and move my lips to the music," said Margaret Schlesinger, Solana Beach's first mayor, who supported Siegel when he first came up with the idea of the community sing-along in 1987.
The 25th anniversary sing-along will be held at the Fletcher Cove Community Center, 133 Pacific Ave. at 7:30 p.m. on Wednesday, Aug. 15. (The sing-alongs are normally held on Thursday evenings, but moved to Wednesdays during the summer to avoid a conflict with the city's "Concerts at the Cove.")
Siegel said the sing-along is the city's longest-running ongoing event, and he is not aware of any similar weekly sing-along in another city.
The concept is simple: Siegel, who has played the piano since he was a child, provides musical accompaniment and sings with the group on a repertoire contained in a song-book that he and regular attendees have compiled over the years.
No reservations or dues are required, and everyone is welcome, no matter where they live or their age, said Siegel.
Most popular are the sing-alongs held each year around the Fourth of July and the holiday season, he said.
Doing a quick calculation Siegel estimated that over the past 25 years, he has presided over at least 1,000 community sing-alongs.
The idea for the sing-alongs came when Siegel, in 1987, discovered a piano in the city's community center. "I thought, this is my perfect opportunity to increase the sense of community," he said.
The first event drew about 40 people, and he recalled being nervous. "I wanted this to work," he said.
Siegel was already familiar with the power of song. Earlier, as outpatient medical coordinator for the Veterans Administration Hospital, he had instituted singing sessions for recovering alcoholics.
Over the years, he said, people from newborn infants to centenarians have attended the Solana Beach sing-alongs, and even dogs, which have howled along with the human singers.
Schlesinger said part of the appeal of the evenings comes from Siegel's skill at the keyboard, and his showmanship.
And Kellejian noted that Siegel does his best to fill the seats, often cajoling passersby to step inside, where they pick up songbooks and join in.
Siegel said he tries to maintain an appeal across the generations by including a range of songs from show tunes to spirituals to popular hits.
"We do the greats, the people who have staying power. The ones whose songs will be around forever," he said.
The evening's tunes might even include, "Solana Beach, Our City Proud," the city's official song, written by Siegel and Lynn Salsberg. The song begins, "People come by train, it's a place we cannot hide, it's beach and golf and bicycles, and songs from far and wide."
But whatever is on the agenda any given week, the common denominator is bringing people together through music.
"It's a connection with our ancient humanity," Siegel said.
---