Community input encouraged on new sign marking east-side entrance to Solana Beach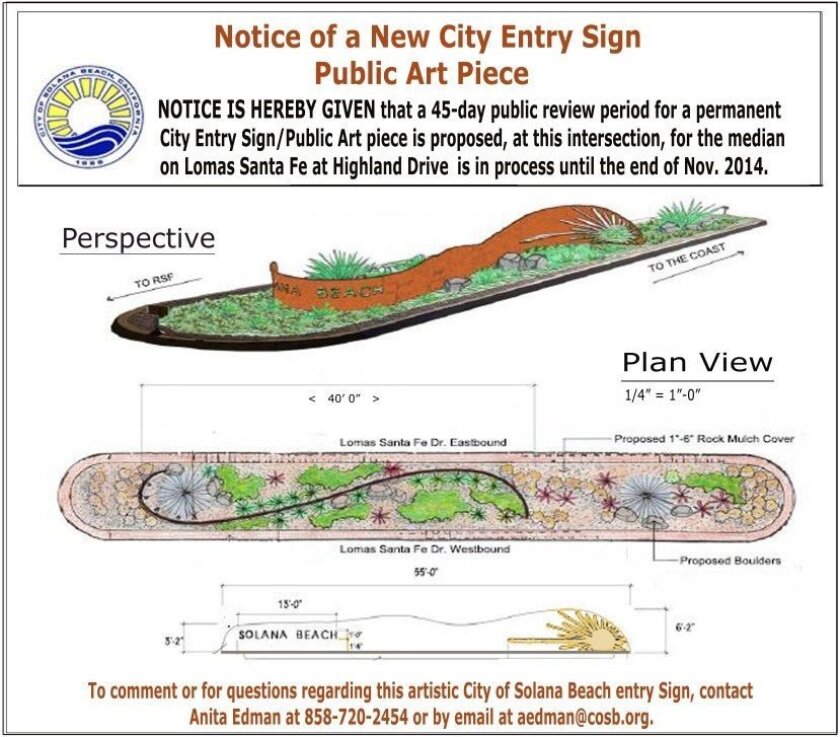 Drivers, cyclists and walkers could soon be greeted by a new sign when entering Solana Beach from Rancho Santa Fe.
Solana Beach residents are encouraged to give feedback on a proposed permanent artistic city entry sign for a median on the community's east side at Lomas Santa Fe and Highland Drive. After the 45-day comment period, the item will go to the council, explained City Manager David Ott during the Oct. 23 meeting of the Solana Eastside Community Group at Lomas Santa Fe Country Club.
The proposed sign is curved and features the city's name and logo. For questions or comments, contact Anita Edman at 858-720-2454 or aedman@cosb.org.
"If council gives a positive direction, we have the funds in the budget this fiscal year to complete that project," Ott said.
Ott also briefly updated attendees on the status of traffic-calming projects on the east side of the freeway.
In an effort to reduce speeds and increase safety for bicyclists and pedestrians, the city is restriping Santa Helena, which Ott said is 90 percent complete.
"Even though it's just paint, people will stay in the lines, generally," said Ott, noting that a flashing crosswalk sign will also be added to the area. "And when you narrow those lanes, people slow down."
In addition, the city is constructing landscaped medians and bike lanes between Highland Drive and the southern city limit. Like the work on Santa Helena, the road updates are intended to calm traffic and enhance safety.
Last, Ott mentioned that the city is working with Supervisor Dave Roberts to reconfigure parking, install a pedestrian gate and relandscape San Dieguito Park.
In other business, Mike Bardin, general manager of the Santa Fe Irrigation District, talked about water conservation and water recycling. Newly appointed Councilwoman Ginger Marshall and Sheriff's Captain Theresa Adams-Hydar also briefly spoke during the meeting.
The Oct. 23 meeting was the second general meeting of SECG, a new group that brings together homeowner associations and private residences east of Interstate 5. SECG formed out of the now defunct Solana Homeowners Association Group and held its first general meeting in April.
Established in 1985 by 11 HOAs located east of I-5, SHAG had been relatively inactive for the past few years. During a special meeting last October, the group met to discuss the organization's future and formed an ad hoc committee to explore how to revitalize it.
Over a five-month period, a 12-member committee met nine times to choose a new group name, revise the mission statement and organization charter, and nominate officers and directors.
Representatives from SHAG met in March to officially dissolve the old group and transition into SECG. Committee members approved the new mission statement and charter, officers and directors.
"Our mission is to work with the people and constituents on the east side of the freeway to identify issues of common interest and represent them to the overall city of Solana Beach," said Solana Beach resident Roger Boyd, president of SECG.
Headed by a nine-member board of directors, SECG covers 16 HOAs, five neighborhoods and five commercial entities. Most of the territory is within Solana Beach.
Since the group's founding, 11 of the 16 HOAs — two of which are in the city of San Diego — have joined SECG, representing about 5,000 people. In addition, six individuals living east of the freeway have also joined the group.
Boyd noted that there are about 250 east-side residents who don't belong to HOAs. Individual membership costs $1 per household per year. No businesses have joined the group.
Although a date for the next SECG meeting is not set, Boyd said he and his fellow directors plan to hold at least two general meetings each year.
---