Solana Beach Little League holds Annual Buddy Day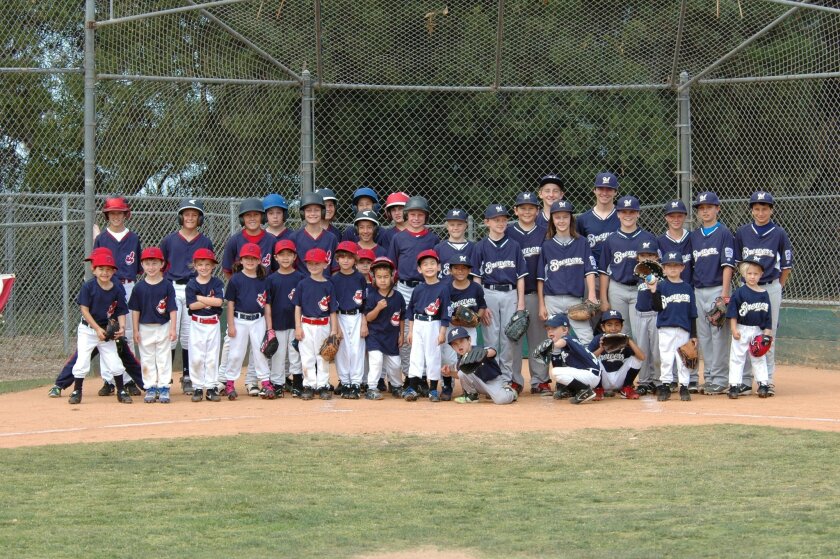 Buddy DaySaturday, April 19, marked the Annual "Buddy Day" at Solana Beach Little League's Majors field. The event marked the beginning of the second half of the regular season and began at 8 a.m. when the Tee Ball Brewers took on the Tee Ball Indians. What made this game special was that both the Brewers and the Indians were joined on the field and in the batter's box by a "Buddy" from their respective Majors teams.
After pictures and a trip to the Snack Shack, the Majors Brewers then played the Majors Indians in a regular season game. The day featured two additional Buddy Games and a carnival atmosphere as the Solana Vista grounds were filled with jumpies and a dunk tank where the SBLL Board of Directors took turns getting dunked.
The Snack Shack and the grill were open and manned by volunteers from the AAA "Fightin' Phils" where they served Philly Cheesesteak sandwiches. League President Dave Pawlowski attended all of the games and commented on how well received and attended the event was.
"Buddy Day and other events we sponsor reflect our ability to give back to the community by building and nurturing the outstanding relationship he have with not only the School District but the Solana Beach Community at large."
Solana Beach Little League is an all volunteer, non-profit organization, providing an opportunity to play recreational baseball for boys and girls between the ages of 5 and 14.
---